For many years NPA has undertaken exterior refurbishment contracts for listed buildings, and here is an example of such specialist work, a job we have just completely restored and painted in Stratford Upon Avon, Warwickshire.
People who own homes like this know all to well the VALUE of keeping it in good condition, more so because there are many penalties that can be meted out by your local authority if you do not keep a listed building in good condition.
These are not just homes, these are part of our history, so if you own a listed home, why not contact us, to give the sensitive care and attention it deserves?
Here are the steps we took in renovating the exterior of this lovely Grade 2 listed country house in Warwickshire.
Unlike your "normal" Painter and decorator, we don't just slap some paint on a wall and that's your lot, we carry out a full exterior wall refurbishment to each and every property we work on, to ensure that once the work is completed, no repairs or painting need to be done for at least 20 years, guaranteed.
Listed buildings need specialist care and attention, from people like us with many years of experience of undertaking sensitive renovations to historic houses.
It's safe to say that a quality decorator for a newly renovated heritage building, is always recommended for historic homes.
This house had already been repaired with a breathable render so next on the list was the painting
The owners had a specialist contractor in to apply new render to the walls before we arrived.
Apart from a little bit of retouching of the render in places, our main job was to mask up the windows, protect the ancient Tudor beams, and then spray apply our protective weatherproof wall coating, suitable for listed buildings.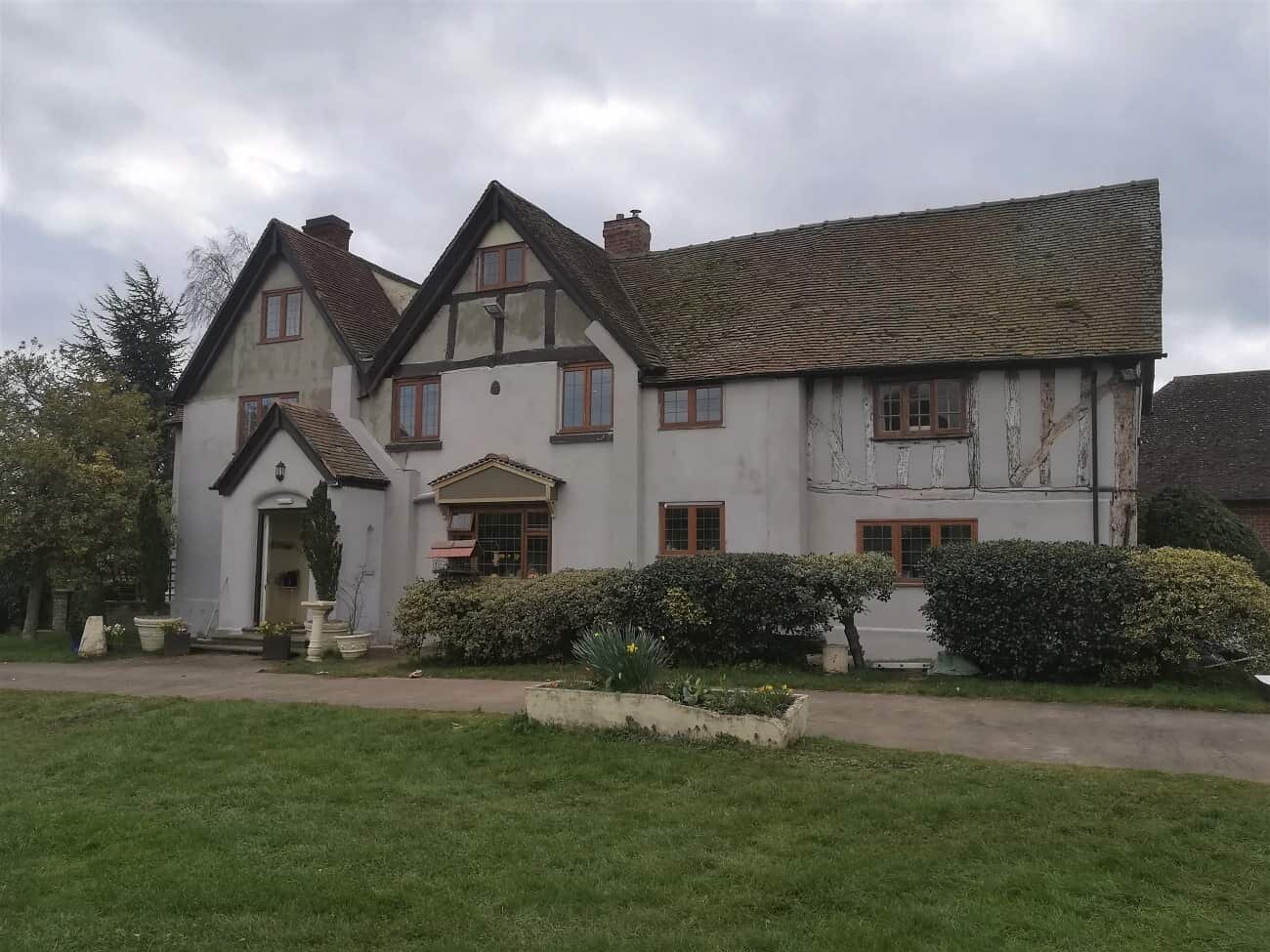 We are normally tasked with rendering a house before we paint it, or in many cases, repairing the render in places, before we paint, however as we said, the rendering job had already been done for our client, by a separate rendering contractor that the homeowner had employed before us.
Let's take a look at what the rest of the house looked like before we started work
The rear of the house we presumed was a later addition at some point, as it did not feature the tudor beams found elsewhere on this impressive property.
The bare render we see on the walls looks rather grim doesn't it?
It's also worth noting that, although this was a breathable render, and that is very important to have that, the coating we were about to apply to the exterior walls, was also breathable, because if a coating "sealed up" the walls, problems would definitely occur over time.
Leaving a house with unpainted render on the walls is a recipe for disaster as the unpainted render on it's own, will provide no protection from the weather at all, plus of course, it doesn't look very nice!
Even if normal masonry paint was put on the walls, it may look kind of OK for a couple of years but paint would soon start to break down, crack and peel.
On a house this large, frequent repainting of the outside walls would prove a costly endeavour.
Our exterior masonry wall coatings last for well over 20 years!
So what did our team actually do, to transform the exterior of this house?
We have a standard way of applying wall coatings to each and every home we refurbish, however each wall coating installation has a different aspect of our attention, such as painting pebbledash walls needs a certain approach, which differs from painting render or painting exterior brick walls.
The first thing we had to do was to mask up the doors and windows and cover over all the Tudor beams, which let me tell you, took absolutely ages.
We have to get it right first time, especially when dealing with a historic home such as this.
We often apply a textured masonry coating however in this case, we applied a smooth coating finish as per building regulations and advice from the local authority.
Each Tudor beam had to be carefully covered and sealed as any stray paint would create a stain effect on the beams which would be almost impossible to get out.
I think you will agree, the finished article looks fabulous and has really given the house a lot more depth, context with its surroundings, and a bit more charm and warmth.
The exterior wall coating paint finish on the walls will now not need to be repainted for over 20 years.
The paint will not fade, crack, chip or peel, meaning even the best masonry paint would never come close to our house protection system.
It's fully protected from anything the UK weather than throw at it, and more besides.
It also stops all kinds of damp, mould and mildew indoors, which in turn, especially in a large home, can help to significantly lower heating bills.
It is worth noting that you CANNOT cure damp internally, you must cure the CAUSE of the damp, which is always from the outside in.
Historic England say of the matter……
"Regular redecoration of the outside [of a listed building] is important as it helps prevent decay"
As a general rule of thumb, planning permission is NOT required to paint the exterior of a grade 2 listed house.
Historic England published advice which stated that as long as the paint is breathable (which ours is) and as long as it does not detract from the original character of the house, and there are no local restrictions such as in conservation areas,  it's fine to get the exterior painted.
Although as a belt and braces approach, it costs nothing to double check with your local council before proceeding.
They can offer sage advice as to keeping within the law and building regulations.
Here we see the finished example from the side and just look how gorgeous it looks now
Full of character!
The paint colour the owners chose has really complemented the natural brown hue of the ancient timber beams across the oldest parts of the house.
As you can see, we work WITH the house, not against it, so in keeping with its historical appearance, no straight lines (!) and in places, uneven exterior rendering, in keeping with how it would have looked when first built many hundreds of years ago.
If only the house could talk, what secrets would it reveal about the residents over the past 4 hundred years?
Finally, here is a shot of the front of the grade 2 listed house, in all its glory.
It is now weatherproofed with a protective and sensitively applied exterior wall coating
This wonderful grade 2 listed property is now weatherproof and waterproof, but still has the ability to breathe, to move and flex with the changing seasons, as it has done for hundreds of years.
The owners now need not employ anyone else to do any repairs of painting for at least 20 years, and that comes with an insurance backed guarantee too, ideal for anyone trying to get a house painting quote
Our wall coating system is not just for older homes, we paint modern exteriors too so why not contact us for a free appraisal of the condition of your exterior walls, with a written (no obligation) quote to have us install our revolutionary exterior wall coating system on your home.
Call us free on 0800 970 4928, we are open office hours Monday to Saturday