We are experts in exterior wall rendering, both for houses and for larger projects.
We have a high level of competence with all types of rendering, including lime render, acrylic renders, sand and cement mortar render and the latest in through-coloured rendering.
We generally get called in to re-render a house, or carry out repairs to existing render or pebbledash, in preparation for applying one of our weatherproof external wall coating system to your home.
There is some handy information on this page about all types of exterior wall rendering, including methods, common problems (and their solutions) and the services that can be accessed via this website.
If you are searching for plasterers or builders to carry out rendering  work then a quote and site visit from us is free and without obligation. We will beat any price you may have had from a competitor.
You have landed yourself on the UK's most popular site all about rendering, written by an expert with hands-on experience since 1986. If your exterior walls are cracked and the rendering (or pebbledash) is looking way past it's "sell by date" then talk to us on (0800) 970 4928 and we will get you the very best price possible.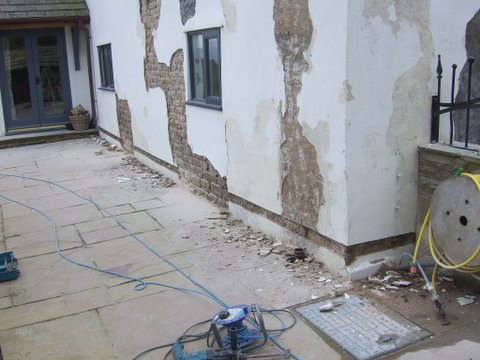 In the course of our work, all rendering we do complies as near as possible to the British & European Standard for the design and application of external render (BS EN 13914-1:2005).
Now, I could go on and on (which I do) about what we do and how we do it. However, if you just really want a price to have the outside of your house rendered, let's cut to the chase, and phone us up on 0800 970 4928
So what's rendering all about?
Rendering is the process of applying a protective and durable wall covering to the exterior walls of a house or other building and this can be done by hand or by machine.
Due to the different nature of construction materials used in building houses, various different render materials can be used for different effects. Rendering is also sometimes referred to as exterior plastering, and NEVER PAINT AGAIN can repair and refurbish ANY exterior wall type, guaranteed!
Rendering an exterior building wall has many functions and the most prominent being that of weather protection, which is very important to stop damp and other issues. Sand and cement render does provide some protection, however, combined with a weather resistant  paint or coating, the rendered wall can be decorative too.
If you need your house render walls repaired or even completely re-rendered, we provide this service, and MUCH more and we are only a phone call away.
Professional, time-served & experienced plasterers.
As a professional organisation of wall coating contractors, our teams have been repairing and making good all kinds of rendered walls since 1986.  We are the most prominent and world famous website related to exterior walls since 1999 and we keep on getting better by being better!
Render Wall Coatings available.

We repair render, tyrolean and pebble-dash, as well as smooth stucco and flat rendered walls, however we don't leave bare render, we always protect it with a smooth or textured exterior resin based masonry coating.
This means that once you have had your house re-rendered and wall coated, you don't have to call us back for at least the next 20 years!
Render repairs carried out to perfection!

If your home has rendered or pebbledashed walls and the surface has specific areas of repair needed, our teams can carry our repairs which when our special spray applied wall coating is applied over the top, we guarantee that the repairs will naturally blend in and you will not be able to see anything was ever wrong with your house in the first place!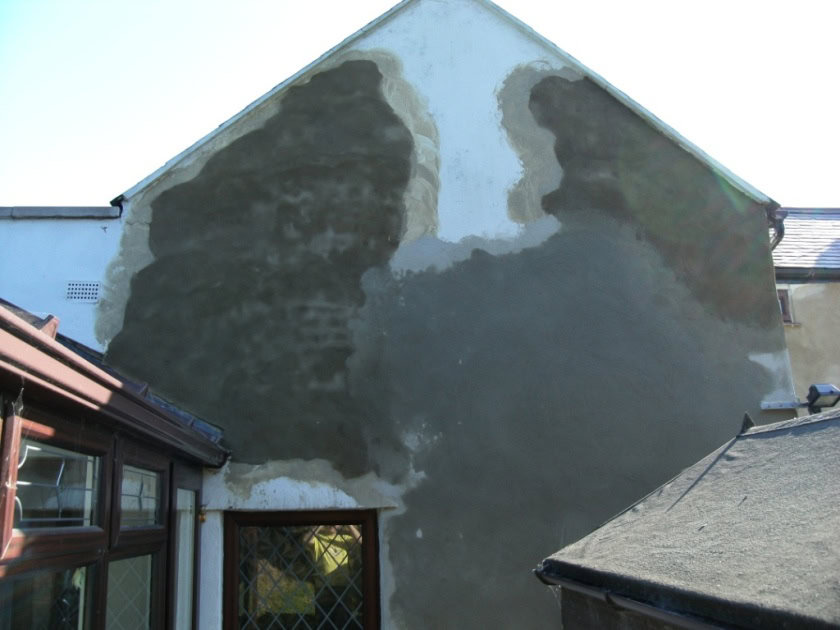 Sand and cement rendering?
We can remove all your old render and re apply a brand new coat, in either a smooth or textured finish.
This includes dealing with cracked (or bossed, or blown) render, which is replaced so well you will never see the join between old and new render. We then apply our protective exterior wall coatings, giving you the added benefit of COMPLETE WALL PROTECTION against cracks, damp and mould, for up to 20 years!
We can deal with lime render too!

Lime render is a wall covering that has been used for centuries and is waterproof yet breathable.
Lime renders were traditionally applied to give exterior protection to houses which were built of poor quality rubble stone or porous brick or to walls in houses which were exposed to the weather, such as coastal fisherman's cottages or farmhouses in barren areas.
Lime render is a very versatile traditional wall covering insofar as rather than repelling water, it soaks it up and then evaporates again, constantly working throughout the changing seasons of the year.
Problems can arise if an old houses, built with lime render, has had the render replaced with sand and cement render. We can remove the offending cement render and replace with lime render or a modern alternative, as required.
Coloured "through" render
One of the toughest wall coverings on the market today are commonly known as through render as the colour, instead of being applied to the surface, is blended in with the render, more information of which can be found HERE.
These extremely durable renders can be applied to almost any house to give a weatherproof maintenance free finish. Coloured render is available in SOME UK areas but we do not cover nationally for this particular service however…….
If you are looking for a tough exterior wall coating, for render, pebbledash or brick built houses, then our sprayed exterior wall coating system could be for you, so to learn more follow this link…..
Thermally insulated exterior render
Coloured render with insulation
The above coloured render is also available with insulation built in, and a small additional cost, meaning that it becomes a THERMAL RENDER SYSTEM and you can make significant savings on your heating bills by having a company install this system on your home.
We do often get asked if rendering a house will make it warmer, well using sand and cement render won't necessarily make the house warmer but if this is an issue for you, then why not enquire about our thermally insulated render which WILL warm your home up, and lower heating bills too!
For prices, quotation and estimates for any kind of rendering or spray applied wall coatings, call us or click below.