Are you looking to get something done to the outside walls of your house fairly soon?
Are you considering an External wall finish that is maintenance free? 
Then DON'T choose pebbledash!

Many UK home owners get fed up every year having the outside walls of their homes painted, and often repaired too, and over a period of a few years, the cost can escalate wildly, not to mention the ongoing hassle.
If you are looking for a maintenance free exterior wall covering, what are the options available to you aside from pebbledash?
Let's explore a few of them shall we?
OPTION ONE:
Having the exterior repainted with a good quality masonry paint….
This option is probably the most common one as people often just do "what's always been done", but the times are changing and despite exterior masonry paint being perhaps a bit better quality than it was many years ago, the manufacturers design their masonry paint NOT to last for a long time
Why should they? They want you to buy more outdoor wall paint from them next year!
OPINION? A cheap short term option and fraught with setbacks and problems.
Ideal if you only want to be living someone for a short time maybe?
A painter and decorator will ONLY paint, that's it.
You wont have any damp cured, well not by the painter anyway; you won't have any pending repairs sorted out and you wont have a guarantee because damp proofing paint for exterior walls can't generally be bought in the shops.
In addition, if your home suffers from cold, damp or wet walls, after applying masonry paint to the exterior walls, guess what?
Yep, correct: You will STILL have cold wet walls.
Pebbledash
OPTION TWO: Having the external walls pebbledashed….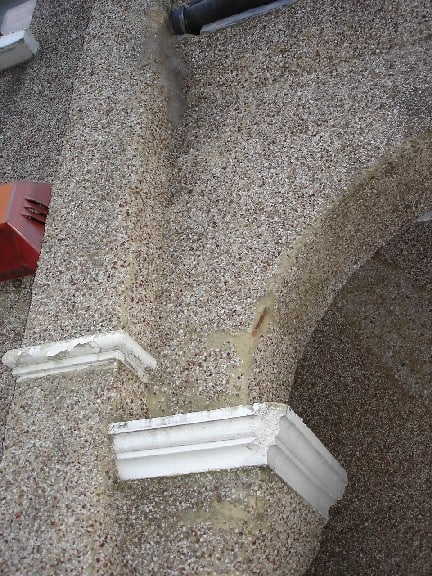 Take a look at the photo at the top of the page, and also the one above

Looks utterly dreadful doesn't it?
Pebbledash is an exterior wall finish created by applying a sticky cement mortar to the exterior walls and literally throwing stones onto the wall surface, which eventually dries and you are left with a relatively maintenance free finish, but be careful you don't touch or brush past the wall as it will take the skin off your hands.
Pebbledash also takes the form of "spar dash" which is usually cheaper and consists of small chips of flint thrown onto the wall.
This results in an extremely coarse wall surface, and one that can never ever be successfully painted over once you are totally sick of looking at it.

Pebbledash won't last too long
The example shown nearer the top of the page illustrates exactly what happens to pebbledash when it is only a couple of years old.
The cowboy builders who did the cock up on the walls of THIS house in London, paid no attention at all to the fact that as it was being put onto a painted brick wall, not only did it not have sufficient adhesion to the wall, but they didn't even pay any attention at all to the cornices and mouldings.
There was a fad in the 1970's and the 1980's to apply a sort of pebbledash that had tiny stones in it and was applied using only one, thin coat of a sticky mortar which was then sprayed with these tiny stones.

Great swathes of houses in many major cities had this awful wall coating and not much of it survived thankfully.
Pebbledash is a waste of money!
I don't really think this home owner got very good value for money do you?
If you have a pebbledashed house, we can transform it in less than a week, and at a price that will pleasantly surprise you! 
This also applies to spar dash, sometimes known as spa dash of flint dash, which can be distinguished from pebbles by a different colour and much more sharper profile.

We often get called in by people who have attempted, without luck, to paint their homes, or they chose some bloke down the pub who said he could do it over a weekend but ended up doing a right balls up and the house looks terrible.
The cost of removing pebbledash often shocks people.
Our External wall coating system has been applied to thousands of different pebbledashed houses across the UK and not only is it available in a wide range of colours, it is totally maintenance free.
In addition, if the house needs extra work, such as damp proofing walls, then some sort of weather protection is essential if you want your home to stay dry and welcoming.
OPTION THREE
Have a long life exterior wall coating installed by the experts…….

The benefits of this way to paint the external walls are the fact that although the exterior walls will still be textured, the actual texture itself will be the same across each elevation, plus it will have a lovely splash of colour added to it, giving your home a new lease of life.
In addition, despite the fact that a pebbledash coating has a 20 year warranty, it will actually last upwards of 25 years.
Ask us about our pebbledash painting system today!