So you've been lumbered with a pebbledashed house right? I bet it doesn't look great either?
Pebbledash is so "Eighties" and many people who have bought property since that time are stuck wondering what to do about it?
After all, a dash covered house doesn't generally look great, although there are exceptions, but part of the problem is that many homes were covered in this awful stuff in the past that quite frankly should not have done.
If a house was built in 1900 with smooth stucco walls, it is part of it's CHARACTER and can be potentially ruined if the wrong outer wall covering is put on it.
In fact saying that, estate agents in the past have suggested that this sort of home UN-improvement (!) will certainly knock thousands of it's value!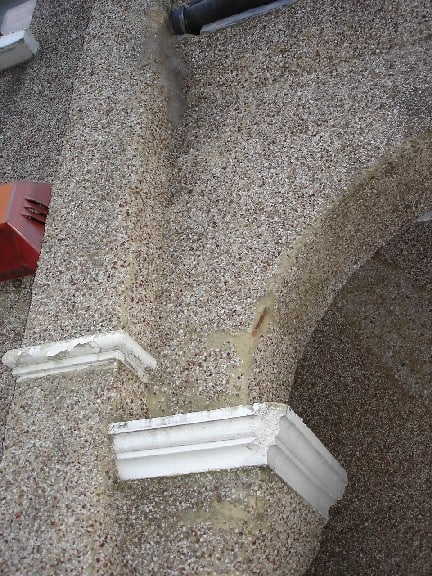 Pebbledash, as you can see from this picture  has been in the past applied to houses that quite simply should not have had a pebbledash coating in the first place.
Pebbledash: Repair, replacement or a wall coating?
If your house has pebbledash on the exterior walls, you will either love it or hate it.
That's the thing about pebbledash, however many cases of the Pebbledash plague were created because the home owner had an old house which needed constant painting and the dash was considered a cheap way of avoiding the yearly painting cycle.
Pebbledash is a thing of the past
The main issue is that a lot of houses that received a coating of pebbledash, tyrolean or spar dash didn't need the coating and also didn't care about what it looked like; it was a cost saving exercise maybe?
Your choices for replacing pebble-dash are:
Have it repaired.
This will look awful as nobody can match brand new patches of pebbledash into a wall of old pebble dash, it just cant be done, and if you have had replacement windows or an extension, you will know what i mean.
Have it replaced with more pebbledash.
This is not cheap, causes a lot of mess, and a lot of hassle. There are 2 schools of thought.
One is apply another coating of pebble-dash over the top (which can increase the load on the wall causing serious cracks within the building), or have it hacked off and replaced (Which if the dash is stuck to the wall, can damage the bricks underneath so badly you invalidate your home insurance)
If you look at the state of the bricks here, you can see how forced removal of the pebbledash by a cowboy builder has badly damaged the brickwork under the pebbledash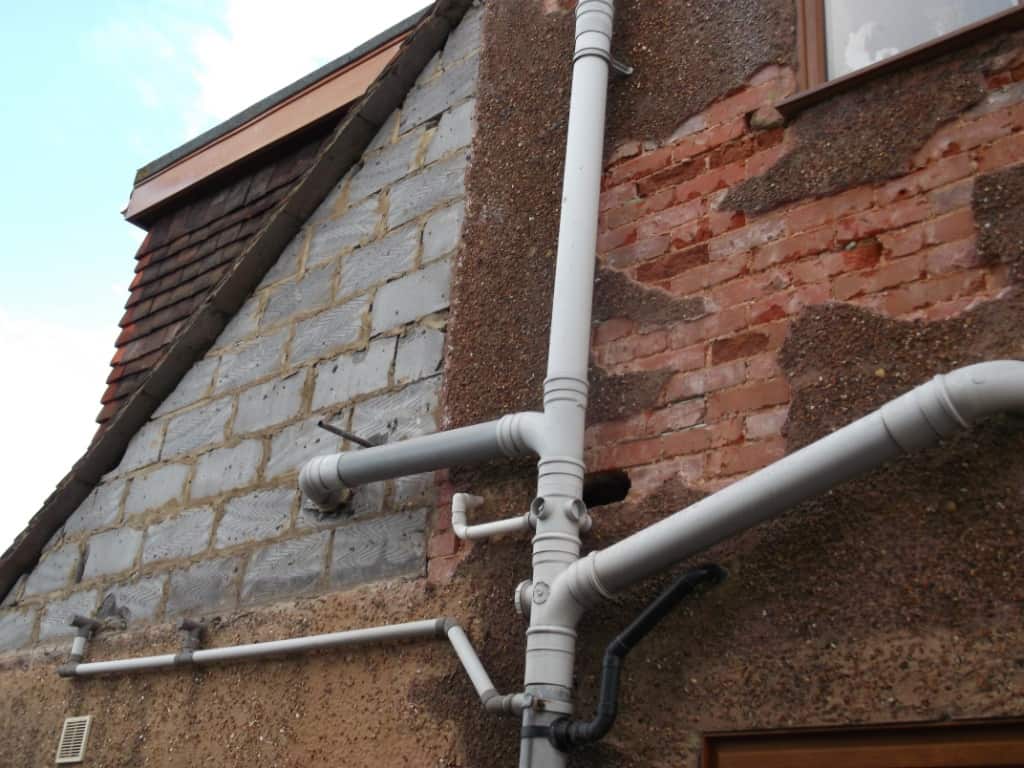 It is worth noting that the COST of removing pebbledash may not just be measured in financial terms….
Have a Textured wall coating onto the pebbledash.
Instead of having the house re pebbledashed, you may consider the merits of a Never paint again exterior wall coating instead.
Specially designed for dash and spar dashed walls, our 3 state process means all repairs get done, including cracks and loose render, and 3 different coats go onto the top.
Pebbledash rendering and replacement is something that can be carried out with the minimum of fuss by our trained exterior wall coatings installation teams across the UK.
Pebble dash is not to everyone's taste and like it or loath it, it doesn't last for ever and at some time, if your home is covered in pebbledash, it is going to need to be re-done, but do you REALLY WANT that awful stuff covering your home?
If you're not too sure, please can we have 5 minutes of your time to read this and then see what you think…………
What's wrong with pebbledash?
Pebbledash, as an exterior wall coating, only has a finite lifespan so when the outside walls of your house look tired, with missing stones, cracks, hollow render and bald areas of pebbles, now is the time to consider getting it spruced up perhaps?
Pebbledash was designed to cover up poor quality brickwork and the problem is that over time, the stones drop out (check your path or driveway after heavy rain for proof) and then the water resistant nature of the pebbles is lost and the render behind starts to soak up water.
As a dashed wall is not flexible, the water, once inside the house, freezes during cold weather and pushes the dash off the wall, causing even bigger problems.
What can be done with pebble dash?
Well for a start, if you have ever tried to paint over pebbledash, you will know what a thankless and awful task this is.
In fact I have yet to see a house, in all my years as a surveyor, that looks good after a lick of DIY paint over the pebbledash, in fact most of them look diabolical!
Repairs to pebbledash NEVER match in, and the replacement of the dash can cause more problems than it cures.

The stones which fall off the wall, cannot be replaced.
This is also evident where a pebbledashed house has had previous repairs or alterations, the 2 areas of wall NEVER match up and in some cases, it looks awful!
Builders who remove and replace pebbledash
So along comes sub contractors "Dodgy Darren " and "Mad Mike ", in their beaten up van, for the "cash in hand "job that some dodgy canvasser promised you with her hard-sell at the doorstep!
Now is the time to panic!
There are two ways a "builder" deals with old pebbledash, and the methods they often use to remove pebble-dash, are both horrendously bad for your house.
Pebble dash removal
The first is FORCED REMOVAL AND REPLACEMENT.
If the pebbledash is firmly stuck to the wall, when a builder forcibly removes it, his tools WILL rip out the mortar joints and the faces of the brick beneath, causing potential structural damage to your house which if the local building inspector turns up, you will have some explaining to do.
This also means that he has a duty to inform your home insurance company of the works, who, after a further inspection, may then invalidate your home insurance.
I am not kidding or trying to "sell" you our system, this really does happen and we have some quite scary photos of people doing it to prove it.
The 2nd method is applying MORE pebbledash over the old stuff!
UH-OH! 🙁
Pebbledash rendering and the issues it causes

If your builder does this, they will almost certainly render over the top of cracks, locking damp and other problems in, plus adding more pebbledash to window reveals, often means that you can never ever open your windows properly again.
Applying new pebbledash over the top of old pebbledash increases the STRUCTURAL LOAD on your wall, something your house was not designed for.
In some cases, this has causes walls to have major cracks, and in the "best case scenario", if you can call it that, the old pebbledash wall will "reject" the new dash, which will eventually AND LITERALLY fall off in chunks. This is based on real life experience.
What is the best solution for pebble-dash painting?
By far, a spray applied exterior wall coating is your best bet for pebbledash and the service provided our teams, includes a full repair and surface renewal, so that when we finish, your home will have a uniform texture all over and will be complemented by a great colour too!
Exterior house coatings, unlike paints, are suitable for all types of wall surfaces, such as pebbledash, brick, render and stucco.
Our team can tell you how these coatings can benefit your house, long and short term.
Original and genuine external spray applied wall coatings are suitable for all wall types and our coating service cures a whole host of external wall defects.
Typical jobs we do to the exterior wall surfaces of homes include replacing tyrolean, render or pebbledash, filling and fixing cracked walls, replacing loose or missing brick work pointing mortar joints and damp proofing walls, including removal of moss, mould and algae.
Our wall coatings for pebbledash come with a 20 year guarantee which means that your home will not attract green mould, nor will it fade, peel or crack, for up to 20 years!
Give your house a whole new look!
If you were only considering having your home re-dashed, I think you would be surprised to hear that in most cases IT COSTS THE SAME AS HAVING IT REPAIRED AND SPRAY PAINTED WITH ONE OF OUR LONG LIFE EXTERIOR WALL COATINGS!
So what now for your pebble dashed walls?
The choice, ultimately, is yours, not ours, and whatever you want your home exterior to look like, although we can advise you, we won't SELL to you, nor pressure you in any way, at any stage of you being one of our valued customers.
We can certainly offer a way to repair and paint your pebbledash with a long life, weatherproof exterior textured wall coating, bringing zero maintenance for 2 decades.
You can have a brand new house, but AT THE SAME ADDRESS!
Give us a call to find out more on 0800 970 4928 or email us