Weatherproofing Wall Coatings are the ideal method to cure all kinds of exterior wall issues, such as damp walls, cracked render, wet bricks, loose render, untidy pebbledash and bricks in poor condition.
If your home has any of these problems, isn't it about time you at least got someone around who knows what they are doing, to look at the walls of your house and offer some advice?
Cracks are often the culprit in creating areas where damp can penetrate into the walls of your house, causing untold damage if not kicked into touch as soon as it is discovered.
If your walls have damp or mould, its very important to get the problem fixed
When we talk about damp walls, we normally refer to the exterior of the house, however in bad cases of damp, this can also apply to the inside of the house too.
Whenever damp walls are discovered, I assure you as an experienced building surveyor- trouble is nearby.
Damp walls are never a good thing to have and if you are looking for solutions to treat damp in your walls, the damp proofing team can help you with their waterproof wall coatings.
We also look at how to treat damp yourself, to keep it balanced.
Does your house have damp? How have you come to the conclusion?
Has this been discovered by yourself, or is it something that was pointed out to you, for example, if you have just had a survey, or some other works done which revealed damage by damp?
How to ascertain firstly, if your house has damp.
Damp can manifest itself inside or outside the home in a variety of ways, some obvious, others not so clear cut.
There are various different indicative signs of damp in houses that can often be readily identified by the home owner.
One of the most frequent signs of this is the appearance of mould on internal house walls.
Sometimes this is only discovered by looking behind furniture as the damp enjoys dark spaces in which to propagate and grow.
If your interior walls in some rooms have mould on them, this is like any other plant , it needs water to grow, and also needs to reproduce itself, which it does by sending millions of tiny spores around the house, looking for other damp areas to grow.
The problem is that these spores, like a fine dust are TOXIC and if they are present in your house, once you breathe them in, they get into your lungs and stay there!
Another obvious sign of damp or walls in poor condition is the fact that the wall will feel COLD to the touch indoors, even if the heating is on.
This will mean that if your home is damp, your heating bills will be higher than normal too, which in this day and age, can only hurt already stretched household budgets.
Damp spores can cause breathing problems and asthma.

What causes damp?
Damp is normally caused by a poorly maintained exterior wall that may have had problems (such as cracks) that have been left to get worse and if any of the above is relevant to your home then it is highly likely that you house has damp.
Other reasons for the appearance of damp could be a broken or leaking pipe, the ground outside could be stacked up against the base of a wall, breaching the DPC, there could be a missing roof tile (which usually means damp appears on your ceiling rather than the walls), or it could be, the most common reason above, poor maintenance.
TIP: If you have damp anywhere on the ground floor and the damp stops at about a height of 4 feet, this is RISING DAMP.

If you have damp further up the wall, perhaps upstairs, this is called PENETRATING DAMP.
Things that will NOT cure damp.
Well, slapping a lick of paint on the wall, internally or externally, is a false economy and will NOT cure damp.
What other urban myths are there about damp? We look at a few……..
DIY Anti damp paint and damp "sealers".
Don't bother! Damp in most occasions, comes from OUTSIDE, so if you have placed a barrier in the form of anti damp paint on the walls inside, the damp IS STILL THERE, IN YOUR WALLS, JUST BENEATH THE BARRIER YOU PAINTED ON!
By applying a damp sealer to an internal wall, you have merely shifted the "point of egress" (The area where the damp appears), to another location, usually a few metres along the wall of the old damp patch you thought that you had repaired!
Renting/buying a dehumidifier.

This will not cure your damp, however it will HELP, in some cases, to remove (TEMPORARILY) moisture in the area of a certain room, allowing also for a reduction in condensation, however it will NOT cure the damp, it will just extract the moisture from the air and the cause of the damp will remain.
It can be a good idea to use on a short term basis, prior to actually getting the damp fixed. Opening windows in the affected room can also help slightly, but again, by opening a window you are not going to solve the damp problem!
So what will cure damp walls?
So we have learnt that the above steps will not cure damp, so what will?
It goes without saying that the existence of damp in your home will require some work to be done to cure it, if not it will get worse. fact.
You need to employ the services of an exterior wall expert to not only look at the damp and advise on the best course of action, but also to prepare a written quote and specification of work, including a fixed price costing.
How to treat damp
The work should be covered by a guarantee also, and you should look for genuine experience and competence in the area of damp prevention and curing.
All of the services will cure damp in your home and are applied by trained teams, factory trained, who can cure all the damp, carry out repairs, and then apply a weatherproof system which will combat the damp permanently.
This comes with the added bonus of the fact your home will look freshly painted, and will stay that way for up to 20 years without the need for repainting.

If you have mould in Mold, Damp in Devon or cracks in Cardiff, no matter where you live in the UK, our teams can make your home not only damp free but also maintenance free too!
Damp exterior walls, how to spot it

Any dampness on an outside wall will usually be evident immediately after a period of rainfall, which is of course a common occurrence here in England!
Damp externally may often show itself as a dark patch on the wall which, upon closer inspection, could be a growth of algae, or a water stain where a pipe is leaking onto the wall.
In addition, after rainfall, if you have patches of wet on the wall that seem to be "drying out" quicker than the rest of the house, be worried as this is not drying out at all, it is moisture being sucked into the walls of the house and indicates a weak area of the wall, probably needing repair such as rendering etc.
A quick visual check of this area may also show up a crack.
You MUST contact someone to get the damp repaired, which is something WE can help you with.
Damp Interior walls and what to do about it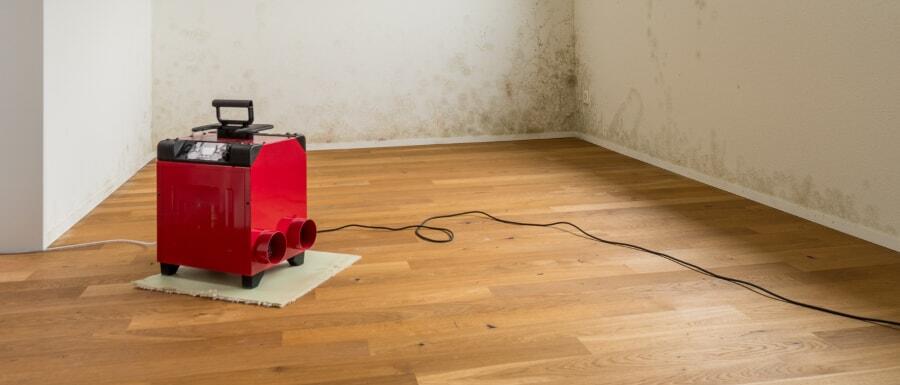 If the damp affecting your home is traveling inside the house, this is quite obviously NOT a good sign and you may not realise it but this can affect your health.
There are various different signs of damp in houses that can often be easily spotted by the home owner.
A normal sign of this is the appearance of  mouldy patches on internal house walls.
Sometimes this is only discovered by looking behind furniture such as wardrobes or sofas as the damp enjoys dark spaces in which to propagate and grow.
If the damp has come inside the house it can start to make a very bad smell which will ingrain itself in your carpets, curtains and furniture, and if the damp is not fixed soon enough, this also means you could be looking at paying out even more as you would need to buy new furniture etc.
If your interior walls in some rooms have mould on them, this is like any other plant , it needs water to grow, and also needs to reproduce itself, which it does by sending millions of tiny spores around the house, looking for other damp areas to grow.
Wall Coatings will CURE damp, whereas masonry paint just covers over the top of it
Never paint again has been damp proofing houses since the 1980's and we have not yet come across a damp problem that cannot be fixed with one of our exterior wall coatings.
We dont just offer the normal spray applied type though, so here below is a handy quick reference point which lists each of our main damp proofing wall coating services
This is our most popular product and can hide multitude of poor quality wall surface and old repairs your home may have had. It is available in a variety of never-fade colours. This is applied by spray and is suitable for all types of wall.
This amazing invisible wall coating cures all kinds of penetrating damp in walls which are required to be left un-painted, and also for historic and listed buildings where the exterior look of the property must not be changed.
This "bullet-proof" system is our top product and is super durable. It is made in Belgium to exceed all European and British building regulations and is available in many colours and effects. The coloured render also has an option of external insulation, fitted at extra cost.
And what's more, when you have an NPA Exterior wall coating fitted to your home, you will not have to repaint or cure any damp for up to 20 years!
This may sound expensive but it is not and if you allow us, we can prove that!
We also guarantee to beat ANY like for like quote from ANY exterior wall coating contractor in the UK, ensuring you get top quality work for rock bottom prices.
More peace of mind that you can shake a stick at.
We are so confident that our damp proofing wall coatings work, and do what they say they will do, our contractors will offer you not one, but 2 GUARANTEES!
1. Our products have a factory guarantee direct from the manufacturer, covering against defects in the product itself.
2. Our contractors, the people who you would be dealing with, issue a further 20 year written guarantee to you covering workmanship.
Total peace of mind.
If your home has damp and you would like to find out more about our range of damp proofing exterior wall coatings, call the team FREE on 0800 970 4928 or send us an email HERE.