Professional & reliable house painting services and wall coatings in and around Brighton and the whole Sussex area. Here's an example of our work in Brighton
Extensive cracked and hollow pebbledash was replaced and then protected with a NEVER PAINT AGAIN textured exterior coating, in Polar White.
This nice house was near the sea, in an exposed area, catching the rain driven wind that whips up from the English channel.
Time had also taken it's toll on the building and the house was covered with badly cracked pebbledash, some so bad, it was more or less falling off the wall.
A run down of the work we did to this Brighton property.
The gable end (side) was probably the worst area, but as the owner had a new extension built out the back, (see photos) there was a fair bit of new block work too, all of this needed to be matched in so the owners would end up with a house with a uniform exterior wall surface.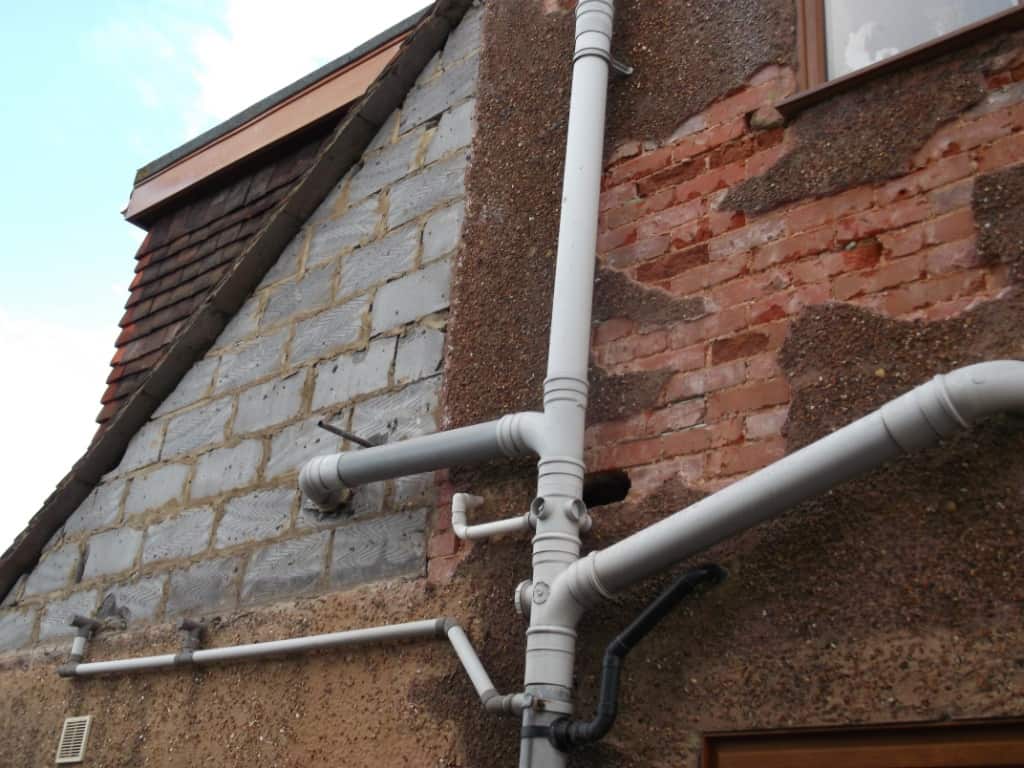 They chose NPA textured masonry coatings, available of course from us at NEVER PAINT AGAIN UK who specialise in applying super durable, weather-resistant exterior wall coatings in and around Brighton and Hove, having worked in the city since the late 1980's.
In fact over the years we have also painted homes in Portslade, Lewes, Shoreham, Worthing, Seaford, Littlehampton, Arundel, Lancing, and everywhere in-between, but we do work across the UK so you can be sure we have texture coated a house near you.
The pebbledash was in very poor condition.

As you can see from the photo below, we certainly had our work cut out for us, so that's what we did, we cut out the crack, and hacked off the very loose pebbledash.
Repairing it is far cheaper than the cost of removing pebbledash which can run into a 4 figure sum depending on how big the house is.
One thing that stood out about the service we offered was the fact that in normal cases, the owner would have to find a builder in Brighton, as well a a painter in the town, and maybe even a damp proofing specialist, and then co-ordinate all the work.
Never paint Again gives a complete service from our tradespeople, so we take care of the lot, including project management one each job, and you don't have to spend YOUR valuable time searching for different tradesman.

As you can see from this photo, the weather had battered the exterior of the home and much of the pebbledash was so bad and so loose, it came away in our hands!
If you ever wondered how to remove pebbledash then you need to spend the day with us to find out how difficult it can be!
An example of how pebbledash can crack, allow water in, then freeze, and push away the render from the wall.

As you can see, the walls, once we had taken the old pebbledash off, were not in such a good state as the owner thought, and that is being polite!
We did all the rendering, and then hand applied a tyrolean exterior wall finish, to match the texture of the previous pebbledash.
Once this had dried, we then applied a sand and cement slurry render, known as "Bagging" and then allowed to dry.
This fills in all the tiny holes across the wall and provides a good starting point for the next stage.
Applying textured masonry wall coatings: how it's done

After the team had completed all the repairs,  the house was masked up, and we laid dust sheets down on the drive and the garden, so as to not leave any mess.
We hand applied primer to the walls, working the paint into ever corner for maximum protection.
We then got ourselves ready to spray the top coat, a thick and durable paint-like coating, which once applied will not fade, crack, chip or peel for at least 20 years, guaranteed.
So we turned this sad looking pebbledashed Sussex property…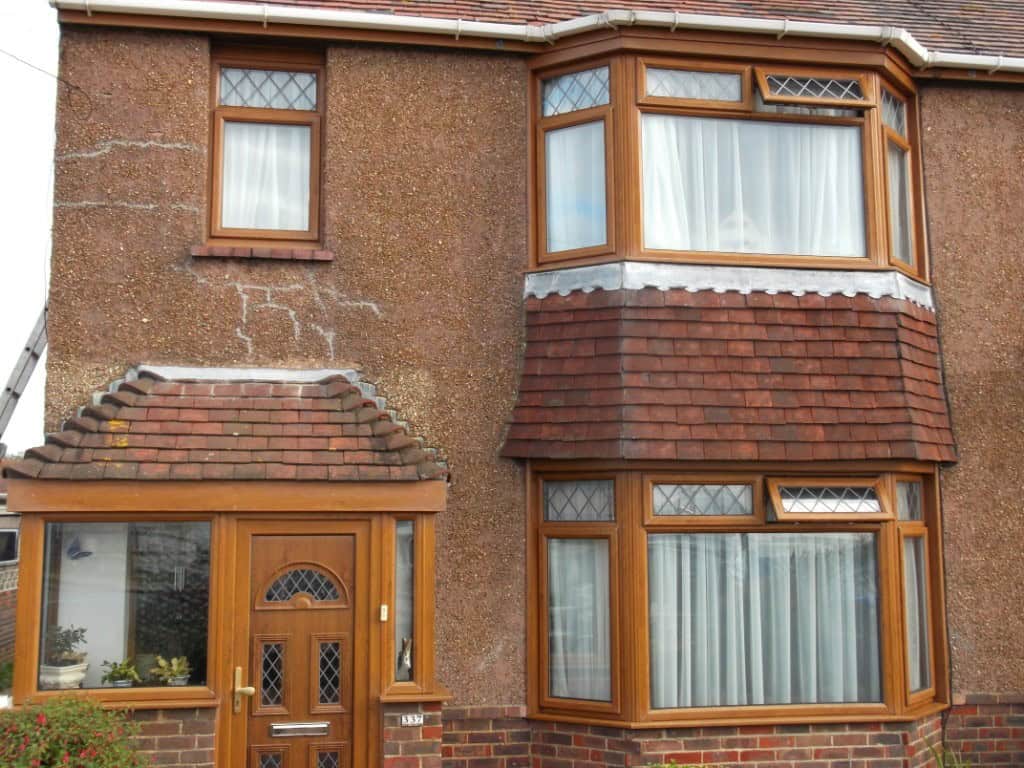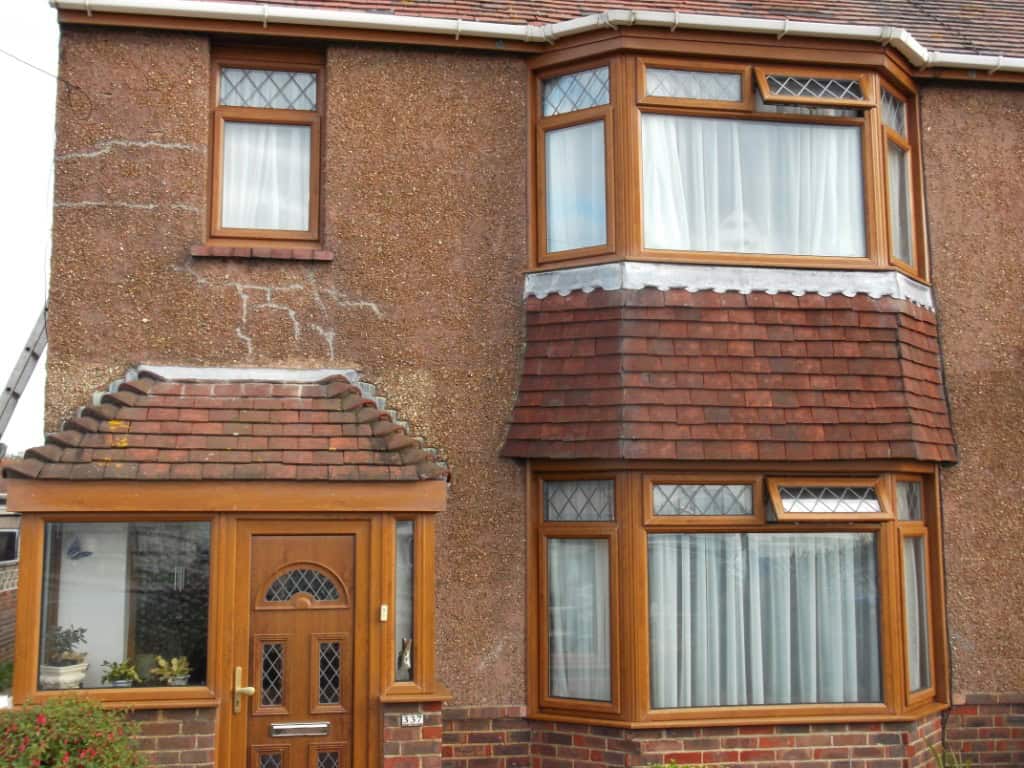 ….in the space of less than a week…….
…into THIS wonderful Brighton property! (or "drum" in the local lingo!)


What an amazing job, even if I say so myself!
As you can see, an NPA textured masonry coating is the ideal solution for pebbledash in poor condition.
All credit goes to the hard working contractors who did this and they certainly had to work hard to carry out all the repairs to the house.
The exterior wall finish on this house is guaranteed to stay looking "sweet as, Guvna" (!) for at least 20 year! (Cushty!)
If having this special exterior wall coating and repair system on YOUR house, interests you, then get in contact with us today by calling 0800 970 4928 or clicking here to send an email!