Looking for a local Cornish painter and decorator to paint the exterior of your house? The Never Paint Again Wall coating company have been repairing and painting homes across Cornwall and Devon since the late 1980's.
This page shows you how we painted a rendered bungalow in Redruth
It's a foregone conclusion that painting the exterior walls of your property is a task that you really do not want the hassle of doing every other year, not to mention the costs involved, and the hassle!
So if you own a house in Cornwall, what's the answer?
The answer is a long term, proven solution, to the regular repainting of the outside walls of your house, something that rather than a company making tempting but inaccurate claims, we have a proven track record since 1986, of repairing homes and applying our famous NEVER PAINT AGAIN wall coating.
So what does that mean for the Cornwall-based local painter and decorator?
Bad news I'm afraid, as with this system on your home, the one we are about to explain to you, you won't have any need to call a local Cornish based painter and decorator ever again!
Here's a house we repaired and painted, in Redruth, Cornwall.
Although we work across the UK and not just Cornwall, we are based in Plymouth and have serviced many homes and hotels across Cornwall
Today we are going to show you a bungalow in Redruth that we repaired the render and painted the exterior walls with our long life wall coating, which will last at least 20 years without repainting.
If you live down in Cornwall you will not the wonderful summers you get here but equally you would be aware of the atrocious weather coming from the Atlantic ocean, with winds so strong it can literally rip the paint off the walls!
If you live in this part of the world, having normal masonry paint on the exterior of your house is a waste of money.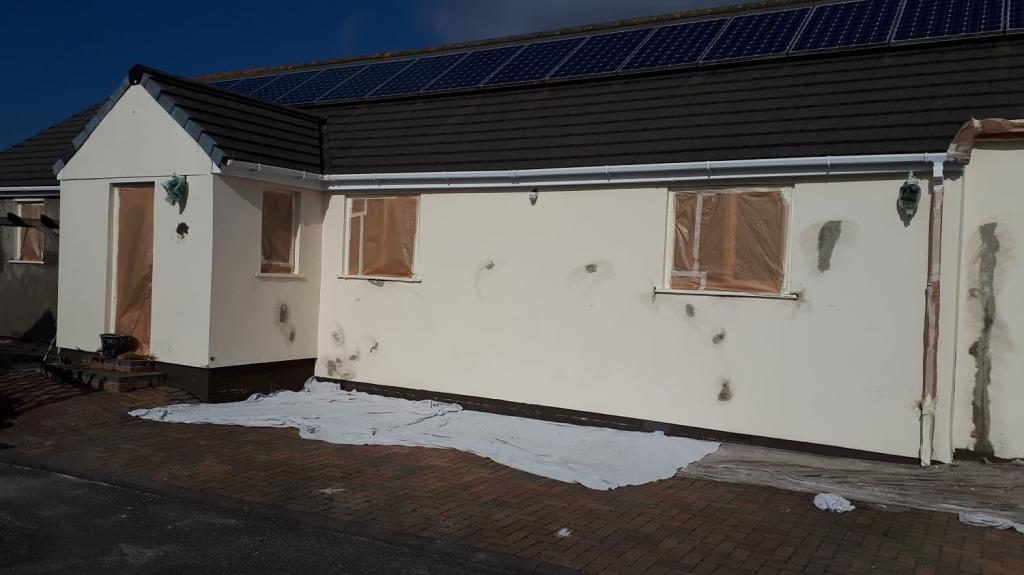 Let's have a quick look at a house we worked on down in Cornwall.
In this photo you can see that we have powerwashed the walls and carried out various small repairs to the rendering, including fixing some cracks.
Preparation to our teams is of the utmost importance and the majority of time spent on site is doing just that: preparation.
We also take a good deal of time in making sure no mess is created, a very hard task when major works are happening to a house, so we mask up the doors and windows, and then we lay dustsheets on the floor.
A while ago we covered how to paint a rendered exterior so I won't repeat myself too much today!
Why do we need to paint?
Painting the exterior walls of your house doesn't just improve it's overall appearance, as long as weatherproof paints are used, it also helps to protect the property from damp penetration.
The problem is, and this is something that a local painter and decorator in Cornwall probably won't agree with, normal masonry paint is more often than not, made with water.
(You can check this by going to various paint manufacturers websites and looking at the composition of each masonry paint. Water. Lots and lots of water!)
Yes that's correct, the paint that "Dodgy Darren" is applying on your home is just COLOURED WATER.

So why doesn't your typical decorator tell you this somewhat major revelation?
Because he wants to climb back into his knackered, filthy old van, and come back each year or every 2 years, to repaint the walls as he wants as much money as he can get from you!
Your decorator actually WANTS the paint on your house to not last too long so he buys the CHEAPEST PAINT he can find, meaning he knows he will be back and he get more money from you.
This time of year the Cornish Discount-tat store Trago Mills is full of part-time decorators, signing off the dole after a winter doing interior cash in hand work, buying end-of-line cheap masonry paint, often imported from China, unlike our paints and coatings which are made in England.
If I owned a property in Cornwall and I paid some rural geezer £1500 to paint the outside, I would be quite cross if I had to pay them yet again 18 months down the line.
Please also consider that when buying "end of line" paint (So stay away from Liskeard Trago Mills me dears), it is on the way out as paint has a shelf life so be warned as buying cheap paint may actually cost you MORE than buying good quality paint.
Painting rendered external walls are not as easy as you may think!
How are we different from other decorators down in Cornwall?
We differ greatly from your local Cornish-based house painter because a domestic painter will not only use normal paint which won't last 5 minutes, they will only do work on homes that are in good condition because most of them haven't got a clue how to carry out repairs to the house.
Your painter will use normal masonry paint, we use "micro porous paint" or microporous wall coatings anyway, which allow the wall to "breathe" naturally rather than "seal" the building.
This means our coatings and paints will not let water into your home, but if the bricks inside are damp, the water will evaporate outwards, leaving the house nice and dry.
If the painter finds a crack, they will often just fill it with cheap decorators caulk or silicone mastic sealant, which over time will open back up again, let water in your house, and cause damp.
That is why all of our wall coatings we use are weatherproof and fully breathable, giving your house not only a good look, but ultimate protection against mother nature.
Each job comes with a 20 year guarantee. Something your local decorator cannot and will not offer you!
Oh dear, it's not looking good for the local painter down in Cornwall is it?
Carrying on with the job we are taking about down in Redruth……
After the repairs are done, we move onto the 2nd stage which is applying a cement slurry of bonded polymer render to the walls, filling in all the small gaps, stabilising the wall surface and providing a good key to the next stage.

Staying with this image, to the right you can the walls are on off-white colour.
This is the PRIMER stage of the wall coating system, meaning that unlike the cash in hand painter who will slap on one coat of cheap paint, each job we do has about 3 preparation coatings.
After this, the house has one thick coat of our wall coating system which is MUCH thicker than paint, in fact TWENTY TIMES the thickness of paint, to give the ultimate weather-beating finish which looks amazing too!
So what did the house look like once we had finished?
Unfortunately the sun was setting as our team were finishing so you will have to use your imagination as to what this house now looks like on a sunny day, but here's the final photo…..

What is so different about your wall coating system and why should I call you and not another decorator in Cornwall?
The choice ultimately is yours and yours alone.
If you select a decorator who lives in Cornwall for exterior work, you can only engage their services in the summer time, whereas our wall coating system is resin based, does not freeze and is resistant to rain showers once applied.
This means that no matter what time of year, winter included, we can repair and paint your home and give it a durable finish that will last upwards of 20 years.
Not only that, our wall coating system has been proven time and time again to CURE DAMP. Your local painter cannot do that.
In addition, who are you most likely to be reassured by if selecting a decorator on the internet?
Our website has been going for the past 18 YEARS so if you are looking to get the house painted, which website would fill you with confidence?
A website that has been featured numerous times on the TV and in local, regional and national newspapers?
What about a website full of glowing and GENUINE customer reviews of their work?
I'll leave it up to you to decide! Remember, to summarise, our house painting service is much more involved that employing a painter and decorator and our work to your home would be far more involved than turning up and giving it a "lick of paint".
Houses deserve more than that, they are your greatest asset and if you don't look after it, it won't look after you!
Whether you own a terrace in Truro, a lil' Looe fisherman's cottage, A posh pad in Padstow, a Semi in Saltash, a little place in liskeard, or a bungalow in Bodmin, we are here to help you.
To find out more about how much it would cost, and what is involved, in having our long-life painting system on your home, put down that pasty for a minute, and give us a call today on (0800) 970 4928 or click and email us today!
The never paint again wall coating company, 10 Drake Mill business park, Plymouth PL6 7PS