When we show off our textured wall coatings, we can't just show you a sample online, we find it better to show you what they look like on a house and here is just one such example.
This delightful house in York, is situated right next to a lovely and well attended local church.
Looking at the front of the house, it may have been a shop premises at one time?
One challenge that was overcome when refurbishing this house is the fact that it had a mixture of wall surfaces, from painted brick, to painted pebbledash and render, all of which needed a different approach to repair and paint.
Preparation is the key to a successful wall coating job, which is what we did here.
As you can see from the BEFORE images, there was a lot of flaky paint that had to be attended to before we could continue our exterior wall coating application process.
The house had a mixture of exterior wall surfaces such as painted brick, tyrolean and render so each particular bit had to be dealt with by us in a certain way.
This is the state of the side of the house showing what we think used to be stables.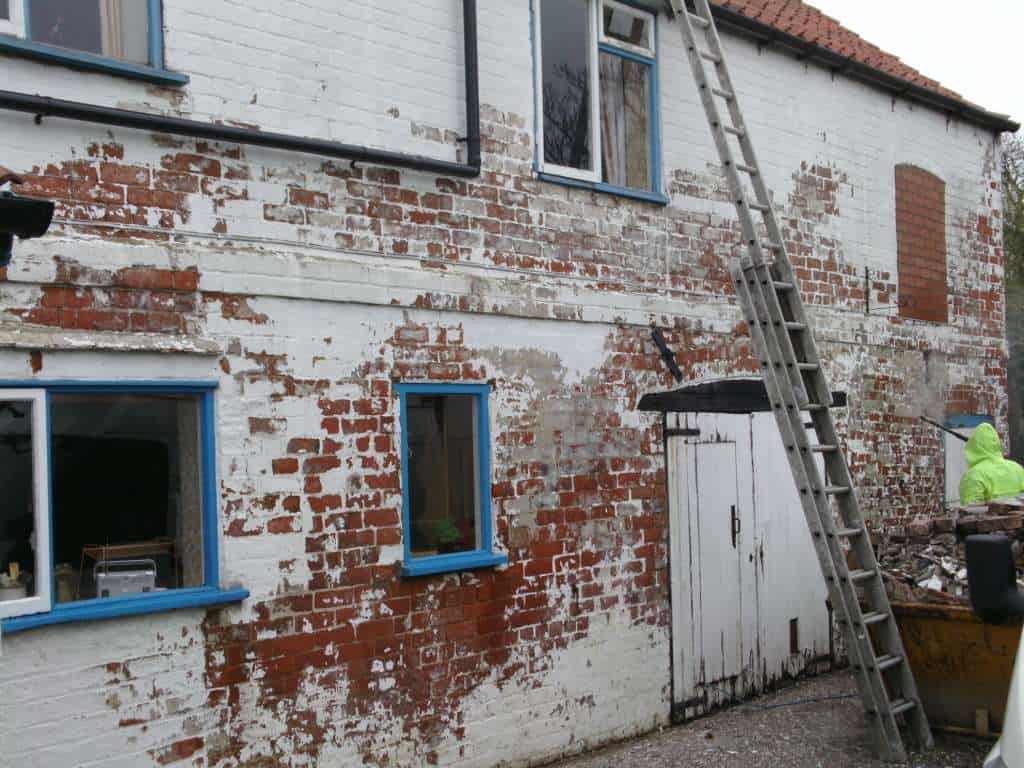 You can see a member of the installation crew in yellow waterproofs, dealing with our power wash system to remove the flaky paint from the wall.
So you think that side wall looks bad?
Then check out this shot of the REAR of the cottage with some brickwork in shockingly poor condition with acres of loose and missing brick pointing.
It goes without saying that damp was coming into this wall and inside the house causing black mould to appear on the walls inside.
This wall needed substantial repairs

Here we can see what the front of the house on the street looked like before we applied the masonry coatings to the walls, and the work had already started as we had applied a cement wash.
This house was a bit tricky as the walls were already textured, but the main side of the property was brick, so we had to use slightly different methods on each elevation.
This house next to a church had to look its best

Moving around the side of the front, to the left and the bit nearest to the church next door, we found the tyrolean wall coating on the wall was literally falling off so we had to replace it all and this is what it looked like.
This house is starting to take shape at last

Going back to the rear of the house, we repaired the brickwork which was in an awful state and then the chaps added another version of our cement slurry mix to finish off the wall and make it ready for painting and this is what it looked like at that stage.
The end wall is now repaired and ready for painting

….and as a bit of a teaser before you get to the end of this article, this is the same wall after we had repaired it and sprayed a special masonry coating by Wethertex
What a huge difference a wall coating made to this wall

(I hope the owners had their windows sorted after we left as they were not in great condition)
This is what the side is starting to look like now we have repaired the brick and tyrolean along the side and applied a primer coating.

Staying with the side of the house, here we can see it in all it's splendour!
We have done all the stages recommended by the factory for a successful application of a textured spray-applied exterior wall coating and doesn't it look heavenly!
Now that looks much better!

Looking at the saddle stand I just noticed at the back of the photo I think it was probably a stables now to think about it!
On this project the wall coatings team….
Removed extensive flaky paint.

Repaired loose, damaged and missing "pointing" (mortar joints between the bricks)

Repaired or replaced rotting woodwork and painted to match.

Masked up and protected all areas not to be treated (windows etc)

Protected all surrounding areas, paths etc with dust sheets.

Applied a dense coat of a latex modified bonded resin.

Hand applied a coat of primer to the walls.

Spray applied NPA textured masonry coating.

Then the whole site was cleaned and tidied up for the final inspection.
So what about the rest of the house?
OK, here are there final images we took of the completed house painting project and we know that the work we did got some very positive comments from the parishioners of the church next door.
Here are the owners who as you can see, were very happy!

Here is another shot of the front of the newly painted house, although not sure if this was the vicarage or not, it seemed to small for that.
But in the photo you can see the sign for the Lords' prayer which we had rammed down our throats, so to speak, each day, so we came away from this job feeling somewhat religious!
Praise the lord LOL!

We can totally repair, renovate and refurbish more or less any type of house and in any condition, good or bad.
Once we finish the work, we guarantee that for at least 20 years, no more painting is required.
This service is available throughout England and Wales, and a quote for house painting is free and with no obligation to buy. You can also call us on 0800 970 4928
Contract carried out by The Never Paint Again Wall Coating Co., Unit 2, Dolly lane Business centre, Dolly lane, Leeds, Yorkshire, LS9 7NN.