Do you have a house with tyrolean and it needs painting?
What exactly is tyrolean?
Tyrolean is a sprayed and often coloured mortar or cement mix, which is hand applied with a tool known as a tyrolean gun, or in some cases, a top fed hopper gun powered by a compressor.
Let#s learn a bit more about the system
Tyrolean wall coatings: what are they?
Before start, let's clear this up.
We are speaking about a wall coating known as tyrolean.
NOT Terylene, which is a synthetic polyester fibre produced by polymerizing ethylene glycol and terephthelic acid which is obtained from petroleum!
Tyrolean has been used across the world as a cheap, quick, exterior textured wall coating that is normally applied to poor quality surfaces to hide brick or render underneath.




Repairing a tyrolean wall, especially if it is coloured tyrolean, can make the house look very messy as it is almost impossible to get a good match between old and new external wall surfaces.
This is especially true with coloured tyrolean as you will not be able to get a colour match between the old tyrolean and the new tyrolean and therefore the wall, although repaired will have many shades and will look like a patchwork quilt!
Tyrolean wall painting repair and problems with tyrolean
Tyrolean repairs often are needed when the inflexible wall covering cracks over time as it becomes brittle with age.
Never Paint Again have surveyed many houses with this particular problem and sometimes we find the tyrolean is so brittle it simply falls off when pulled by hand.
This is of course far from ideal, so this is what Never Paint Again does with houses that require repairs to tyrolean.
How to repair tyrolean walls
Never Paint Again can do a full repair to your walls, in some cases, replacing the entire surface coating with a more durable version and then covering the tyrolean with a flexible, spray applied wall coating that does not chip, fade, crack or peel and is guaranteed for 20 years!
Tyrolean covered walls are textured in appearance and Tyrolean is a cement based textured exterior wall coating which is hand applied using a tool called a tyrolean gun.
A tyrolean gun isn't actually a gun, but is a special bucket with a spindle in the middle which looks rather like a hairbrush.

It is often spelt incorrectly as Terylene, which is in fact a material used in haberdashery and dressmaking!
This is a hand operated tyrolean gun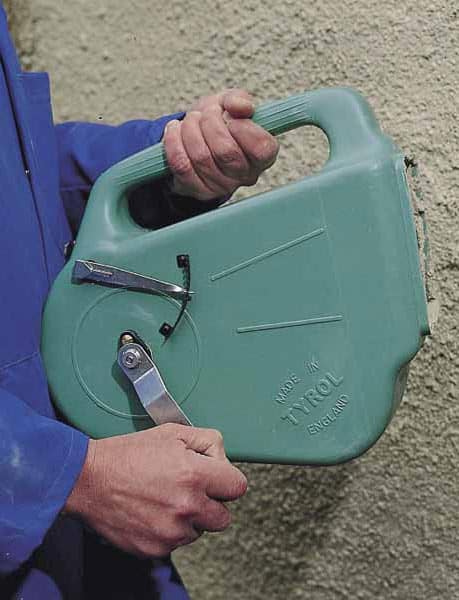 When a cement mixture is introduced into the tyrolean gun, the handle is turned by the operator which turns the hairbrush-like spiked cylinder, which subsequently picks up the cement mixture, and is then flicked onto the exterior wall surface in small splats.
Tyrolean can have additives too.
The tyrolean mixture sometimes has unibond PVA added to it for better adhesion to the exterior wall. The tool is hand operated and can be very exhausting to use all day!
There are air and electric powered versions available, however nothing beats the old method of doing it and whenever we do a job using this method, we strive to use a mixture of traditional building skills, and modern technology, to create a fantastic and long life transformation of any home, usually within the space of a week!
This is repeated constantly until a desired cement texture is achieved on the wall.
It is very difficult to achieve good results on this method without fine warm weather and a highly skilled operative coating a well prepared wall.
It can be applied as a cement colour or it can be coloured with the addition of an admixture, which is a coloured dye for the water in the mix.
It is brittle, often quite short term, provides no protection against the weather and often finishes patchy.
Traditional tyrolean exterior wall surfaces often crack and in many cases, as the tyrolean wall coating applied is so thin and brittle, it falls off.

We mean Literally: falls off.
Our painting teams remove all unsound and suspect tyrolean, and replaces the surface to match, before applying a cement bonding mixture, a coat of water resistant paint primer, and then we spray apply our exterior wall coating to the wall.
If you have a tyrolean coated house and require a maintenance free exterior wall finish then here's what you do. Call us now on 0800 970 4928