I'm from Kent originally and I know only too well how we can go from scorching hot summers in the county, to freezing cold winters, with not much in between.
The owners of this Bungalow in Biddenden, near Ashford in Kent, also knew this which is one reason why they chose us, the only original and genuine Never paint Again, to install a weatherproof paint finish on the exterior walls of their bungalow.
Here is what we did to the house.
The very title in this blog post basically sums up why our weatherproof wall coating system is by far a million times better than putting masonry paint on the walls of your house.
Our wall coatings offer superior protection against all kinds of weather, with the added bonus of the decorative elements of the system, leaving your house fully protected and looking good all year round.
2 summer days is all it took to paint and protect this charming bungalow from the weather in Kent.
According to holiday-weather.com the average temperature in Kent in the winter is a chilly 5 degrees (if you are lucky) but in summer that can climb to over 20 degrees, although the recent heatwave (July 2019) saw the mercury rising to the mid 30's!
All of this weather takes it toll on the exterior of your house.
A painter and decorator in Kent will only be able to work during the summer, but we can work all year round, we even paint houses during winter.
This is what we started with at the front of the house. Functional but not exactly very decorative?
The first thing our team did was to replace missing render, and also to repair cracks on the walls, and other areas of render that needed our expert attention.
It is important when choosing a Kent based decorator to paint the outside of your house that they do the repairs needed beforehand, or the paint will not last.
We do enjoy working on bungalows as they are much easier for us to do, we don't even have to take the ladders off the roof of the van!
Here we can see a rather dull looking rear view of the house

Our team hand applied 2 coats of a special wethertex primer and stabiliser, and then allowed to dry.
The doors and windows were masked up, and dust sheets were laid on the floor to prevent any mess.
It is also worth noting that if your home has plants, flowers and bushes near to the house, we always fully protect them so they do not get damaged or covered in paint.
We then applied a thick coat of Wethertex MP44 textured masonry coating to the wall, and here is what it looks like now

This wall, in fact the whole house, will not need any more repairs or the slightest drop of paint, for 20 years.
We offer warrantied wall coatings that offer you total peace of mind.
Looking around the rest of the house, here is us working on the side wall underneath the clients car port.
This wall has had one coat of primer, now for the second stage

Once we had finished the repair and prep work, the wall now looked like this (below)
Even the flowers (who were asleep during works!) decided to come and show their face and make the whole scene that much more pretty.
A freshly painted, weather protected wall

The benefits of this house painting system is the fact it will not fade, crack, chip or peel, stops damp, and lasts for 20 years, guaranteed.
Paint, even the top brands, is coloured water and does not offer protection and this should be noted by anyone looking to get a house painting quote
We KNOW that our system lasts as long as it does and all our paint and coating products are sent to an independent factory and are subject to accelerated weather testing.
And as we saw at the top of the page, here is the final finished product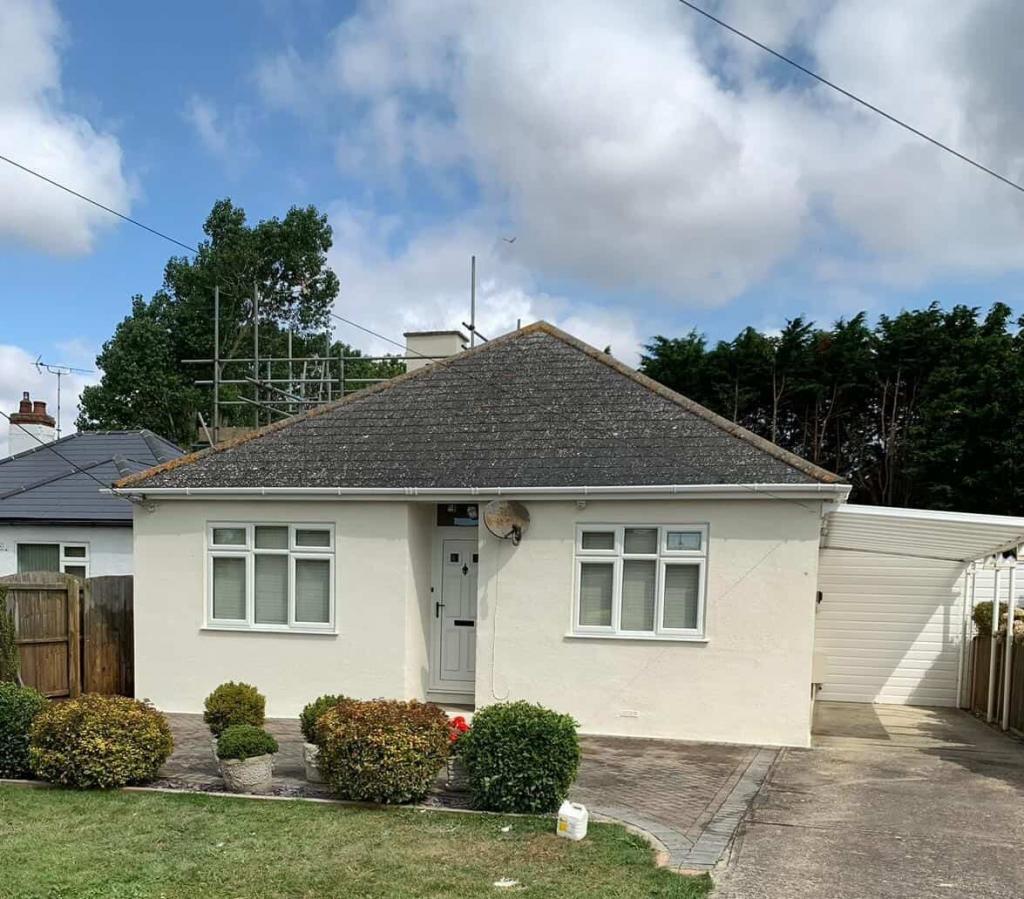 This super durable protective wall coating is quickly installed on your house without fess or mess and is cheaper than you may think.
We offer this service all around Kent and greater London and quote to have this done is completely FREE and does NOT involve a sales pitch!
We pride ourselves on good customer feedback and we would love for you to become one of our happy customers.
Get in contact with us today and start saving money on not having to paint the outside of your house for the next 2 decades!
The Wall Coating Company. 49 Greek Street, Soho, London, W1D 4EG.
Tel: 0800 970 4928