The exterior wall coating systems that our company use, last for over 20 years.
That's quite a claim isn't it? We offer a 20 year guarantee to all our customers, so it would be quite a gamble if we didn't actually know for sure that the paints and coatings would last 20 years?
How do we know FOR CERTAIN our house painting system lasts that long?
We know that our exterior wall coating really do last for 20 years, but how?
The main reason behind this claim is not just the fact that we have been using textured spray-applied wall coatings since 1986, although that's certainly a good selling point.
We have visited houses that had the system going back OVER 20 years, and the coating was still there!
I myself used to run a team applying the wall coatings, and I regularly drive past jobs I did in the 1990's and the owners have not had to had the house repainted.
We use Wethertex MP44 exterior textured masonry wall coatings
This spray applied wall painting system was developed in a partnership between ourselves and Wetherby stone ltd, to produce the most hard wearing and durable exterior wall coatings system you can possibly buy for your house.
In a world of "too good to be true" claims, that story probably wouldn't convince the most sceptical of potential client, so what do we have in our arsenal that REALLY proves that our wall coatings will last for 20 years?
All products used on our customers homes are independently tested and verified with accelerated weathering tests.

Samples of our wall coatings are sent for independent analysis and verification, so we KNOW that when we say our exterior wall coatings last for 20 years, we're not making it up.
The key features of our wall coatings are the fact that once applied to your house by our teams, they are guaranteed for 20 years NOT TO fade, crack, chip or peel.
They also have special qualities that stop damp, mould and condensation in the home, plus the insulation element ensconced within the mixture of the coating, can also reduce your home winter heating bills over a 20 year period!
Testing to Extremes for Long Term Peace of Mind
How do we test for extremes of weather to ensure longevity of the product?
Investment and innovation means Wethertex, our supplier, are able to test our products, in-house, to the highest standards using their own equipment and technicians.
They work to EN and BS standards to ensure that the wall coating systems we install on our customers homes are 100% robust, high quality and they stand the test of time.
Testing samples of wall coatings using the hydrothermal Chamber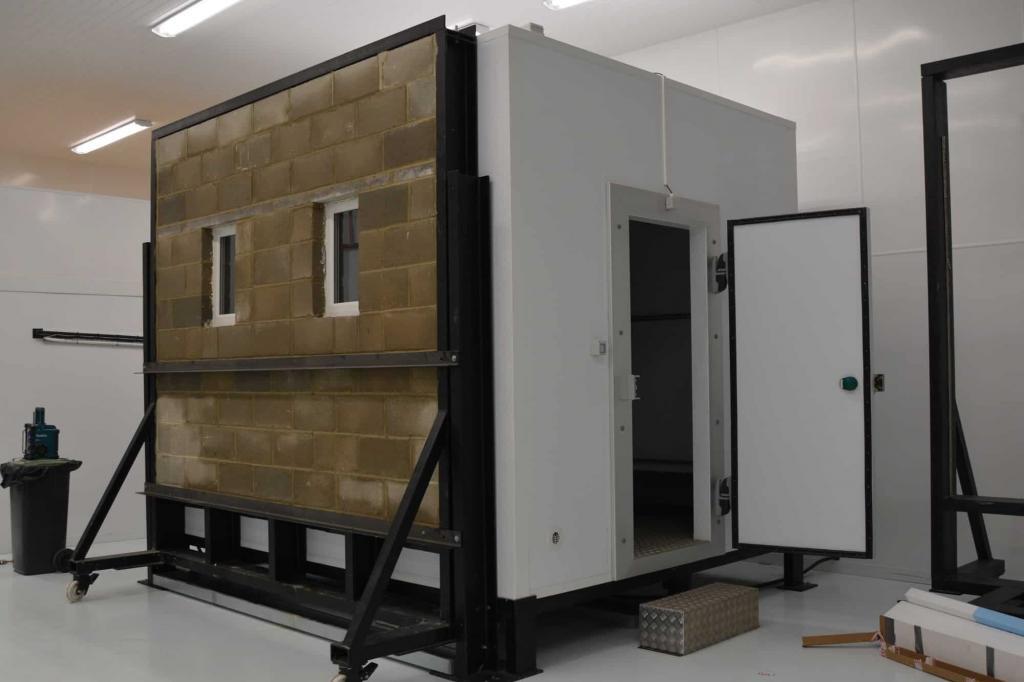 Severe weather conditions cause damage to any substrate over time.
The freeze/thaw cycle, heavy and prolonged rain, and snow too, can all cause damage to paints and coatings.
Using the unique hydrothermal chamber (above) the technicians can replicate these conditions over a one month period by alternating cycles of heat, moisture and cold at controlled, elevated temperatures equivalent to 25 years of outdoor weathering.
Using the QUV Accelerated Weathering Tester
Exposure to sunlight can also have a damaging effect on external wall coatings, but is particularly bad with normal everyday masonry paint.

QUV testing exposes the coating system to alternating cycles of UV light and moisture at controlled, elevated temperatures.
Testing for the performance of our wall coatings comes next
Our testing doesn't stop in the Hydrothermal Chamber or the QUV Cabinet, but carries onto to another level to ensure our wall coating systems perform to the exacting standards required by independent regulators and official organisations, as well as our valued clients.

What do we test for?
Adhesion to the Substrate
Impact Resistance
Flexibility
Flexural Testing
Water Vapour Permeability (Breathability)
Compression Testing
What standards do we test to?
All Wethertex products carry CE marking to indicate conformity with health, safety and environmental protection standards.
The British Standards Institution (BSI Group) is the national standards body of the UK and produces technical standards for a wide range of products.
Our products are tested to the appropriate British Standard to ensure our products meet and exceed the performance levels required.

Quality Control over all wall coatings systems we offer

Once we have fully developed our products, we have to ensure that Wetherby stone manufacture them consistently to meet our own high quality standards.
Our Quality Management system and process controls ensure that every batch of all products made in the factory go through a vigorous schedule of testing during the various stages of productions in QC Labs.
Some of the QC Tests carried out before the coating is made for your house

Product Consistency
Viscosity
Cure Time
Open Time
Colour
Specific Gravility (SG)
Adhesion
pH – Acidity / Alkalinity
Product Traceability
Unique Batch number allocation
Retained QC samples
Packaging identification
Compliance with ISO Quality Management System
Order / Batch traceability
Peace of mind
Much of our testing work is carried out by www.lucideon.com (formerly "CERAM") and you can contact them yourself if you wish to find further clarification and verification of the testing done on all our wall coating systems.
So what does that mean for you, our customer?
Firstly it means that when we advertise our exterior wall coating as lasting 20 years on your house, WE MEAN IT.
There are one or two competitors on the internet that blatantly LIE to you to try and get you to part with your money.
Amongst some of the claims is that these coatings will last 25 to 30 years.
Technically, no they won't, however there are exceptions to the rule, and although it may possibly last that long, it will be way past its sell by date.
Some competitors will tell you that having a wall coating applied to your home will prevent floods.
Utter nonsense. No wall covering exists that would prevent your home from being flooded!
Some (newer) competitors will try and convince you of their wall coating system being the longest lasting, but scroll back and look at what WE demand from our supplier?
We can PROVE our coating on your home will last at least 20 years, they can't.
Some wall coating companies will claim, as we do, their coatings last 15 to 20 years but do a "whois" check on their website and if they have been in business only a year or two how can they possibly make such claims with any confidence?
I'll let you make your mind up on who is telling the truth!
And if you have read this and wanted to know what is an exterior wall coating, please get in touch, we would be happy to explain.
"How do I go about getting an estimate for a wall coating on my home?"
That's very easy, just call us on 0800 970 4928 or use our secure CONTACT FORM to get in touch with us.
I hope that you found this article both interesting, and reassuring.
Whenever you choose a tradesman or home improvement company to paint your home, it's best to go with people who know what they are doing…
We have been doing this since 1986 and online since 1999.
Your choice.