Here's a case study of a property in Hull, East Yorkshire, which was in a sorry state and would have reduced any normal painter and decorator to tears, but not so for our wall coating installation contractors.
When a house needs a LOT more than just a lick of paint, you know who to call and that's ourselves, and when you see the work we did, and how it turned out, you will be sure to call us to renovate YOUR home in the near future.
Although we travel up and down the country renovating and refurbishing house exteriors, now and again we come across a property that not even a local painter and decorator would touch. Here is a house just like that.
Here we outline the work we did to restore this country cottage near Hull, East Yorkshire.
As you can see from the photos below, the walls of the house had various repairs over the years, alterations and additions, resulting in a scruffy patchwork appearance than masonry paint would never ever have sorted out.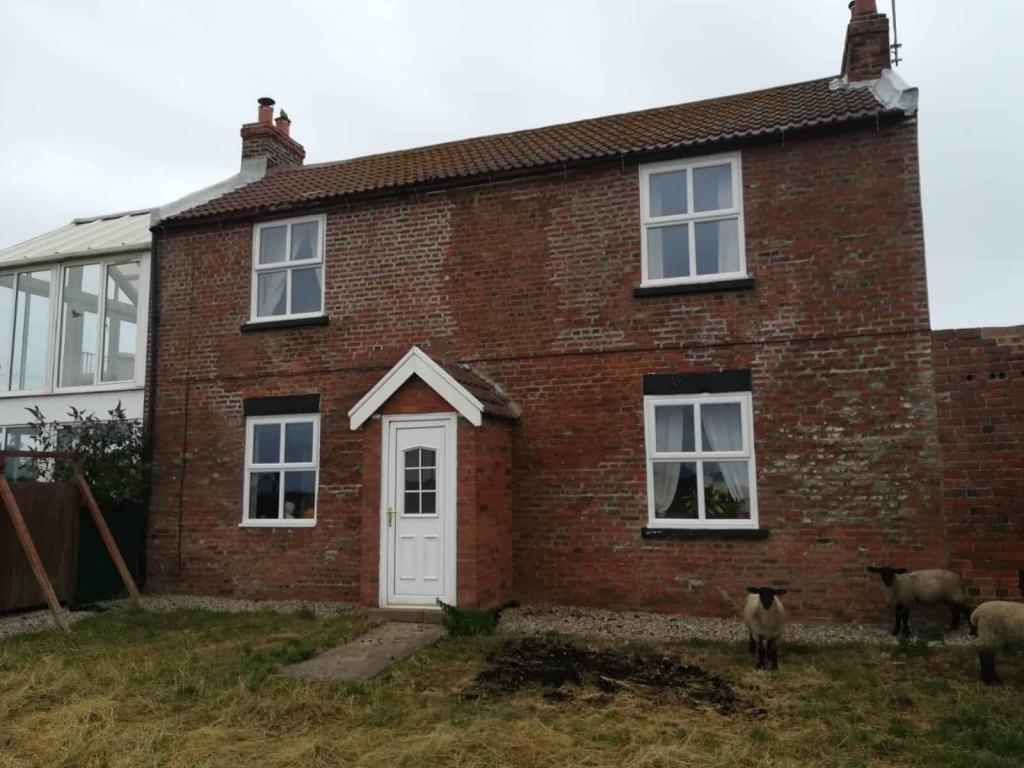 Even the local sheep seemed to tell us the house behind looked really "baa-aad". (!)
This charming rural home deserved a makeover, a restoratative programme of works to bring out the best in the house.
The owners had spent a fair bit on their own renovations but it obviously comes a time where even the most ambitious DIY'er admits defeat, but never fear, NEVER PAINT AGAIN are here.
A textured masonry coating for this house will make a huge difference, just see what we got up to below
Here is the side and rear of the property before we got to work.
Looks a bit ….er….. "rustic" at the moment doesn't it?

In many cases when your house needs painting, a decorator will arrive and slap on some paint and that is about your lot.
Not with us. As you can see to the left of the gas bottles there was a tumbledown lean-to.
The owners asked us to demolish it, which we did, and this created an alleyway around one side of the house which they were very happy about. This is an exterior renovation and makeover, not a paint job!
Here is the new alleyway we created for the customer.
An alleyway can be called something else in different British and Irish dialects.
(This path or passage at the side of the house, is also known as a "snicket", or a "ginnel", depending on where you live, although in Hull, it's a "tenfoot" so I am told).

An alleyway is also called a jigger, a twitten or twitchel, a jitty, or a vennel.

We were then faced with the challenge of restoring the very scruffy brickwork and replacing the large areas of loose and missing brick pointing mortar joints.
We then applied a cement slurry on to the wall, allowed it to dry and then a further primer coat before we sprayed a textured exterior paint coating, the results of which can be seen below, and wow, what an improvement!
Here is the new alleyway (the "tenfoot"!) and newly revealed exterior wall after the wall coating treatment

Looks much better now doesn't it?
We spend a lot of time on preparation, as you can clearly see, meaning that once the walls have the complete NPA system applied to them, the house will need no further repair or repainting for 20 years (at least) and that comes with a 20 year insurance-backed warranty.
Our wall coatings also stop damp, mould and condensation, bringing even more benefits, far more than a DIY paint job would ever do.
The 2 primer stages can be seen in progress here at the front of the building

The cement slurry has dried, and this gives us a good surface to apply the primer, which you can see our team doing that right now.
We take great care not to cause any mess, so plenty of dust sheets are laid down, plus we mask up the doors and windows, so splashes and no mess, in fact once we leave, your home will be CLEANER and MORE TIDY than it was when we arrived.
We could never ever have made this house look like brand new bricks, and that would have taken away much of the charm of the house too, but the bricks will never be subject to erosion again, nor will damp and mould come into the house.
This means the weather can throw whatever the hell it likes at this house, it will stay looking this good, and it will be dry and warm, for the next 2 decades.
Here is the front of the house, all finished and as bright as white as you can get

This house will stay looking this white for the next 20 years and we guarantee that in writing too.
A nice, uniform finish has really brought life back into this old rural home and if you know the area, you can see this place for miles around now as it is so bright!
So, we looked earlier on at how bad the REAR of the house was, so, what does it look like now the work has been done?
What a massive difference! (Scroll back up the page to see what it looked like before for a comparison)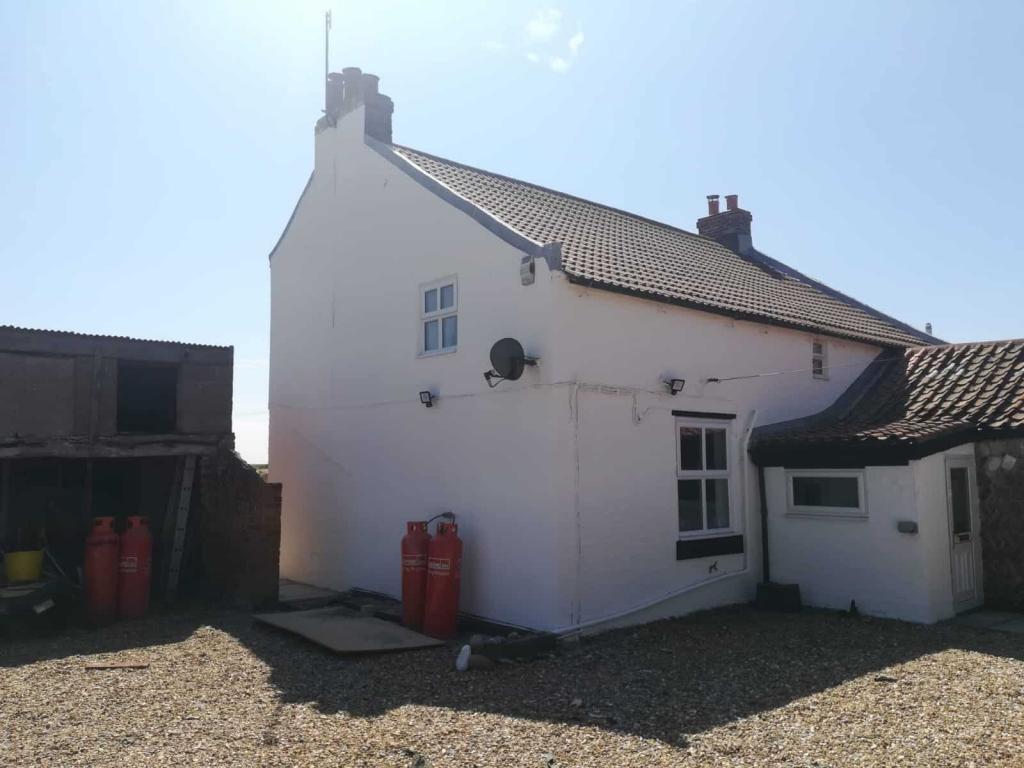 The Wethertex textured exterior wall coating system we used on this job has totally transformed what was essentially a cottage in very poor condition.
Now the owners can rest easy knowing that not only is the property weatherproofed and protected from the cold biting wind coming up the Humber estuary, it won't need any painting or maintenance for the next twenty years.
This renovation involved a lot of work, as you can see, but we don't charge the earth and if your house needs a lot more than a lick of paint, get in contact with us today and ask about prices.
You can call us FREE on 0800 970 4928 or you can SEND US AN EMAIL.