When most people think about painting the outside of their home they think about PAINT.
The sort of paint we can all buy down at B and Q for a few quid.
The problem is, masonry paint is only actually designed to last a couple of years before it needs overpainting. In fact most DIY masonry paints start to break down after only the first winter.
Our customer (in Newcastle Upon Tyne) realised this and knew all too well of the problems associated with paint and looking at the "before" photo of his house, you can see why the homeowner was fed up with what is essentially a tin of coloured water.
Here is what we did to install a Protective textured coating on this house
When the task of repainting your home comes around every year or every 2 years, if it costs £1500 to paint your home, surely spending that every 2 years is a total waste of money right? RIGHT!
Our customer in Tyneside knew this only too well and despaired with the fact he was literally throwing money away on cr*p paint job after cr*p paint job.
When you own a nice house like this, the building itself DESERVES a bit of care and attention, after all this is YOUR asset so it pays (literally) to keep it in good shape.
We visited him in April 2015 and presented him with a solution to all of this in the guide of one of specially made protective textured wall coatings, which unlike the paint on his house, never peel, flake or crack.
Over the years we have written many similar case studies with before and after photos,  and without running the risk of repeating ourselves on each of these pages, we decided to take you through the problems associated with masonry paint, and the solutions in the form of protective wall coatings.
The "protective" bit is something that paint manufacturers don't put on the paint can labels because they know all to well that paint will NOT protect your home. It may look nice, but only for a while.
Just take a look what we had to deal with on day one up in Newcastle.
You don't need to be a builder to see what's wrong here.
Paint just won't cut the mustard, especially in area where the houses "get a lot of weather" (!) and after wasting money on a decorator to paint the home, it was time for something that would protect the walls, but didn't cost a fortune either.
Here is a shot of the side of the house, once again, with paint so brittle after only one year of being on the wall, a garden hose with a spray attachment was all it needed to remove huge chunks of it!
Flaking paint can be a serious problem if the house is painted with a cheap product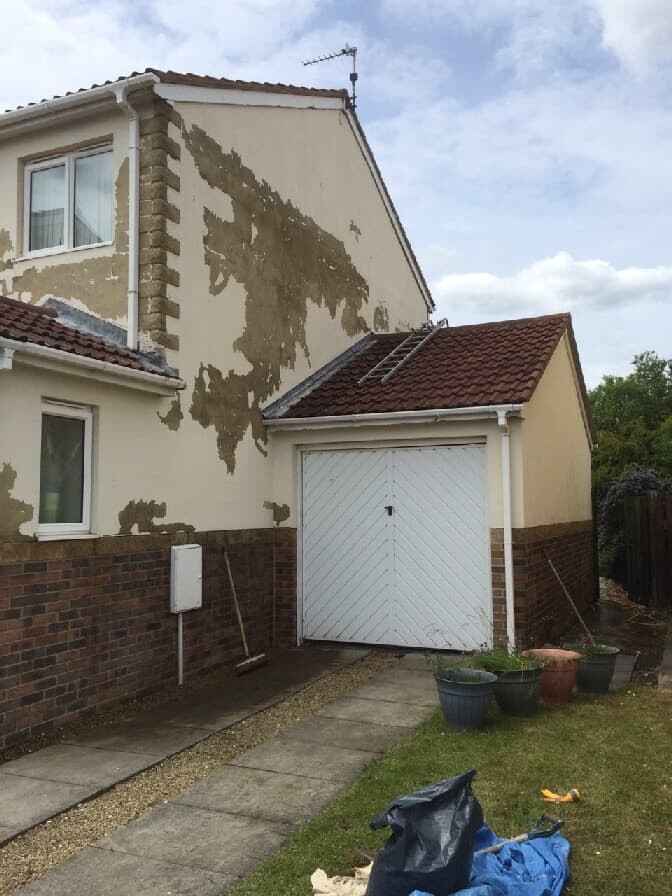 Once we had removed the old Dulux paint, we masked over the windows with tape and brown paper, laid down dust sheets and tarpaulins to protect the lawns and paths and then went to stage two.
Stage two was hand applying a waterproof primer.
This gives us a good surface to spray-on our protective wall coating system, giving the wall surface a damn good coating of thick, durable and weather resistant NPA coatings.
Here is what the house looks like now with no flaky paint!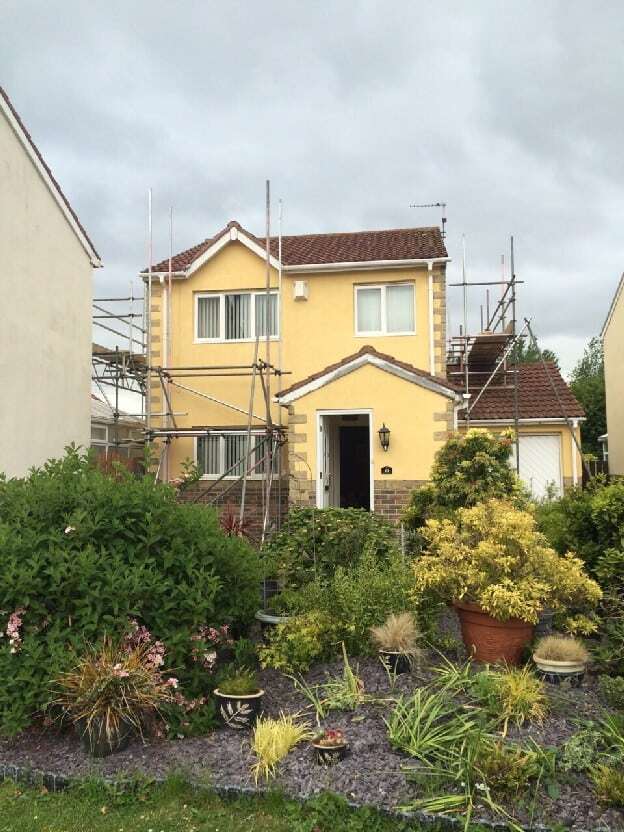 Wow!
Comparing it with the BEFORE image (if you scroll up the page) you can see what a difference a spray makes!
Why protective wall coatings and not masonry paint?
In many cases, especially with this house, paint just isn't up to the job, so over the years we developed this special coating which I'm afraid can't be bought in the shops, or applied by yourself, or by a painter.
Special tools, training and equipment are needed, so we do the work ourselves.
At least we know by doing that, it will be done right!
Protective wall coverings are made with blended resins and minerals, giving a flexible paint film that is actually TWENTY TIMES thicker than masonry paint, thus giving all the protection that your home needs, no matter what condition it is currently in.
NPA coatings give protection from WHAT exactly?
Our coatings are designed to be durable and to resist everything that mother nature can throw at it.
This includes protection from frost, rain, pollution, smog, damp, mould, mildew, cracks, faded paint, in fact most things that paint will NOT protect from, our coatings DO protect.
This means that the sort of things that cause damp or cracks, won't be able to ever get a foothold, and therefore your home gets extra protection and is preserved for future generations wtih this outside wall covering.
The main benefits of the system is the fact that unlike paint, this complete home protection system will last for up to 20 years, and will not flake, fade, crack, chip or peel!
This means this lucky householder won't need to lift another paintbrush until the year 2035! No gimmicks, no fuss, no hassle.
If you are interested in our alternative house decorating system, you can call us today on (0800) 970 4928 and we would be happy to help and advise you as to whether the process is suitable for your particular home, and of course how much will it cost?
Although we are a national company, we have plenty of experience in towns nearby to Newcastle, such as Cramlington, Ponteland, Hexham, Longbenton, Bedlington, Blyth, Prudhoe, Ryton, Tynemouth, Morpeth, you name it, we've painted a house or 2 in the area!
We look ahead to hearing from you. We are open 7 days a week. Thank you.
Alex