Cracks come in all shapes and sizes, some only on the surface and some that go far deeper. This house in Ashford, Kent, was covered in painted tyrolean and suffered not only from cracking to various parts of each elevation, but it also needed frequent external re-painting.
Due to the size of the house, having a local decorator from Kent to come in and paint it every 2 years was costing the owners a small fortune.
This was of course coupled with the almost yearly hassle and inconvenience of having a team of painters arrive each time.
Most decorators, including ourselves, price up painting work based on the total surface area of the walls of a house, and then add various bits such as scaffolding and VAT on to the cost.
Owners of houses with a large amount of surface area have to pay more each time, so the owner here was looking for a solution to this, which we provided.
Here's an example of an installation of a protective wall coating which stopped a paint flaking issue.
This house in Ashford has tyrolean on the outside walls, which kept on cracking.
First off, let's explain what tyrolean actually is:
Tyrolean was invented in 1895 in Chicago (USA) by Dr. Carlton Akeley, and is also known as Sprayed mortar, sprayed concrete, gunite or shotcrete. It was introduced into Europe some time after WW1.
Tyrolean is essentially sprayed mortar, often used to cover poor quality brickwork and it is this reason that many quickly-constructed council houses had this type of finish.
If used properly, it can add a real character to a house, although a big drawback is that it has no flexibility, and therefore cracks very easily at the slightest "movement" of the building.
You can see that the effect, after only a couple of years of being painted, is undesirable.
It's hard to believe that this home was painted with a good quality, branded masonry paint only 18 months previous and it wasn't a bad quality paint job either so we were told.
So tyrolean will crack if it is left unpainted, or even if it is painted, so what can be done to cure the crack problem?
The main problem is that the tyrolean is cement-based and therefore inflexible.
We needed to put something onto this home to make the wall covering FLEXIBLE and yet impervious to rain, wind and sleet.
OK we get to install wall coatings on all types of wall surface so this didn't present too much of a challenge. Let's have a look at some other bit of the house.
Masonry paint just wasn't up to the job and neither was tyrolean

You don't need to be a professional decorator to see something really needed to be done to bring this lovely house back to life.
The sides of the house were no better too.
The sides of people's homes often get overlooked but what if these walls are the ones that catch all the weather?
Here we can see 2 images, one BEFORE we did the work and then one AFTER we sprayed our exterior wall coating system.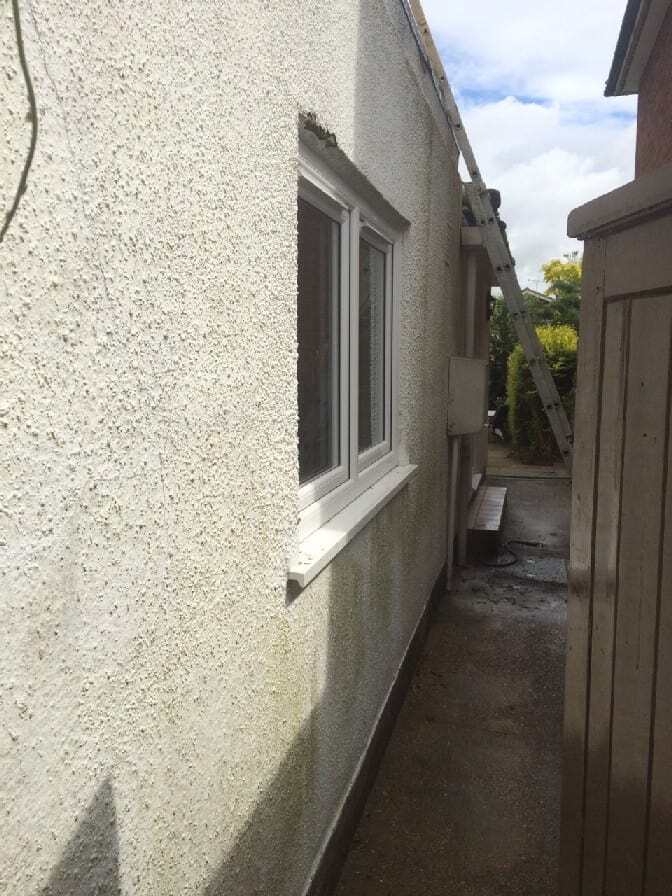 As you can see from the BEFORE image above, the wall was in a sorry state.
It is worth checking the exterior of your house from time to time to see if any defects are evident.
I mean, hands up who takes their property for granted?
I am sure if you went outside (After reading and sharing this article!), you would spot something or things on your walls that don't look right.
Here is the same wall as above, but with a new, protective wall coating installed.

So what work did we actually DO, in detail?
Power washed the walls and applied an anti fungal coating.
Opened out and repaired all cracks and repaired to match the wall.
Laid sheets etc to protect plants, paths, bushes and lawns, meaning no mess!.
Masked up doors and windows with brown paper and tape.
Applied a primer to all wall surfaces and allowed to dry
Sprayed a resin based textured exterior wall coating
Removed masking and cleared up site!
"AFTER" image one: Masking just removed, paint still drying on wall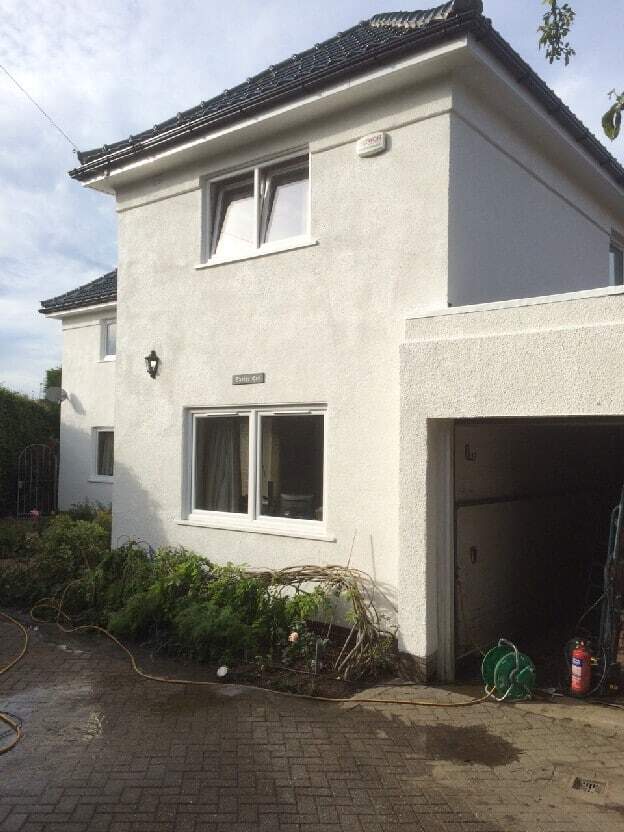 "AFTER" Image two: The finished product!
Masonry paint could not only NOT achieve a finish like this, but normal paint will crack over time, but this wall coating on the house outlasts masonry paint many times over.

This house will STAY white for the next 20 years and will NOT crack.
This is covered by not only our contractors warranty but also for the first 10 years, an insurance backed warranty, for total peace of mind.
How much would it cost to have a protective wall coating on your home?
That's a tricky question without seeing your home in person, so to speak.
The best thing to do would be to contact the NPA sales office on 0800 970 4928 and speak to us.
We promise to get you the very best price possible and who knows, one day you may "Never paint again" like 1000's of customers up and down the country!
Although we are a national company, we work up and down Kent, from Dartford to Dover, Sevenoaks to Tunbridge wells, Folkestone, Deal, Herne Bay, Canterbury, Gravesend, Maidstone, in fact all across Kent so there has never been a better time to get in touch.
The Wall Coating Company. 49 Greek Street, Soho, London, W1D 4EG.
Telephone 0800 970 4928