Here is another example of our super long life house painting system in action.
This case study shows the various stages in preparing and repairing a typical Harrogate house, in order to spray apply long life Wethertex wall coatings, which are guaranteed for 20 years.
Our site has hundreds of before and after examples of house we have painted, and this is just one of many available to view on this website.
Here's what we got up to in Harrogate, one cold January
In the interests of not boring to death our regular readers (!) although each job we do is different and presents its own challenges, the system we use for applying wall coatings are the same on most jobs, so I will try and be brief in my description and let the photos do the talking.
Here we see the FRONT elevation of the house which had been covered in what we call "Bagging", which is a sand and cement slurry, which acts as a primer and stabiliser to the wall.
(It's worth noting that our coatings can be applied in temperatures as low as minus 5 (!) meaning we can paint your home exterior when traditional decorators cannot)
Here is a view of the front of the house before work started
The above primer coat is applied by hand, after all repairs have been done to the walls.
Typical repairs we carry out could include:
Rendering: repairs to render or in some cases, a complete re-render
Removing loose and flaking paint
Curing damp and mould in the walls
Replacing missing brick pointing
Repairing and replacing pebbledash or tyrolean to match what's on there already
Alterations: Removing and bricking up redundant doors or window openings
Removing and repairing cracks in the walls.
Here is the front and garage during work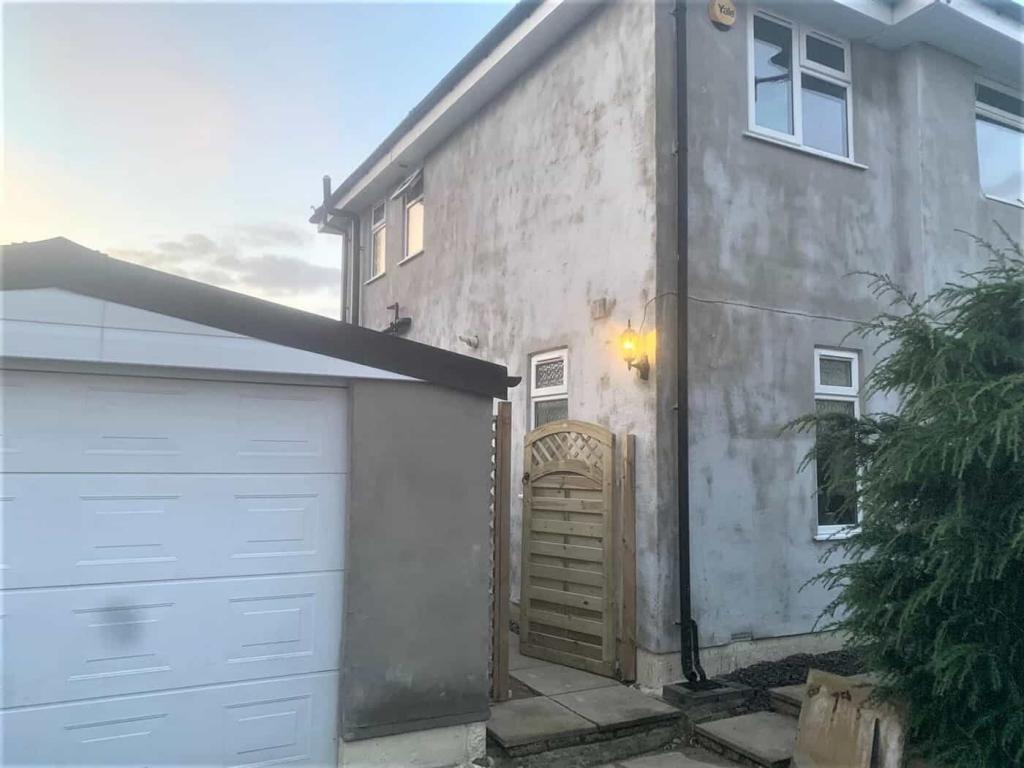 You can also see that we rendered the outside walls of the garage, so that once we finish, the whole property will have a matching and uniform, freshly painted look across the whole house.
What is so different about the "paint" we are using on the outside of this house?
If you are looking for a painter and decorator in Harrogate or surrounding area, you won't find one in the autumn or winter time to paint the outside of your house.
Why? Because normal decorators use masonry paint WHICH IS COLOURED WATER and therefore cannot be used during winter.
Our protective exterior wall coatings are resin-based, meaning they do not freeze, plus they resist showery weather, so we can easily apply them to your home pretty much in all weathers, and each job takes around 4 to 5 days.
In addition, all our wall coating products come with a 20 year guarantee, which covers you for 2 decades against failure of the paint coating.
After the repairs and primer coat are done, we mask up the doors and windows, lay dust sheets on the floor and apply, with a spray machine, a thick coat of our textured masonry coating.
Here you can see the rear in the process of repairs.

And once the repairs are done, and the windows are covered up, we spray the wall coating, which doesn't take long to dry.
We then remove the masking paper and pack that away for disposal away from the site, and what do you end up with?
You end up with this, a maintenance free exterior paint finish

This house will not need repairs or a paint job for the next 20 years.
Apologies for the poor quality of the photos!
Here is the "after" photo showing the front and garage

The light was fading when we took this photo, but as you can see from the "before" photo further up this page, the house now looks not only freshly painted, but the good thing is that this will stay looking exactly the same for at least 20 years.
This system also cures all kinds of damp, mould, mildew and condensation.
We KNOW this system does what we say, and we KNOW our wall coatings will last as they have been subjected to advanced accelerated weather testing.
If it doesn't (which is unlikely) we will come back and do it again, for FREE.
Finally, here is the after photo from the front of this house

You can see from the frost on top of the hedge, how cold it was here, however being hardy Yorkshiremen that we are (!) we got on with the job, worked damn hard, and ended up with the house looking a million dollars, as you can see.
We don't just work around Yorkshire, we have agents and offices around the UK so no matter where you live, why not contact us for advice about what to do with the exterior of your house this year.
Quotes and estimates are FREE and with no obligation or "sales patter", so what are you waiting for?
You can also call us on (0800) 970 4928, 6 days a week.
The Never Paint Again Wall Coating Co., Unit 2, Dolly lane Business centre, Dolly lane, Leeds, Yorkshire, LS9 7NN .