This old brick built house needed more than simply exterior painting, so we applied a 3 stage exterior wall coating to the outside surfaces.
When we carry out external painting work to a house that is faced with bricks, we need to take a slightly different approach to houses that have pebbledash or render for example.
This particular exterior painting job in Wiltshire required our teams to carry out various repairs to bricks, to fix bad pointing, and also access was required above the roof that abuts the part of the home that we were painting.
The very first job for the team to do is to locate any areas of concern around the house, and places that would need some fixing up and some attention before we are able to carry out the wall coating work to the house.
Exterior painting brick walls isn't always with a paint brush!
Exterior painting on its own just isn't good enough as far as we are concerned, so we got the tools out, rolled our sleeves up and got to work!
We really enjoyed getting some exterior painting in progress between the rain showers!
This is what the house looked like on day one.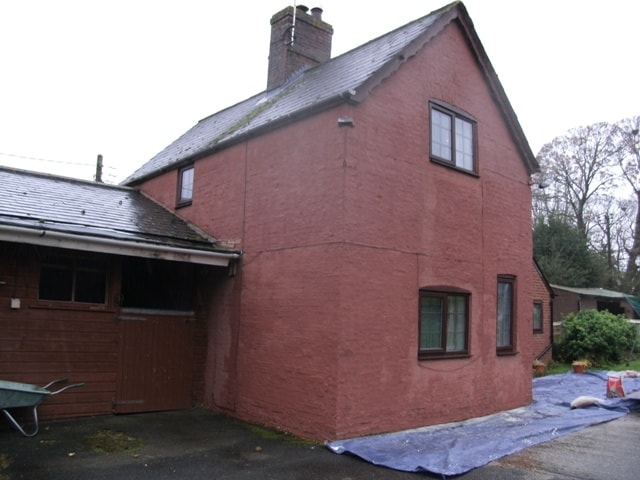 We power washed the walls and then laid dust sheets and tarpaulins down to protect the paths.
We then visually checked all areas of the wall surface for problems and then of course carried out the repairs, to which although there were not many, some bricks had to be refaced and some pointing was needed.
It is worth noting if you are reading this and you own a property with unpainted brick walls, once you paint the bricks this is pretty much permanent, so it's an important choice to get it right.
During preparation work, when the house looks its worst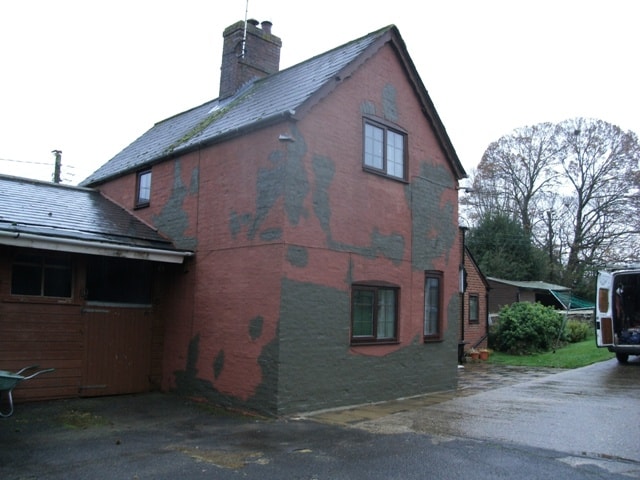 Preparing bricks for painting
We then hand-applied a bonded latex render wash, known in the trade as "Bagging" or Bag rubbing" and this fills in bumps, dents and imperfections in the brick, plus it consolidates the surface, giving us a good key for the exterior painting afterwards.
We masked up all doors, windows and gutters, and applied a special primer all across the walls.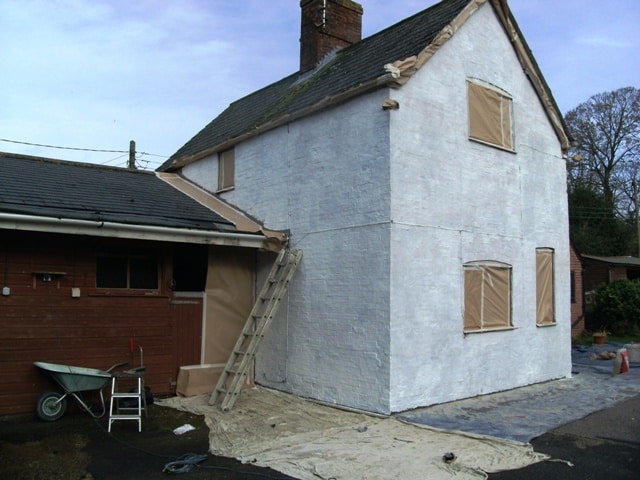 After this, we were ready to spray apply the special flexible and weatherproof masonry wall coating to the property, and after we had finished the house looked like this!
This brick built property has been brought back to life with an exterior wall coating

As you can see, when we apply a wall coating to a brick house, the "profile" or shape of each brick can still be seen under the paint, meaning the house has not lost it's unique character.
The benefits of having an external wall finish like this are the fact like it will not fade, it won't chip or peel, plus it is a permanent barrier against damp, mould and mildew.
Working around Wiltshire
Over the years, since the late 80's in fact, we have painted homes of all shapes and sizes in various places in Wiltshire.
Our work can be seen in Salisbury, Wincanton, Mere, Chippenham, Trowbridge, Amesbury, Blandford, Calne, Malmesbury, Warminster, I could go on but I won't!
We don't just paint houses in Wiltshire of course, our house painting service is available across the UK and comes with a 20 year guarantee against fading, cracking, peeling and chipping.
To find out more about having this system on your house, simply pick up the phone and call us on 0800 970 4928, and of course the call is FREE!
You can also contact us by email to get a house painting quote
The never paint again company. Plymbridge road, Plymouth PL6 7PS