It is never a good feeling to discover that your home has damp issues.
There's the worry about how much it may cost to fix, and whether it could return, even if you think you may have located the source.
Your best bet to permanently rid your home of dampness is to go to a damp specialist company such as Never Paint Again, which can install effectual damp proofing, also referred to as a damp proof course or DPC.
It is the best way of preventing damp problems on your property, especially if it is a deep-rooted problem like rising damp.
Never Paint Again specializes in identifying various kinds of damp problems, and installing efficient, high-quality damp proofing solutions for all types of dampness problems.
If you cannot locate the source of the dampness, do not know how to spot the signs of moisture build-up, or do not know how to treat it, Never Paint Again is here to help.
Vital Signs that Your House Needs Damp Proofing
Some of the signs of dampness in a home are wallpaper peeling off the walls, bubbling paint, black mould, discoloured patches, or tide marks on your walls or ceilings.
If you see these signs, your property likely requires damp proofing.
The symptoms listed above can be caused by various plumbing and structural issues, and an expert damp surveyor can locate the source of the damp and suggest an effective solution.
The Three Types of Dampness explained
There are three major types of damp, each with its own set of signs and remedies. Therefore, determining what to do about your damp issue can be difficult.
It is best to understand what damp is, what different types there are, and what causes it.
Penetrating Damp
Penetrating damp are two common types of damp that are often hard to differentiate since they can occur anywhere on the wall.
Water absorbs through the building structure in the case of penetrating damp, possibly through a leaky roof or pipe, a poorly maintained exterior wall, broken gutters, or issues with your plumbing.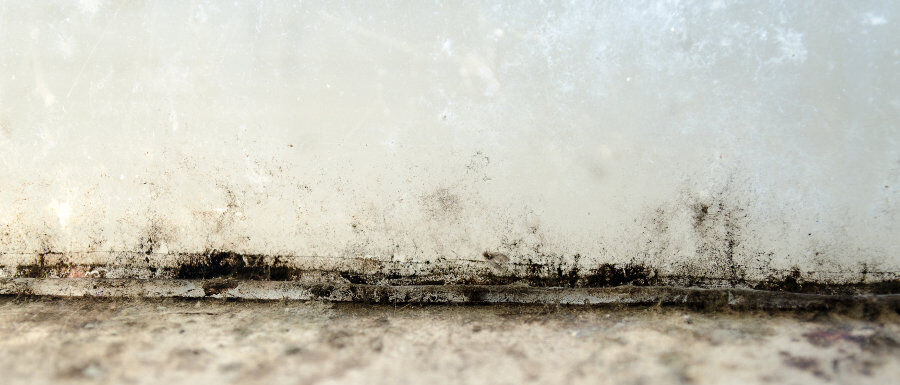 Condensation Damp
Condensation damp is caused by excessive moisture in a house and poor ventilation. This is especially prevalent in bathrooms , kitchens and shower rooms.
Better ventilation means that the humidity cannot build up to a high level, which helps avoid the air becoming stale and then coming into contact with colder walls for long periods.
Government statistics found that in the 2 years to March 2019, an average of 3% of households in England had damp in at least one room of their home. Source: Gov.uk
It is essential to take the necessary measures to remedy the situation if you notice signs of dampness in your home.
Rising Damp
Rising damp is the third type of damp, and it is a much more challenging problem to resolve.
It is a less common type of damp when moisture from the earth beneath a property is absorbed into the naturally porous material from which your home is constructed over time.
Effective damp proofing of the property is the best way to protect your home from rising damp damage.
How to Damp Proof a Home
There are several ways to damp proof your home. Here are some of the most common.
1. Damp Proof Course
Damp-proof course, or DPC, is a barrier installed through a structure, such as the base of a wall, to prevent moisture from rising by capillary action as with rising damp.
The damp-proof course can be either vertical or horizontal in orientation. A DPC layer is typically installed beneath all masonry walls, regardless of whether the wall is a partition or load-bearing wall.
2. Damp Proof Membrane
A damp-proof membrane, or DPM, is a membrane used to protect against moisture transmission.
A typical example of a DPM is polyethylene sheeting laid beneath a slab of concrete to prevent moisture from entering the concrete of building walls via capillary action, and a DPM may be used for a DPC.
3. Rendering
Rendering is the process of applying a coat of cement to a property's exterior to give them the desired texture. It can also improve the value of a property and make it more attractive to potential buyers.
The main difference between plastering and rendering is that rendering is done on the exterior walls of a property, whereas plastering is done on the internal walls.
Both processes, however, use the same materials, which include water, cement, lime gypsum, and sand.
Rendering strengthens your wall by making it water-resistant.
The presence of lime in the mixture makes the wall breathable, which allows moisture to escape.
Furthermore, its waterproof properties safeguard your walls and floors from condensation and penetration dampness, which often lead to mould and rotting.
There are different types of finishes. These include:
• Cement render which can be mixed on-site, and the components used are inexpensive, but because two to three coats are required, labour costs can quickly add up.
A rendered wall must be repainted regularly to keep it looking good.
• Lime render is both pliable and breathable, making it ideal for damp-proofing older houses.
• Monocouche render ready to mix before trowelling or spraying onto a wall. This type of render is expensive but easy to install.
They are self-cleaning, tend not to crack, and are pre-coloured, so no painting is required.

• Acrylic render is used as a topcoat over previously applied finishes. Silicone may be added to enhance durability and reduce the need for cleaning.
• Polymer render is typically lime or cement-based, with added polymers and plastics to strengthen a wall and help prevent cracking. They often do not need painting.
The process also strengthens exterior walls and makes them more durable.
However, it can be a more expensive option, with labour and material costs that are anywhere between £40 to £60 per square metre at least, plus the cost of materials and scaffolding.
Applying an additional exterior wall coating over your rendered walls can keep them from becoming damaged for up to two decades.
4. Exterior Wall Coating
An effective way to damp proof your home is to add an exterior wall covering and there are various types of wall coatings to consider. We can help you choose the one that is right for your property.
Exterior wall coatings are also referred to as masonry coatings, textured coatings, elastomeric coatings, and liquid vinyl siding.
Wall coatings are often added over rendering to add an additional layer of protection.
They are intended to look like regular house paint but have additional features that set them apart from traditional colours. These coatings protect the surface of the wall to prevent water from getting in during rainy weather.
Some benefits of applying an exterior wall coating include damp proofing, colour fastness, waterproofing, weatherproofing, heat regulation, and anti-carbonation.
Exterior House Painting, Masonry Paint, and Exterior Wall Coatings are guaranteed to cure damp and mould
Exterior wall coatings were designed to outlast traditional exterior house painting or masonry paint.
They were also designed to outperform other wall coatings such as water-based masonry coatings, and add both durability and pleasing aesthetics that are often provided by synthetic paints.
This is because a standard component of masonry paint is water, which does not provide the damp-proof or weatherproof properties that exterior coatings do.
Wall coatings are durable, thanks to their chemical makeup.
The improved performance and durability of wall coating products are due to hard-wearing, adaptable resins that bind the different elements of the combination together.
Typically, these resins are Pliolite or alkyd, and the mix also may contain binders, pigments, dyes, or perlite.
Preparation work for a professional exterior wall coating system would typically include repairs to render, the stripping of walls, fixing cracks, and the covering up of windows, doors, and pipes.
When compared to typical masonry paint, external wall coatings have a very high opacity level.
Can Exterior Wall Coatings Be Applied Without Professional Wall Coating Services?
Professionals must apply wall coatings to get the right effect and durability.
You cannot compare a DIY version that includes a mix of regular paint and a coating to trade exterior wall coatings.
The quality and performance of trade wall coatings, such as the outer wall coating offered by Never Paint Again, far exceeds DIY versions.
Furthermore, a wall coating applied yourself may not meet the same quality as provided by professional wall coating services, and you do not get the same longevity or warranty if you choose to apply it yourself.
With damp proofing services, you do not need to apply a fresh coat of paint or surfactant for up to two decades.
Applying an exterior wall coating without being fully trained or having specialised knowledge may pose numerous risks and hazards that far outweigh any financial savings made by choosing to do it yourself.
What Never Paint Again Can Do for You and your damp problem
As you may have already seen, protecting your walls can prevent the build-up of moisture and dampness in your home, which can negatively impact the health of the occupants, and cause the structure of the property to degrade over time.
Render your walls to prevent them from drawing water at ground level, but also include an exterior wall coating to provide durable protection against harmful weather conditions.
The layer creates a water barrier, so you never have to worry about damp problems again.
Never Paint Again has a clear damp proof exterior wall coating that is effective for treating penetrating damp, water ingress, and cold interior walls.
This exterior wall coating is the best service available in the UK for the treatment and prevention of damp.
It also is great for stone buildings, as it does not take away from natural elements.

We also offer exterior wall coating that can be made to suit your colour preferences, so contact us for a professional, long-term solution to your damp problem.
These damp solutions are adapted to your home and come with an impressive 20-year warranty, so you can have complete confidence that your home is damp-free for two decades.
Our team of professionals can transform your mouldy house, giving it new life with our industry-leading wall coating system.
Contact Never Paint Again for a quote today, on 0800 970 4928 or via email.