Efflorescence in external walls of buildings is often wrongly attributed to a decorative issue, however this is not always the case and not dealing with brick wall problems like efflorescence can have serious consequences.

Brick walls often suffer from what is known as "wall efflorescence" which is generally described as crystallised salt or mineral deposits which settle on the face or surface of the bricks outside and they can often be seen as little white spots or dots on the outside brick wall surface.
What is Efflorescence and what can be done to remedy the problem?
Efflorescence normally occurs on the surface of bricks and is caused by the sand used in construction of the home containing mineral salt deposits which may be present in the clay used to make the bricks.
It usually presents itself as spots or white patches on the brick walls as you can see from the photo above.
Efflorescence is basically salt damage to your walls
Why does efflorescence occur?
The sand used to bind the brick together (the mortar), if salt deposits are present, will also cause similar problems, although this is often on older houses and especially homes of a certain age built near to the British coastline.
This is where sand was sourced locally for building, i.e, from the nearest beach, or from a quarry where, millions of years ago, the quarry was under water.
It doesn't sound that bad? Should I be worried?
Yes, in some cases perhaps you should.
Looking into this deeper, however, there is another, similar but more harmful version of this, known as cryptoflorescence which manifests itself as deposits INSIDE the brick, or least in the pores or holes of bricks, instead of being on the surface.
Should I be worried about cryptoflorescence?
Although I admit it's not a word homeowners hear every day but yes, if this is occurring you should be concerned because if you have porous bricks on the exterior of your home, maybe due to age and erosion by the weather, these mineral deposits INSIDE the bricks will expand by their nature.
This means MORE tiny holes in the bricks, thus allowing water into the brick itself, which then freezes as it expands, and cracks the bricks further.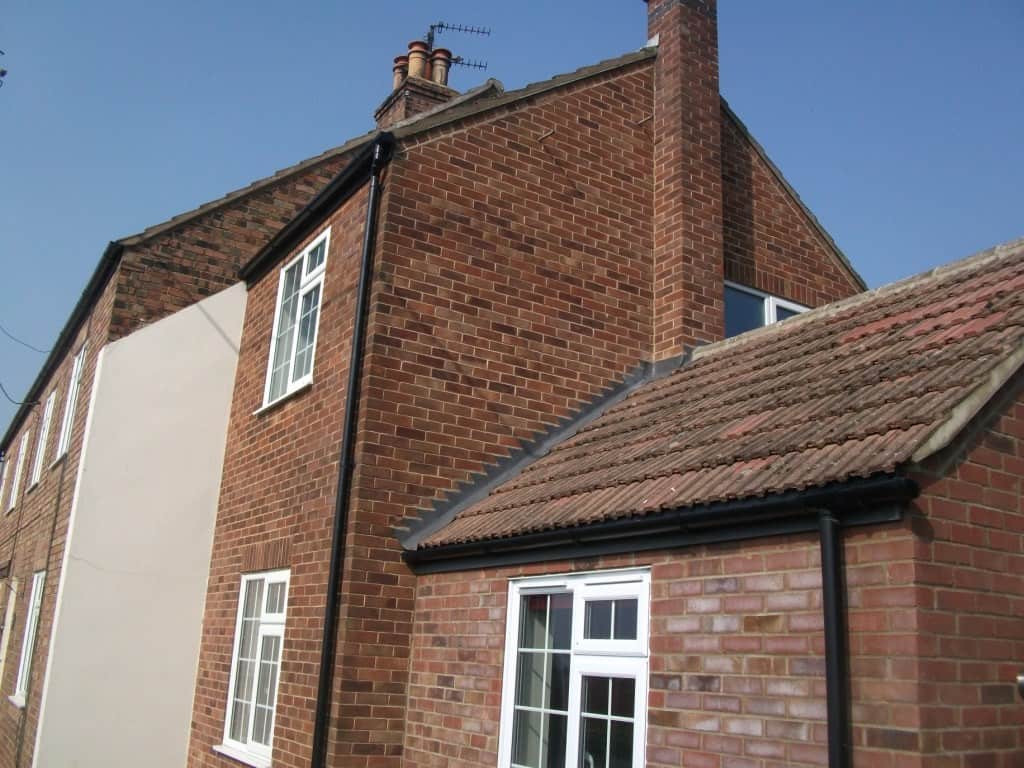 In extreme cases often end up as dilapidation and very expensive repairs to your home.
This type of damage is usually easy to spot so do a simple self survey on your exterior walls to see what the bricks are like, or call us on 0800 970 4928 and we will send a surveyor around, FREE OF CHARGE, to look at the wall for you.
What can be done about efflorescence?
If this is occurring on your home, please DON'T leave it expecting it to get better or for the rain to wash it away as it will not happen.
As the bricks become more porous they will start to deteriorate and will also start to let damp and moisture into your home, and then mould will start to grown inside the house, which can cause other problems including the release of tiny mould spores into the air inside the house which can cause breathing issues.
In addition, and, of slightly less importance, damp occurring in the house will create a musty odour and this will transmit to your fabrics and furnishings too, making the house even smellier and very hard to get rid of.
Never Paint Again, the UK's largest exterior wall renovation specialists has many solutions to cure this type of wall problem and we can be contacted at any time to offer FREE advice.
All of our Exterior wall coatings cure damp, and require NO ONGOING MAINTENANCE OR COST AT ALL after installation.
Our company can….
1. Cure Efflorescence but retain the unpainted brick wall appearance.
2. Cure Efflorescence and have coloured brick finish
3. Cure Efflorescence but with a rendered finish.
Our exterior wall refurbishment solutions will cure all the above problems and will leave you with a great looking house which is guaranteed for 20 years not to chip, crack, fade, flake or peel and any damp will disappear as if by magic.
If your exterior walls suffer from efflorescence then our Exterior wall coating service can cure this and leave you with a damp free, beautiful looking home, usually in less than a week!
Call the team today FREE on (0800) 970 4928