Your home is under attack!! No, don't worry, there's no need to call the police (!), you need to call us instead!
Why? Because right now, the weather is preparing to attack the exterior walls of your house, so if you don't have a weatherproof wall coating on the walls, watch out!
So what's the big deal? Surely all houses are weatherproofed right? WRONG.
If you give us 5 minutes of your time, we can help you with your property problems….and I bet you a crisp 10 pound note, your building is NOT protected from our weather!
Is your home fully protected against the British weather?
If you live in the UK or Ireland, chances are you do, I don't need to tell you that we get a fair bit of weather!
Rain, wind, snow, fog, even more rain (!) in fact according to the Met Office, the average rainfall in the UK is 1,154mm per year, meaning on average it rains for 156 days per year, every year!
That's a lot of rain.

So unless your home is actually leaking, literally, you may not be aware of the effect of the weather on the exterior walls and structure of your property.
What can happen if my home is not weatherproof?
Whether your house looks nice outside or not, a coat of paint will NOT protect it.
Paint is merely coloured water, although the major paint companies don't want you to know that.
Paint is a decorative solution to bare and dull walls and if used correctly, can seriously improve the appearance of a building.
If done wrong, it can look terrible.
But that's all it can do, look nice. It offers no protection from the elements at all and can actually hide serious problems underneath the paint, such as damp, cracked bricks, hollow rendering and major cracks.
If walls are not protected from the weather they can crack

As you can imagine, paint resolves none of these issues and if you are paying someone to repaint the house each year you really are throwing your money away, plus lining yourself up for some potentially expensive repair in the future.
This can bring problems to any kind of house, old or new, large or small.
What problems can the weather bring my house?
The typical problems associated with not having weatherproof walls are:
Porous walls, literally soaking up water like a sponge, eventually causing damp and making the rooms inside feel cold, even with the heating on.
Erosion of the faces of bricks, letting in damp as a result, or erosion of brick pointing, the mortar joints that literally hold the bricks together.
Damp ingress, meaning as the wall is not repelling the water from rain, it travels inside the house and can ruin plaster walls, carpets, furniture
Mould growing indoors as a result of poorly weatherproofed walls can cause all manner of problems, including health issues.
Failure of cavity wall insulation, meaning the water hitting the exterior wall, is transmitted into the house, causing mould growth on internal walls.
Cracking and loose render can be caused by the paint allowing the wet into the wall, which freezes in the winter time, causing fissure cracks and "blowing" the render off the wall, requiring expensive replacement.
Not doing regular house maintenance can cause problems over time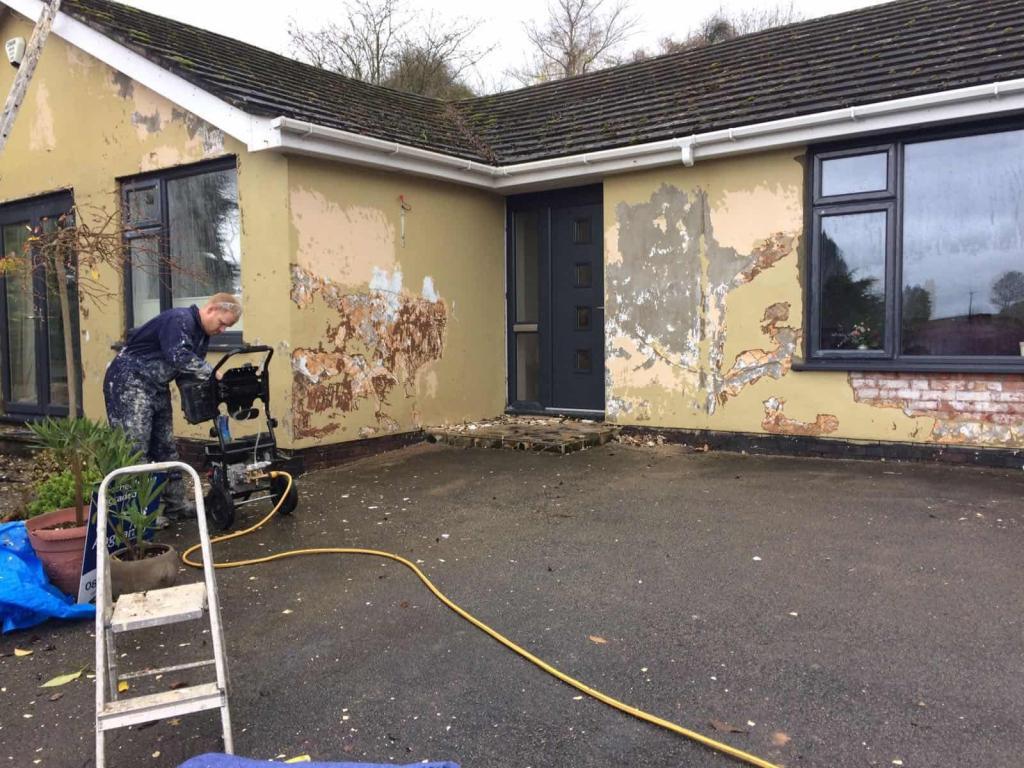 What is the best value for money option for protecting my home?
As we have discussed, normal masonry paint just won't cut the mustard and the DIY stores know they are selling you a pup because they want you to come back next year and many years after that, to keep on buying their paint!
Why on earth would B&Q sell paint that genuinely lasts for 20 years?!
If they did, they would lose money.
The best value for money option, and yes obviously I am biased as I work for the company, is to have an expert in first, to correctly asses the condition of the walls and provide constructive feedback as to what to do about the problem.
The expert from NPA can then tell you what is wrong and how much it will cost to fix.
You would have that in writing and can think about it for as long as you want, we won't be there with our foot in the door trying to get you agree to something before you have had time to think about it.
Our weather-proof wall coating system would be something we would recommend to have on your walls as not only would it look great and be totally rain resistant and weather protected, it will go on doing that job for at least 20 years, guaranteed.
This will of course, give you a long term money saving advantage over your neighbours.
Not only that, we guarantee that your home will not suffer from cracks again, nor flaking or peeling paint, plus you will not have any issues with the rendering again,  and you can rest assured you will not suffer from damp or water ingress again.
It really is the most comprehensive one-off solution for complete exterior wall protection.
It is suitable for all types of house, is available in many pleasing colours and a clear coating is also available.

It's like a breathable "skin" allowing moisture OUT but not letting it back in again, a wraparound, seamless wall covering system that goes on and on protecting, requires no upkeep or repainting.
This makes the exterior of your home totally maintenance free.

With the housing market now looking shaky, if you plan to sell your house in the near future, the acres of kerb appeal can only help, along with the guarantee, which is transferable to the new owner, a great selling point!
The five reasons you should buy weather repelling wall coatings from us!
Free survey and written quotation from the comfort of your own home.
A fixed price quotation, meaning once a cost is agreed, we will never ask for more.
A transferable, 20 year guarantee, with 3rd party insurance covered also.
Suitable for all types of home, old or new, large or small and no matter what condition it is in.
At least 20 years of hassle free living in your house!
What now?
Speak to us! Get in touch by email, phone, or on twitter, and speak to us about any problems you can see outside the house and we can guide you through what's gone wrong with the house and how to fix it.
If you want, we can visit your home and conduct a free survey, and then give you a fixed price quote to have the work done, which is valid for 6 months, and the work can be done in all weathers.
All work comes with a 20 year written guarantee for total peace of mind. You are under no obligation to buy and we do not do half-baked sales pitches, we are experienced property surveyors and give you the best advice, in the conform of your own home. How reassuring is that?