Do you live in a house that needs some TLC to the exterior?
Perhaps there may be cracks too, which normally indicates the rendering behind the paint has failed and needs replacing.
It's a false economy in thinking you can just paint over the cracks and the problem will vanish, because it won't, plus the paint will need to be done again the following year.
So what is the solution? Read on and find out….
This property in Redditch, Worcestershire, had a barrel of problems with the state of the rendering.
In just one week we removed and replaced the poor render areas, scraped off loads of flaky and loose paint, and then re-rendered the house to make it good as new.
Here's how we repair and weatherproof a house with resin based wall coatings
We started by unloading our tools and equipment from the van, to be stored away neatly and tidy whilst we were working, as, unlike some general builders, we don't turn your house into a building site, even when major work is going on.
We then laid dustsheets down and masked up the windows to protect them.
We then powerwashed the walls to remove the loose masonry paint, which had only been applied less than 2 years previously.
We then located the areas of hollow render, removed, and replaced to match, which is what you can see in the image below.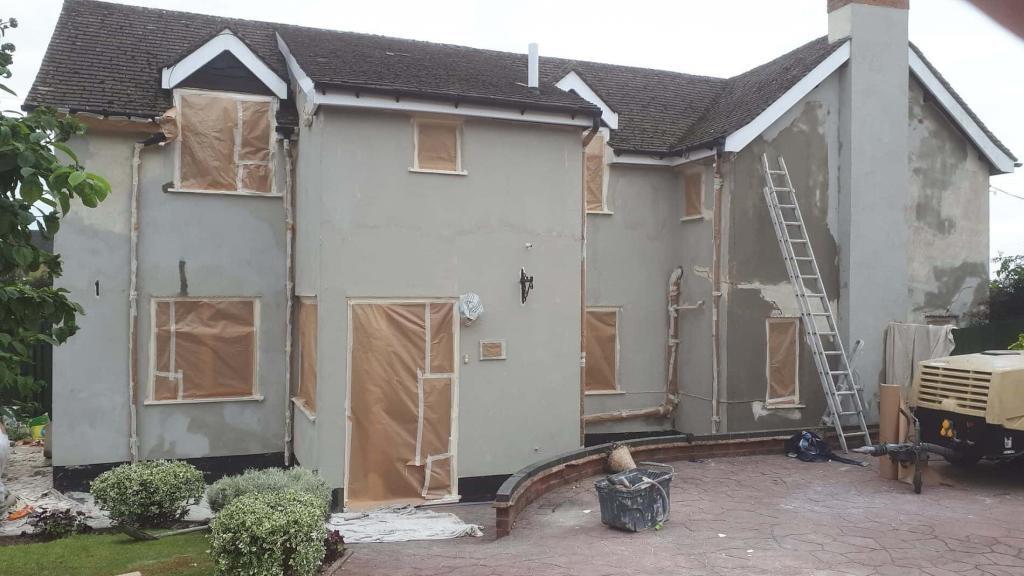 We did the same sort of thing on the gable end of the property
Here you can see the sheer amount of loose and flaky paint that was found across the entire house.
No matter what you put on an outside wall, preparation before painting is the key to a good job.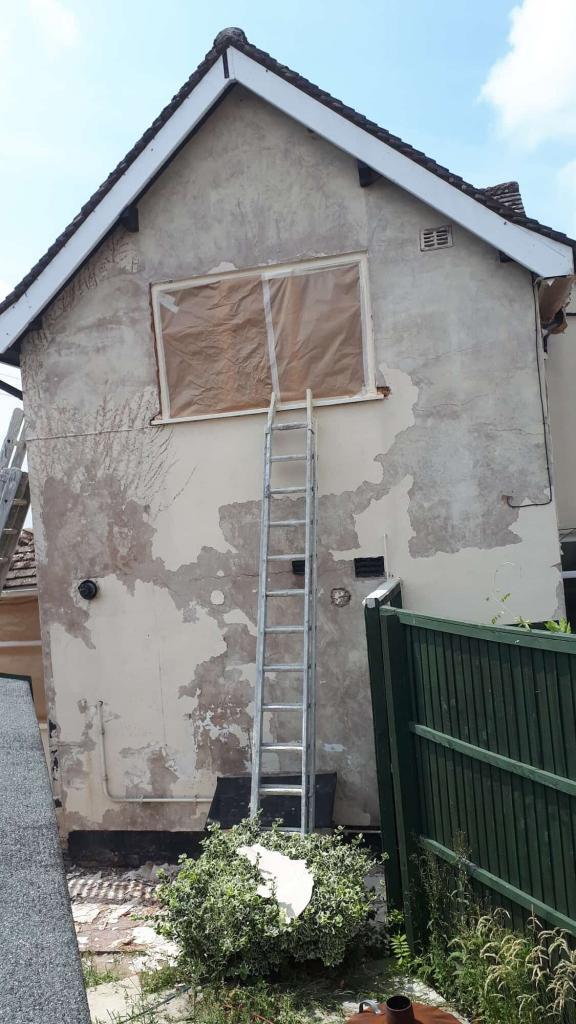 You can see just how bad the paint was by the big chunk of paint that literally fell off and landed on the bush below where we were working!
Exterior wall coatings, the type of wall paint that we use, are a weatherproof long life house painting replacement for masonry paint and are suitable for render, brick & pebbledashed houses.
They are available in a range of colours that never fade. They trump masonry paint many times over.
Staying with the gable end, here is what it looked like once our team had removed the loose paint and repaired the bad areas of render.
You can see on this wall, the rendering has been repaired and the cracks expertly fixed

After the repair work had been carried out to the wall, we then hand applied a Wethertex primer coating across the whole house, and then allowed a day to dry.
It's worth noting that masonry paint is simply COLOURED WATER and will only provide short term decoration. Our resin based wall coatings last a long time and can be applied all year round, even down as low as MINUS 5 !
Here we can see the gable end wall with masking paper to protect, and the primer being added by the team.

Of course that is just ONE wall, we had 3 others to pay close attention too, all of which had the same problems.
Being frank and honest for a minute, these are problems that a typical house painter and decorator in the west midlands would have run away from, or charged the customers extra to get a builder in to repair the place before he painted!
Our teams come fully equipped to carry out all kinds of repair before painting, so you only ever need ONE tradesman (us) and not loads of people marching in and out of your garden for weeks on end.
Here we can see the rear of the house.
It has been repaired, primed and the wall coating is being sprayed onto the wall

You can probably tell by now that we are not your ordinairy painter and decorator?
Just look at the amount of equipment we turn up with.
The compressor and spray machine are essential to apply this coating as it is MUCH thicker than masonry paint and cannot be painted on with a paint brush.
This is something that a local Redditch decorator would NOT be able to offer this homeowner, which is one reason they called us to paint the outside of their house instead.
Once the paint spraying is finished, we remove the masking and tidy up all mess, in fact we leave it cleaner than when we first arrived.
Here is a photo of the other gable end of the newly wall coated home, with the rear in view also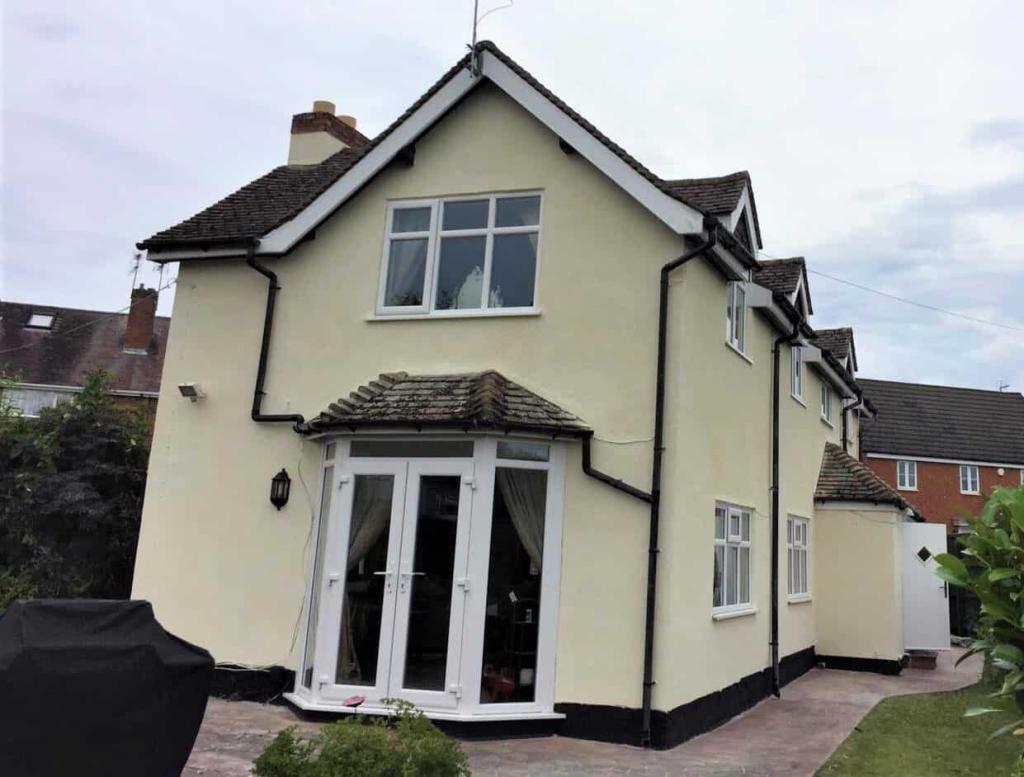 This house is now fully protected and weatherproofed with our Wethertex wall coating system, the protective resin based masonry coating that keeps protecting your house walls for over 20 years, with no more painting or repair required, and that is guaranteed.
Now you can see how Wethertex resin based masonry wall coatings are the gift that keeps on giving!

The owners of this now smart looking home can look forward to 20 years of hassle free living, all for a fixed and competitive price.
Why don't you contact us and ask us for an estimate to paint your house?
It's FREE and with no obligation or pressure at any stage of the process.
We work across England and Wales, not just the Black country.
If you don't want to commit to one of us coming around and taking a look at the house initially, we can give verbal estimates over the phone before you decide if you want us to take a closer look or not.
Call us free on 0800 970 4928
CONTRACTOR: Never Paint Again, First Coat Solutions, 3 Oswin road, Leicester, LE3 1HR.
WE USED WETHERTEX MP44 textured masonry coating for this job
Why not read some never paint again reviews and see what other people think?