If the outside walls of your house have cracks, then we can help you. Here is an example of when we repaired a badly cracked house, and then applied a maintenance-free all-weather wall coating, which means it won't crack ever again.
This lovely old house in Wales had large areas of cracked and hollow tyrolean and the owner wanted a long life weatherproof wall coating.
This property had a myriad of cracks on the tyrolean render coating and after many years of repainting every year, the owner decided once for all to get something a bit more permanent done to the walls.
As you can see from the photos, the house was FULL of cracks and need some serious renovation work before painting could begin.
Whilst working on the property we decided to take some pictures to show you the amount of cracks we had to fix, the general state of the house, and of course what it looked like when we had finished.
Fixing up cracked and hollow render, and painting a house in Wales!
The external rendering on this home had a lot of cracks and hollow areas which we needed to fully repair before work could carry on, as this photo clearly shows.
We can repair cracks in such a way that once the wall coating paint is applied, you would never know the house was repaired.
As you can see from some of the photos below, we took a great deal of time in the preparation of the old walls, hacking out and filling cracks and removing loose and hollow render.
If bad rendering is not replaced, water will seep into each crack, which then freezes and pushes the rendering away from the bricks underneath.
This can over time allow damp and mould to come into the house.
This is what the front of the house looked like before we started

If you look closely up to the image you can see the myriad of what are known as hairline cracks in the rendering.
Your local decorator will more than often just either paint over them or fill them with a cheap tube of silicone sealant.
That is NOT the way to deal with cracks!
Here we see another view of the house before we started repairing it

So, all in all, we had quite a task on our hands, to repair all the cracking areas, including the render around the cracked bits which had come loose and had some hollow areas, a prime place for damp walls to start.
We always fix any issues like this before we start on our application process when we apply our textured masonry coating to the property.
Here is a view of the front facing the road, with more cracks having been repaired.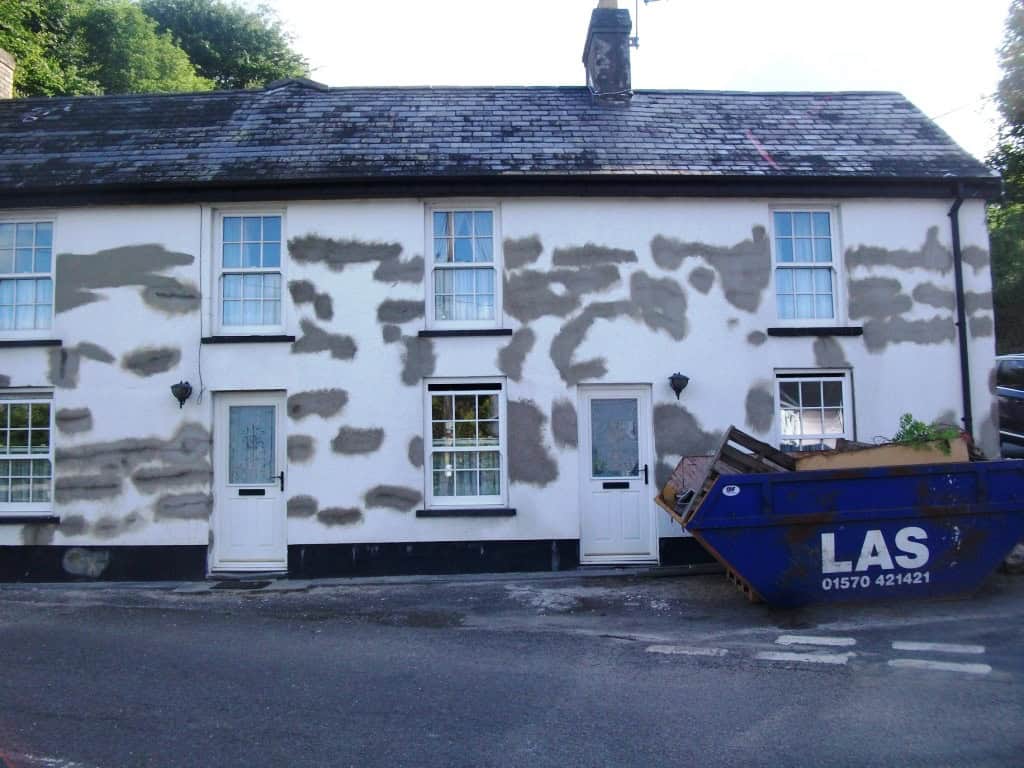 Why do cracks occur, and how do we repair cracked walls?
Cracks are caused by many things, although as this was on a junction, next to a main road, vibration from lorries over the years may have been the culprit here.
When cracks appear on your walls, this is the tell tale sign that something pretty bad is afoot, especially considering this house had a multitude of them.
Cracks can also be the result of poor exterior maintenance, especially on older homes, not having a good paint coating on the exterior etc, because without adequate weather protection, the walls of your house will soak up water like a sponge, causing cracks.
The masking-up and primer stage of our wall coating process
We then masked up the windows and other areas to be sprayed and laid dust sheets on the paths and roadway around the house, which can be seen here.

We then hand applied a waterproof flexible primer.
After this was allowed to dry, we spray applied a thick coat of NEVER PAINT AGAIN classic masonry wall coating to the outside walls, an all-weather coating like no other.
We then removed the masking and as you can see from the full skip outside the house, all waste and building materials are taken away for environmental disposal.
Here is the finished article. Repaired and painted with an all-weather wall coating, guaranteed for 20 years!

What are benefits of having an external weatherproof wall Coating on my home?
Stop all types of damp getting into your house.

Eliminate condensation in the home.

Cuts wind chill and lowers heating bills.

Eliminates the need to repaint every year.

Wall Coatings available in any colour, including transparent.

A range of finishes, from smooth to coarse.

Suitable for ALL types of outside wall surface.

Fully protects your home against all kinds of weather.

Applied by our own skilled installation teams.

Over 30 years proof of performance.

Walls fully repaired before application.

Available in all areas of Wales (and England)
As you can clearly see, our exterior wall coating and home makeover service is NOT merely a "fancy paint job" (!), we are very thorough in our work and always and without fail try our hardest on each different house to achieve the maximum effect with the minimum of fuss.
We have just saved the owner of this house A LOT OF MONEY AND HASSLE as he does not have to have the outside repainted, nor repaired, for at least 20 years, usually longer!
This house will now NOT suffer from cracked walls, loose render or flaky paint for the next 20 years guaranteed!
With our system you need never look for a painter and decorator in Wales again, well, not for 20 years anyway.
Of course we work across Wales, but in this area we have done exterior painting work around Colwyn Bay, Llanybydder, FFarmers, LLanarth, LLandysul, Sillian, quite a bit of wall coating work around Gwynedd, Llandovery, Abergorlech, Brechfa, LLandello, LLangethen, and some years back a couple of houses in Camarthen too, so if you live in this area and your home needs work, get in touch!
To find out more about having this system on your house, call us FREE today on 0800 970 4928