If the image in your mind of a "Textured coating" is something akin to a "tree bark" effect on your house then you have us mixed up with another wall coating company as we don't do that, in fact we HATE that sort of texture!
Having your home coated with a special long life resin-based wall coating can take the pain out of having to paint every year.
Having to get a decorator in to paint the outside of your house can be a real pain.
This is especially true if the painter takes weeks on the job, causing you pain and hassle.
It's not only an intrusion on your privacy, it's hassle and expense having dsone every other year.
There now is a way to have your home painted only ONCE in 20 years.
Genuine Never paint again textured coatings for the outside of your house are not as expensive as you think and will give at least 20 years of weather protection, with a great looking house into the bargain!
Our textured masonry coatings are special "industrial grade" paints with added ingredients which are both highly durable and architecturally pleasing, and can be applied to almost any house exterior.
One of the things that is so good about our coatings is the fact that the actual paint film is up to 20 times the thickness of normal paint, which means that any defects on your home, such as cracks, or previous repairs that would show through paint, are disguised with our coatings.
The coatings are applied by our own vetted contractors, and the service comes with a full wall repair.
So once we apply them to your home, you will have a clean and uniform paint finish across the whole of the walls.
So with that in mind, here are some samples of our protective textured exterior textured wall coatings below, which expand when clicked.
Samples of protective textured exterior textured wall coatings

Each sample shows a different grade, and also what it looks like on different wall surfaces.
Your local NEVER PAINT AGAIN rep will have real samples for to touch and feel when you see him or her.
So that's what they are. What do they do?
The benefits of our textured exterior coatings
Stop all types of dampness and water ingress, curing mould on the walls.
Eliminates condensation in the house.
Cuts wind chill and potentially lowers heating bills, saving money!
Stops the need to repaint your walls every year.
Available in many pleasing paint colours, including transparent.
We stock a range of textured finishes, from smooth to coarse.
Suitable for ALL types of house external surface.
Fully protects your home against the UK weather.
Applied by skilled installation teams.
Over 24 years proof of performance.
Walls fully repaired before coating application.
A house before textured coatings are applied
Here is a typical house before any textured wall coatings are applied to the exterior.
What a mess!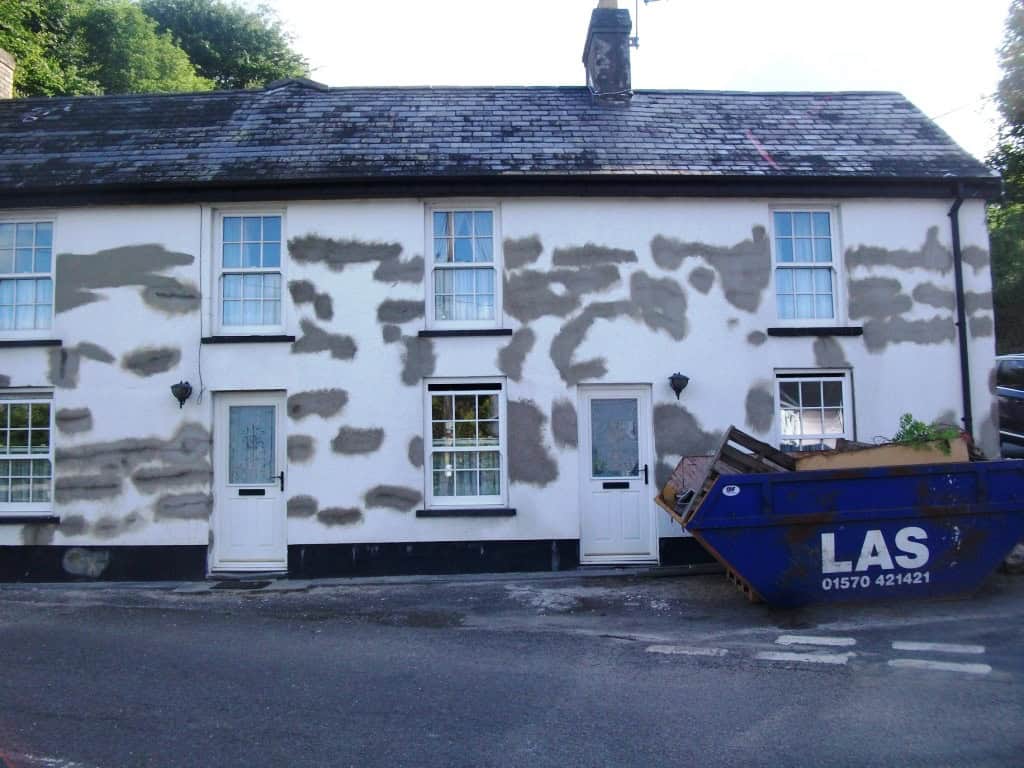 As you can see this house (in Wales) was full of cracks, and being near a main road, with HGV's and buses passing each day, the vibrations form the traffic opened up the cracks further, and allowed damp to get in.
The photo shows the cracks in the walls after repair, and the next stage is to mask the windows with paper, lay dustsheets down and then we commence the application of a primer coat.
Once the primer is applied and allowed to dry, we spray apply Textured masonry coatings to the outside of the house.
Take a look at what it looks like now!
The same house with a Textured Wall Coating

As you can see, the change in appearance is quite dramatic.
Now it has our textured coatings on the house, the paint system will continue for the next 20 years at least, protecting it from the weather, and as our wall coatings are flexible, the cracks will not open up again, and the house will not suffer from damp.
All this with a 20 year warranty too!
This house paint will not crack, peel, chip or fade, and that's a promise!
It costs far less than you think, for far more than just a paint job.
Click the link to read more about this exterior house coating project
Textured exterior coatings are also known simply as Texture coatings, or wall coatings, stucco coatings, lifetime coatings, or textured masonry coatings, depending on which brand you choose.
In the mean time, why not call us on 0800 970 4928 and get a FREE survey, and an accurate cost price for textured exterior coatings on your house!