Today we are looking at Bungalows and why we love these squat little homes so much.
There are LOADS of bungalows in my area, although in part, this has to be understood in the context of the sheer amount of retired people who live on the south coast, but did we build these homes specifically for old age pensioners?
No, it would seem not.
In British history, most homes built over the past few hundred years, had more than one floor.
After all, land here in the UK at least, has always been expensive, as we are a small island, but what about bungalows in the USA, Australia or South Africa?
Those nations aren't exactly short of space to build homes, so if bungalows are not just for granny and grandpa, why do we bother building them in the first place?
Five things you never knew about these little houses
Let's take a closer look at 5 fascinating things about bungalows which really caught our eye.
Bungalow fact 1: They are NOT British!

That surprised me too, but it's true, the word "Bungalow" actually originated in India, NOT England!
However the colonial English started to use it in about 1696 to describe the austere lodgings of sailors and employees of the invading British in India.

Bungalow comes from the Gujarati word for a house in the Bengal style, which was typically single storey, but with a large veranda, presumably for shade from the fierce sun?
As the British settled in India more and more, the style of home was adapted and upgraded for British officers and essentially, by accident, went upmarket somewhat.
Bungalow fact 2: You can find them all over the world.
So bungalows can only be found in India and Great Britain, yes?
…er…..no.
This single storey home concept was transported to the USA as global trade grew, and it is where many wooden clad bungalows can still be seen across America.
The Australians also got in on the act and from the late nineteenth century started building what were called "Federation bungalows" or "California bungalows" which were often much larger homes than the typical British bungalow.
These were in effect, quite upmarket, and noted the shift from a bungalow being originally created as a squalid hovel for sailors, to a swish and upmarket residence where people would really like to live.
Here's an example of a bungalow in Australia

So there you have it, Bungalows are not "Quintessentially British" despite what you may think, and we have the Indians to thank for the inspiration.
Make sure you tell your (possibly) right wing granny that fact over a cup of tea.
British Colonialism was arguably the main reason why bungalows appeared in the most unlikely of places, and some can still be seen today in the old outposts of the British empire such as Malaysia, Thailand, New Zealand, Singapore and the Caribbean.
Bungalow fact 3: The UK hasn't always had bungalows.
Yes, despite what you may think, even after reading about the origins in India of these homes, the UK didn't start to build bungalows until around the 1930's, although there would have been exceptions dotted around beforehand.
Saying that, there are still very few houses of this type in the UK and the team at insidehousing.co.uk even noted the following:
 "……….bungalows are less affordable to build and live in, they have been built at a fairly low but constant rate since the late Victorian era.

In 2009, just 300 bungalows were built, and just 2 per cent (approximately 500,000) of the UK's existing housing stock is bungalows.)…"
Source: Inside housing magazine

A lot of it boils down to the lack of available building land and the fact that any property developer wants the most profit they can out of selling new homes so why bother building them at all when you can get a 3 bedroom and 2 storey house on the same, perhaps even smaller, patch of land?
Many bungalows were built as cheap and quick housing after the 2nd world war, and some prefab bungalows still exist in my own city to this day.

I also run my own painting and decorating company and let me tell you dear reader that for our house painting teams, getting the chance to paint the exterior of a bungalow is great as they don't even have to take the ladders off the roof rack of the van!
When you've painted houses for much of your career, it's nice once in a while to win an EASY job and much of the time, painting the outside of a bungalow is a rewarding and satisfying experience.
This is especially true for a professional decorator as all your handiwork is at eye level so it's a real chance to show off your decorating skills to the customer.
Here's a bungalow we painted, in Devon

Bungalow fact 4: They are not always the cheaper option.
Bungalows have become, in some cases, status symbols, both for the homes we like to live in, and also the sort of home we can afford to stay in on a dream holiday in the sun.
One advantage of renting a bungalow on holiday is the fact that most of these homes are luxurious and built in such a way that they keep cool naturally.
In some exotic locations, air conditioning just is not available, sometimes through a lack or shortage of reliable electricity, so keeping cool when it scorching outside is an important design feature of homes like this.
The thing with building a bungalow is obviously they take up more room as they are often on a much larger plot of land than a 2 or 3 storey house, but you can't beat that feeling of space in a modern and well designed bungalow.
So these squat little homes aren't just for retired couples, lots of people love them.
Even when the late US President Ronald Reagan was being whisked away by Helicopter from the white house after ceasing to be president, during one last flight over the white house, he is reported to have said to his wife "Look Nancy, there is our little bungalow down there. ".
Bungalow fact 5: The UK government want more of them!
A few years ago the then Conservatives' planning and housing minister, Brandon Lewis, stated that "we should be looking to love bungalows a little bit more".
This is offset though by successive governments lack of any house building at all, suggesting that anything is better than nothing, as long as homes are being built, but apart from wealthy people, who wants to live in a bungalow?
Bungalows, especially freshly painted ones (!) can make a pleasant place to live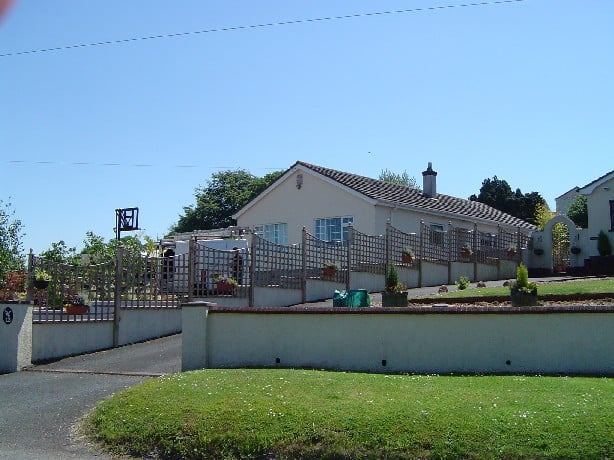 Well, it may surprise you, but quite a lot of people do!
Research by Alliance and Leicester only a couple of years ago revealed that although just 2 per cent of the housing in Britain is a bungalow, they found that a 3rd of the population would like to live in one!
They also found that 35% of all people from Wales who took part in their survey cited a bungalow as their dream home!
The government, both the present one and the previous labour one have not done anywhere near enough in building more homes, so why should we build more bungalows?
The Times newspaper (January 9th 2014) even reported that the ex labour leader Ed Milliband, when heckled by a woman claiming "I wonder why more bungalows aren't being built?", at a Q&A meeting in Nottinghamshire, replied "Absolutely. I'll take that away.
More bungalows" he replied.
A recent study by the NHBC (National house building council) suggests that looking at last years "new build" figures, only 1% of all homes built were bungalows, but a huge increase of demand for detached homes meant that over 26% of houses constructed last year were detached homes.
This is compared to 2008 when only 14% of houses were not attached to a neighbouring property and signalled a change in construction habits.
This was partly explained by an oversupply in flats meaning very few were built.
With such a shortage of land, and an increasing but ageing population, a bungalow seems a great idea, especially as there's no stairs (!), but with British planning laws still as tight, and a lack of available land to build on, perhaps these quaint little homes will become more and more exclusive?
Perhaps, and with no prospect of large scale construction of bungalows in the UK,  they will eventually be reserved solely for the wealthy, for country dwellers, and for the elderly, but some would would argue, a very good investment for the future.
If you own a bungalow and would like to speak with someone about getting the outside painted, please give us a ring by dialling 0800 970 4928.