This was once the home of "Thomas Henry Ismay", although not known to many people, he is famous for founding the White Star shipping Line, who went on to build the ill fated Titanic.
In 2009 we were instructed to refurbish the exterior of a very historic house in north western England, Waterloo, Liverpool to be exact.
As this is a grade 2 listed building, tremendous care had to be taken is preserving its character and appearance as English heritage dictates. It is known as "beach lawn house"
More information can be found by viewing the gallery below showing the Blue plaque on the house.
The Titanic owners house
The ill fated ship "The Titanic" was built in Belfast and sailed to New York on its maiden voyage, via Southampton and France.
It famously struck an iceberg and sunk, despite being deemed unsinkable by the Bosses at the white star line, more notably the son of the owner of this very house, Mr Ismay.
Unless you have been living on the moon, you would have probably seen the James Cameron Titanic Movie, and will remember the character Mr Ismay?
Namely, Mr Joseph Bruce Ismay who was a rich British first-class passenger aboard the RMS Titanic.
He was a businessman who served as Managing Director of the White Star Line and was widely credited not only as the ships de facto owner owner, but the REASON the ship hit the iceberg as he told Captain Smith to go faster, against all advice.
This is shown in the film
Sadly, he SURVIVED the disaster and would have probably returned to this very house, his family home, the one we painted!
Mr Ismay's house and what work we did to it

This imposing villa in Liverpool was the Ismay's family home and is of course a protected building of historic and cultural interest.
We had the privilege of painting the exterior a few years ago with NEVER PAINT AGAIN masonry coatings.
We could not use standard outdoor wall paint on this project, especially as it got a fair bit of weather thrown at it.
Here is a view of the front of the house

You don't have to be posh to have our coatings on your wall, although we can't guarantee that with the recent flooding across the UK, your house wont itself sink!
This is another photo taken during the decorating work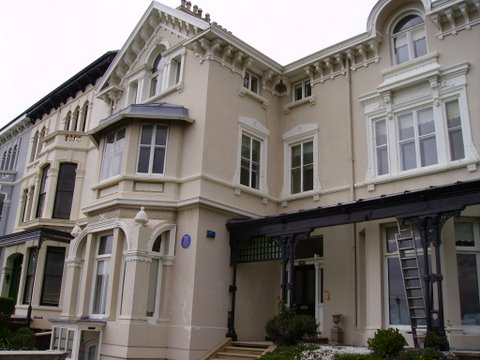 The work we did.
As this was a listed building, and in a conservation area too, we had to take great care in anything we did here, plus the colours we used had to exactly match what was on there in the first place.
There was a fair bit of paint removal needed, plus some cracks in the walls,
However the house, probably due to it's status, had actually been kept in good condition, the owners really wanted some weatherproof paint on the walls as it costed a lot of money to have normal exterior wall paint every year.
Here is a shot that shows the elegant conservatory

This imposing home is now fully protected and will not need a repaint for the next 20 years because it was coated with a long life, weather proof exterior wall coating.
Here is a shot looking up, after we had painted it

We also found another photo, taken by a Titanic enthusiast, of our work.
We didn't want to post a link as it reveals the address of the house which we are not allowed to post for data protection reasons, but here is someone else's photo!

So there we are, we painted Mr Ismay's house!
We have extensive experience in painting all kinds of homes, not just listed buildings, so if you want to find out more about our long life weatherproof paints, give us a call on 0800 970 4928
You can also email us if you would like an estimate for a wall coating