We've been busy working on customers houses during the covid-19 lockdown period (April 2020) as our work enables us to carry out the recommended social distancing, and to remain a safe distance from customers and the public.
We work around England and Wales and this old farmhouse we are going to show you, was in the area of the glorious County Durham in the far north of England.
Here's what we got up to.
This imposing home was located in a fairly windswept and weather-beaten location on top of a hill.
The owner was forever having to contact local decorators in nearby Durham to come out and repaint the outside walls every other year.
With a house this size, you can guess that wasn't cheap.
Paying money out to decorators every couple of years, including hiring scaffolding, soon mounted up as you can imagine, so the owners contacted us for a longer term solution. (There is an actual review from this customer at the foot of the page)
This is an example of how our company can take a "has-been" house, and turn into a "must-have" home, in less than a week!
The problems with this house were all too evident to see as soon as our estimator turned up to take a look and measure up.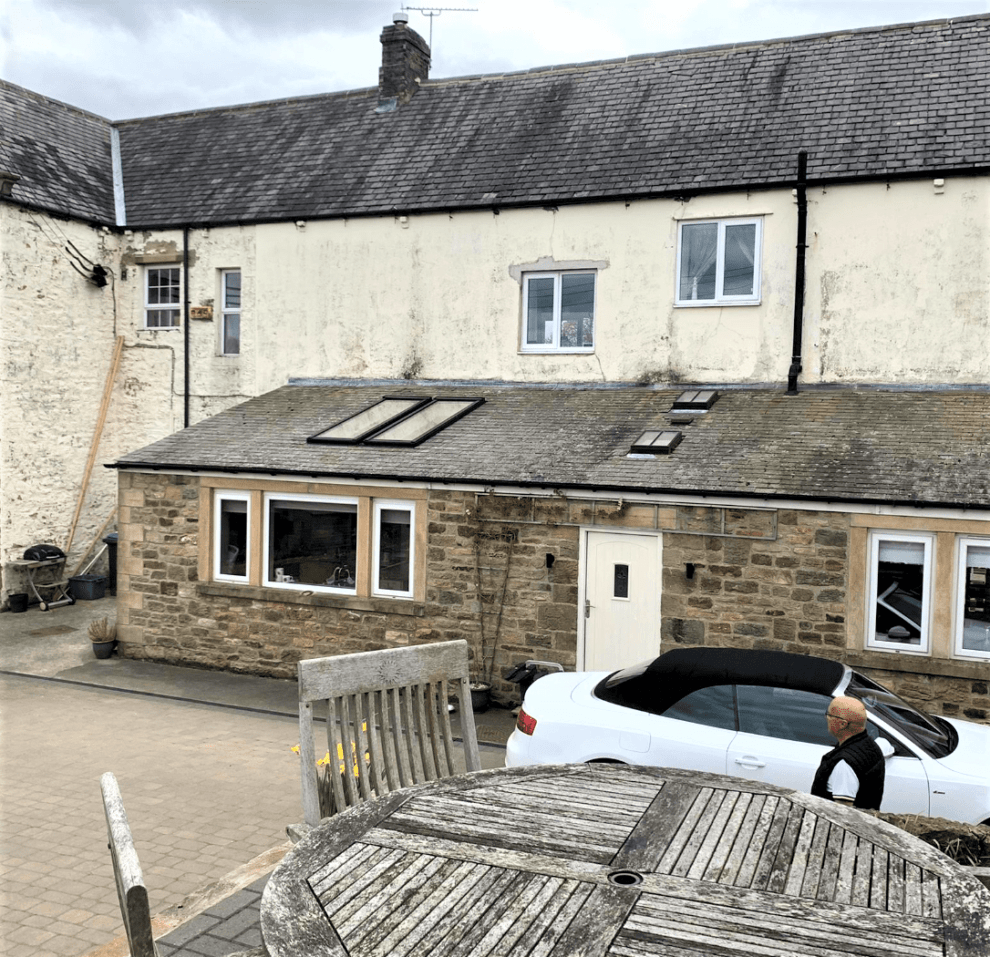 Comparing and contrasting this view, with the view at the top of the page, you can see the challenges we were faced with.
Preparation is a huge part of each house painting job we do, and on this occasion we had to:
Make good poor repairs around newly installed UPVC windows.
Remove a large amount of loose and flaking paint.
Carry out damp proofing work in various areas
Wash off and treat the various areas of mould on the walls.
Reinstate various bits of missing or loose mortar joints
Repair various cracks around the entire house.
Reinstate loose, hollow or missing areas of rendering
….and that is before we even thought about the painting!
If you thought the rear was in poor condition, just look at what we had to do at the front of the house!
Doesn't look good does it?
Not to worry, the NEVER PAINT AGAIN team can tackle any job no matter how bad, and we have hundreds of examples of jobs carried out by us involving repairs to render.
As you can see on this elevation, the main issue apart from the loose paint everywhere, was cracks.
Loads and loads of cracks, in part caused by the double glazing company who perhaps didn't do as good as job as they could have done, but that's nothing to do with us!
I think the house had also some lintels replaced at the top of each window, which would also have caused all these crack issues.
When we repair cracked render, we use a special mortar which will not crack ever again, meaning that once the paint goes on over this, you will not only NOT see where the repairs have been done, but the walls will not suffer from cracking to the render again.
This house had been extended over the years, meaning all the wall surfaces were different.
The property had been extended at various points in its life and each wall was different, so a custom solution was put together for the clients.
Here's one of the oldest parts of the house, a gable end wall, which as you can see, took a lot of the weather.
As you can see by the green patches around this part of the house, the walls had soaked up water, allowing the mould to grow, and the paint to flake. Our exterior wall coatings repel this growth and the paint finish once completed, will never go green or mouldy, even in shaded areas.
We needed to strip back the old paint, remove the algae and mould, and then we had to carry out repairs to the walls.
All this was done with social distancing, and we don't ever need to come into close contact with any of our customers during the course of our work.
The gable end is now repaired, weatherproofed and painted!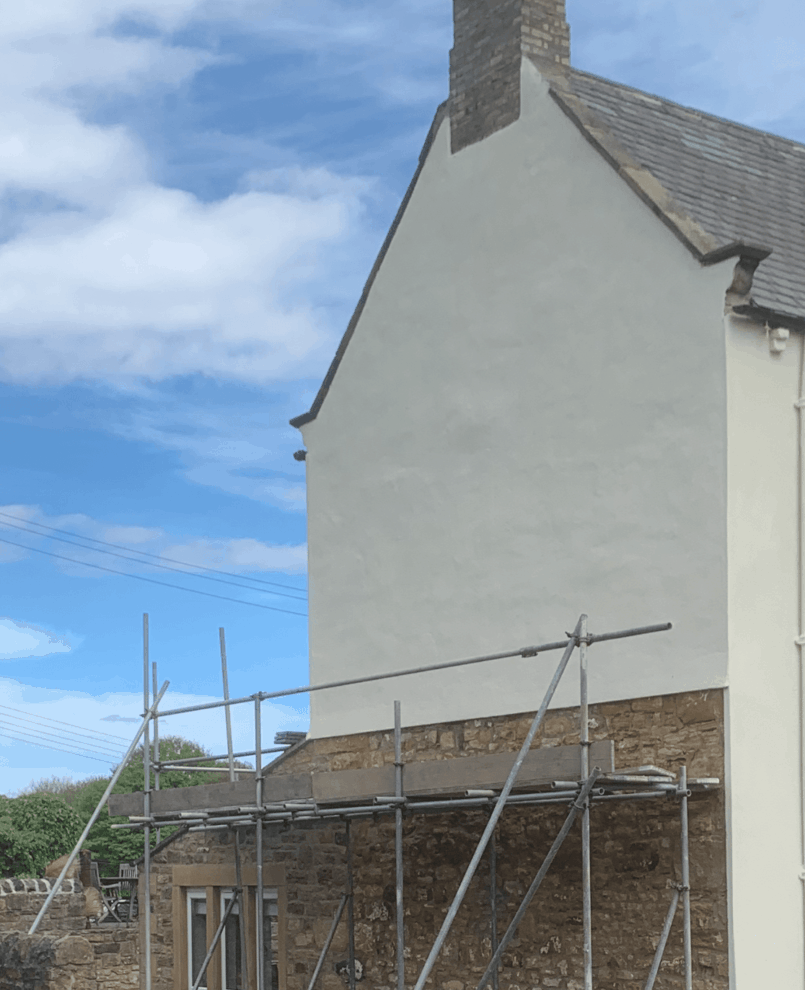 Looks better for sure.
The exposed stone at the bottom was also protected with a damp proof brick wall coating which is available from ourselves.
Unlike our coloured wall coating, the system does not change the look of the wall but provides superior weather protection for both unpainted brick and stone exterior walls, and is specified by architects.
What did we do after the repairs were finished?
The repairs we do to most homes that we get asked to paint, stands us apart from your traditional house painter.
Many decorators would look at this job and walk away, but we're made of stronger stuff than that and, since 1986, we have tackled the roughest of homes, and have delighted customers with the end results when they see their house newly painted and looking great!
Once all the repairs had been completed, we stood back and summoned the client outside to walk around the house and see all the finished wall repairs, as per their written contract and schedule of works, and they were very happy with progress so far.
We then covered the windows with brown paper, and the floors with dust sheets, and we applied by hand, a weatherproof primer and allowed to dry over night.
The next 2 days were spent spraying the exterior wall coating onto the outside.
We then removed the masking and cleaned the site up to a high standard, and below you can see the finished job, a house which now will not need to be repainted FOR 20 YEARS!
A house in County Durham, fully repaired, weatherproof and painted, with a special wall coating which lasts for over 2 decades.
The main benefits of having an exterior wall coating instead of normal paint is the fact that although it looks exactly the same once it is on the wall, it last MUCH longer, in fact it won't need re-doing for 2 decades and that comes with a no-nonsense warranty too.
Our "Wethertex" MP44 wall coating system will resist mould, damp and algae, will cut heating bills, will stop all types of damp, plus it will NOT fade, crack, chip or peel.
If you have been looking for some all weather coatings for your home, we guarantee that whatever the weather, your house is fully protected, rain, wind, snow or shine.
As you can see it is perfectly possible for us to come and see you if you request an estimate.

Our surveyors practise safe social distancing, and if you choose us to paint your house, all workers wear masks and gloves, and use copious amounts of hand sanitiser.
We follow UK government guidelines closely to ensure that both the work we do is safe, and our clients also remain safe.
You can even deal with the whole purchase of this home improvement with us via video chat, phone and email.
Payments can be made in stages, and are also accepted over the phone or by internet banking, plus we accept all credit and debit cards.
You can also pay by cheque, or cash (Note: all cash gets paid into our bank, we do NOT do "cash in hand" work, sorry!)
When we work on your home, we wear masks, use hand sanitiser and do not require close contact with you, or need to enter your home.
We work solely outside, the teams come equipped for anything and everything, and there is no risk at all in having us repair and paint your house.
This durable long-life house painting service is available up and down England and Wales, we work all year round, including in the winter, and all work comes with a 20 year written guarantee.
Why not get in touch with us today for an informal chat, it will cost you nothing at all, and we even pay for the call!
Give us a ring, Monday to Saturday, on (0800) 970 4928 or send the team an email, we look forward to hearing from you.
Thanks for reading.
Oh by the way, here's what this delighted customer thought of us and our work.
Actual customer review of this job, posted on yell.com
SHOULD HAVE HAD THIS DONE YEARS AGO, HIGHLY RECOMMEND NPA.

Highly recommend the service and quality of this company from your first house visit from Justin to the work being completed and your property tidied up.

Our farmhouse was a mess, with cracked and filled render and peeling paint.

It has now been transformed by the stages the men used to clean, prep and spray it. We had nothing to do but watch it happen. Darren, Mathew and Kevin just got on with the work with so much attention to detail and constant banter.

They masked areas over and over between treatments and so no windows,doors, patio surface etc were marked. The final effect has transformed the house and my only regret is that we didn't have this done years ago! The contract also stipulates that they will come back every 5 years to spot clean.
Project carried out by The never paint again wall coating company, Unit 2, Dolly Lane Business Centre, Dolly Lane, Leeds, Yorkshire, LS9 7NN.