Does the render on your house have cracks? Do you seem to have to pay to paint it almost every year?
Would you like to know how to solve these problems?
Our repair and house painting system would be ideal for the issues your home has, plus the system will save you a lot of money too.
Here is another example of our work around the UK.
This large country property is in an exposed location in Cumbria and suffered somewhat from the effects of the weather
A Wall coating team repaired the render and then spray applied a special textured coating to protect and enhance the whole house!
Here is how we repair a house before we apply a textured wall coating
Our teams spend a great deal of time on the prep work when we paint a house, so the first task for the team is to check the condition of the render that is there already.
The team spend some time examining the walls and making sure any cracks and hollow bits of rendering are spotted. We then replace any render in a bad state and cut out and fill any cracks we find.
This photo shows us at the stage where we cover the windows to protect them.
The masking process can be a very time consuming job, wrapping up your house like we know a giant that is going to take it down the Post Office (!)
However it is a necessary thing that we do and it not only makes for a better finished job at the end, it also means we do not have to take 3 days cleaning paint off windows and gutters!

One all the masking up of doors and windows is done, we then add the weather-resistant primer coating, then we have to wait for it to dry (Whilst enjoying a nice cup of tea!) and then we put the top coat on with a high pressure spray machine.

Rendering and textured coatings: How we apply them.
The wall coating team did a fair few repairs on the place, plus some re-rendering on the wall, which as the property was tyrolean, and they then then replaced the tyrolean on top, and brushed on special primer coats.
They then then masked up the windows, as you can see in the photos, and then spray applied NEVER PAINT AGAIN textured masonry coating onto the walls.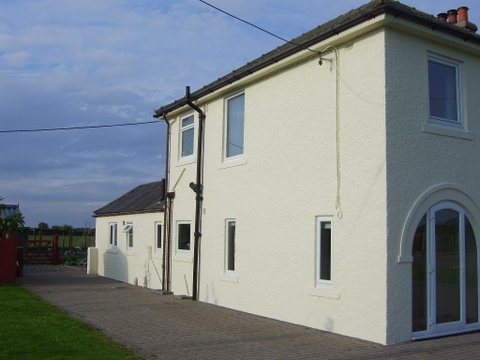 This house is now fully protected from the weather with a super durable flexible wall coating.
If you yourself own a property in Cumbria, you will know that the weather here can be somewhat challenging, so to have complete weather protection, AND a nice looking home, you can guess the owners here were over the moon with our work!
Here is a shot of the rear whilst we were cleaning up afterwards

The coating we put onto this home will not flake, nor peel, fade or chip, and it also keeps damp out, all this for at least 20 years, AND (there's more?) an insurance backed warranty too! (terms apply)
If your home lies in an exposed location such as a hilltop, a house on cliffs overlooking the sea, near a beach or maybe on moorland, you can be sure that whatever paint you have on the outside of your house does not last long which is why houses like this benefit greatly from weatherproofing wall coverings.
This wall is now fully weather-protected and can withstand the cold Cumbrian winter weather no problem at all!

The weather is constantly attacking the exterior walls of our homes and if the thought of having the house painted every single year fills you with dread, well there is a way that can actually SAVE YOU MONEY on home painting and repair costs!
So what product did this house receive?
It is the NEVER PAINT AGAIN Textured coating system!
More and more people each week, choose our coating for their homes!
Having one of our textured exterior wall coatings on your home means that you do not have to have it painted again for up to 20 years.
You can guess how much money that would save you can't you?
Not only that, it repels the rain so you will never get damp walls, nor will the surface crack again.
Why not find out more information, you may be surprised how cheap this system is.
Call us on (0800) 970 4928 or email us for a quote for house painting