Painting the entire exterior wall surface of a the average British house is for most people an awful and daunting proposition.
Most DIY enthusiasts usually attempt it only once unless they are very proficient at exterior decorating, they have an awful lot of time on their hands, or they simply enjoy visiting the hospital after falling off their ladder.
Do you REALLY want to paint your house yourself?
As painting the exterior of a house yourself is a time consuming job (depending on how bad your house is or how large or small it is), it is human nature to seek short cuts and time/labour-saving methods to reduce the effort in this necessary home exterior maintenance chore.
If you have the home shopping channels at home, like QVC, ideal world, Bid TV, etc, you often see advertisements, for cheap home paint spraying systems which suggest massive time and labour saving for you and they make it seem so easy, but hang on a minute!
Some cheesy perma-tanned American spraying his siding in the California sun is a far cry from the image you struggling up a rickety ladder on a windy cold day to paint your house in London!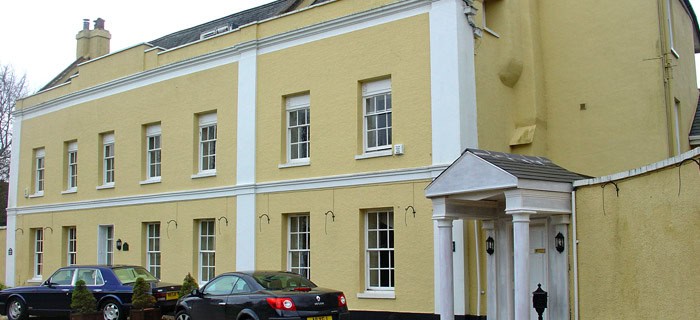 The glossy adverts make out that painting your home with a cheap paint spraying system is an utter doddle, but be warned as it is most certainly not the case!
The 1st thing to seriously consider is the fact that these bargain of the century cheap paint sprayers are more often than not powered by electric and NOT air pressure like the professional paint spraying machines that wall coating companies use.




As such are almost never capable of producing the results the advert says, or more importantly, the results that you yourself are looking for.
Problems with house painting
The first problem encountered: The paint wont go through the cheap sprayer I bought! Why? What is the best exterior house paint for render? Where can I buy a really good exterior coating?

Questions questions questions!
Most brands of exterior house paint are usually thick and viscous, and removing the paint lid and giving a pot of paint a stir with a stick will usually reinforce that premise.
If you are going to use one of these cheap spray machines successfully, you are going to need to thin the paint down considerably or it wont go through the machine.
A professional exterior wall coating spray team work with very thick paints and coatings and despite using powerful pumps like a Borg-warner, or Graco president, the coating still needs to be thinned down slightly or it wont pass through the pump.
NOTE: Most top brands of exterior textured wall coatings are usually only slightly thinned, with white spirit or thinners, to enable the coating to pass through the pump and for the spray mixture to correctly amalgamate onto the exterior wall surface.

These thinners evaporate once the drying process begins and then once evaporated; the coating is fused, or firmly stuck, to the wall.

Wall coating spray pumps have to be maintained and cleaned regularly, depending on how much use they get.

Your home spray gun, despite making it look easy, will require the same level of dedication as a professional to keep the nozzle clean and all the working inside free of debris and solidified paint.
If it is only used once a year, if it is not cleaned to the standard of when you 1st bought the pump, it is highly likely it will be no good and you will have to throw it out and get someone in to do the job properly!
So if doing DIY painting, what about using a roller instead?
Rollers are good up to a point, but how many times have you tried to paint a wall using a roller and all you seem to be doing is dipping in the roller tray and making very little progress?
A roller is good for some painting jobs…
A good quality paint roller, is underestimated by many keen DIY enthusiasts, however roller are more commonly used when home painting, often due to the inadequacies of Do it yourself spray painting systems.
The typical English decorator will swear by his or her roller, so make sure you have one handy, and make sure after use you very thoroughly clean the roller head or it will solidify and you will have to chuck it out, wasting more money!
About the only time paint spraying is preferable is when a large, rough-textured wall surface such as brick, tyrolean, spar dash or pebbledash must be painted, as is often the case in UK exterior painting projects.
If you have rashly decided to paint the exterior of your house yourself, for most houses, a normal exterior paint roller is OK for the job, but again, if you don't know what you are doing, then don't do it and call in the experts instead.
This is especially important if your home exterior needs some repair to it before any painting can commence.
Roller or spray for house painting?
Even when you decide on the best method, painting with a roller or a spray gun, now you must consider the cover for the roller, and this cover, the important bit that actually applies the paint onto the wall (or the floor if you are a hopeless painter) actually comes in several varieties, and the roller cover comes in various thicknesses and these are called the knap.
Some are wool based and some synthetic foam based, often the latter being the cheap ones you would find in pound shops are usually throw-away ones, often for quick small jobs; however the thin knap rollers are often best for smooth wall surfaces rather than rough textured walls.
The thin-knap roller covers are best either for interior painting such as painting your lounge or bedroom, or good quality ones can be good to paint the exterior of smooth rendered houses, although often 2 or 3 coats are required to give a good finish.
Bear in mind once you paint an exterior wall, by the 1st winter if its normal paint, the masonry paint film (surface) will have already started breaking down in structure and will after a year start to chalk or flake.
If you are not lucky enough to have an exterior textured wall coating like the NPA EXTERIOR WALL COVERING SYSTEM, you will have to repeat this every couple of years so read on!!…………..
If you will be DIY painting with a paint roller, remember you need to use a paint tray to go with it, a square flat vessel with a small area for the paint to go in, and a flatter sometimes lightly textured area to ensure that all paint collected to use is evenly distributed across the roller head.
This gives maximum paint coverage onto the wall that is being painted, but try not to paint using a roller by dipping it in the to the tin of paint directly!
(*Editor eventually gets up off the floor laughing!)
Remember, painting the outside walls of a house is harder than it looks and if your walls have issues like damp coming in (penetrating damp), loose or hollow patches of render, moss and algae growth, you are going to have to undertake a fair amount of preparation before even the first tin of paint is even opened.
Do you really know what you are doing?
If there are doubts already, then quite simply you need to call a general builder, a pro decorator or an exterior wall coating company like NEVER PAINT AGAIN.
If you are reading this avidly (!) then you may be someone who has already decided you want the outside of your house to be painted, or at least re-painted (again) and you are perhaps in the middle of some quick research about paint and exterior wall coatings?
You have come to the right place for decorating advice.
So following on from the above text, does the wall have cracks, and if so are they large?
How many are there?
Are your walls very high?
Is scaffold needed?
Any further specialist equipment?
Do you have the extending poles to put onto the roller head to reach up high?
Do you have the correct technique to do this?
No?
Blimey, the list is mounting!
By now you are probably looking at the cheap paint sprayer you bought, and then looking at the rollers in their shiny B and Q packets, and then looking back up at your house and by now the doubts will probably be sinking in.
Don't forget that on windy days, sprayed paint blows, and in addition to painting your house, you might be paying for a new paint job for your neighbours car if you're not careful.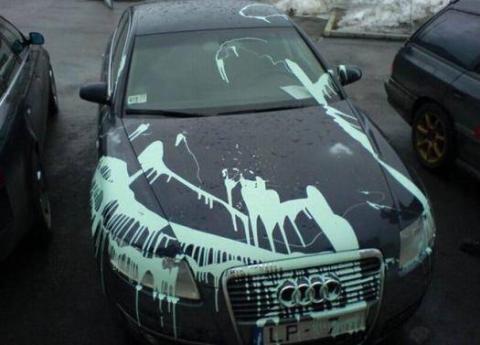 So which is best for painting houses, a spray gun or a roller?
Well I think we can see that a roller is ideal for painting interior wall surfaces such as painting bedrooms, and easy paint tasks, and maybe if you are painting a garden wall outside etc.
Also the correct knap or thickness of the roller is essential, the heavier the textured wall surface, the thicker roller head you need, and conversely the smoother the wall, the thinner roller head is required…. and it is also essential to correctly prepare the wall prior to painting.
If you are thinking of using a cheap spray machine to paint the outside of the house I think you may be unpleasantly surprised at the poor results it will give, the dangers of overspray and spraying where the paint shouldn't.
In addition, spray painting is an art in itself and not as easy as you may think. Spraying a house also requires a good degree of masking up, windows, doors, dustsheet etc to avoid overspray.
Don't underestimate how difficult it is to spray a house, why do you think there are professionals like NEVER PAINT AGAIN who do this for a living!
If you are thinking of spraying painting your home, stop, pick up the phone, call NPA FREE on 0800 970 4928 and ask us advice, we are here to help you.
NPA has published hundreds of articles online related to exterior paint projects, painting houses and exterior textured wall coatings in general.
If you cant find the information you need on this page, go to the top and search or click around the links, there is a lot you could learn here at NEVER PAINT AGAIN, and there is a lot of info we would love to share with you so stick around!
If upon reading the above, you feel like most people that painting your exterior house walls is just too dangerous, not worth the hassle or you just don't have the free time, call us at NPA for an appraisal and some advice instead.
Contact our friendly customer service team on (0800) 970 4928 Today!