The lovely, warm and welcoming San Remo Hotel in Falmouth, Cornwall.
The owners of this popular family hotel in the historic Cornish town wanted a new paint finish on the exterior of their home, but one that would last and would not have to be done again.
The town of Falmouth, bordered by the River Fal and the home of a very busy dockyard boasts the deepest sea port in Western Europe and the 3rd largest in the world!
It has about 21,000 full time residents, and those numbers swell considerably in the summer due to the buoyant holiday trade here.
We always like to come down to this part of the world and have completed many other contracts in nearby towns such as Penzance, Newlyn and Truro.
We took some photo whilst enjoying the Cornish sunshine and we hope that this helps to describe the painting work that we often carry out on small hotels and guest houses like this one.
Applying Wall Coatings in Falmouth. Here's how we did it.
The hotel had been kept in good condition and there was not too much in the way of repair work we had to carry out. Once this was done, we masked up the windows and applied a cement slurry primer to the walls.
Once this was dry we added a weatherproof primer.
Here is the preparation work in action.
Once all the primer coats were on and all the masking was done, we started to spray an exterior wall coating, a long life weatherproof paint, to the outside walls.
Unlike local decorators in Cornwall, we don't apply our system by brush or by roller, the coating is 20 times as thick as paint, so we have to spray it on, fusing the paint to the walls and providing unbeatable protection  against wind driven rain and sea spray.
We are able to fix up more or less any size of hotel, plus we also offer domestic painting and decorating in Cornwall for homeowners.
Here you can see the front of the hotel just after we finished spraying the paint.

You can see that we take a great deal of time in doing the masking up as we paint using a spraying machine so if we did not cover those windows, a fine mist would settle on them, so nothing is left to chance.
You can see we even masked up the floor!
Of course as this is a working hotel, we had to do the work in stages as to not upset the residents, all of whom as it turns out, were very impressed with our work!
Here is another view of the side of the hotel after we applied the wall coating

Of course, it depends on what you want on your home and no 2 coatings are the same, but after studying the performance, longevity and durability of the NPA wall coating system, plus we were fairly near to them on the Devon and Cornwall border, they decided to go ahead with us, and just look at the results!
As of course this is a business premises and not just a home, we had to carry out the painting work according to when it was convenient for the hotelier, and when very few guests were staying, so we tried to be as discrete as possible whilst carry out the work.
The wall coating on this hotel is now guaranteed for 20 years to not fade, flake, chip or peel.
The final photo we have is the side of the guest house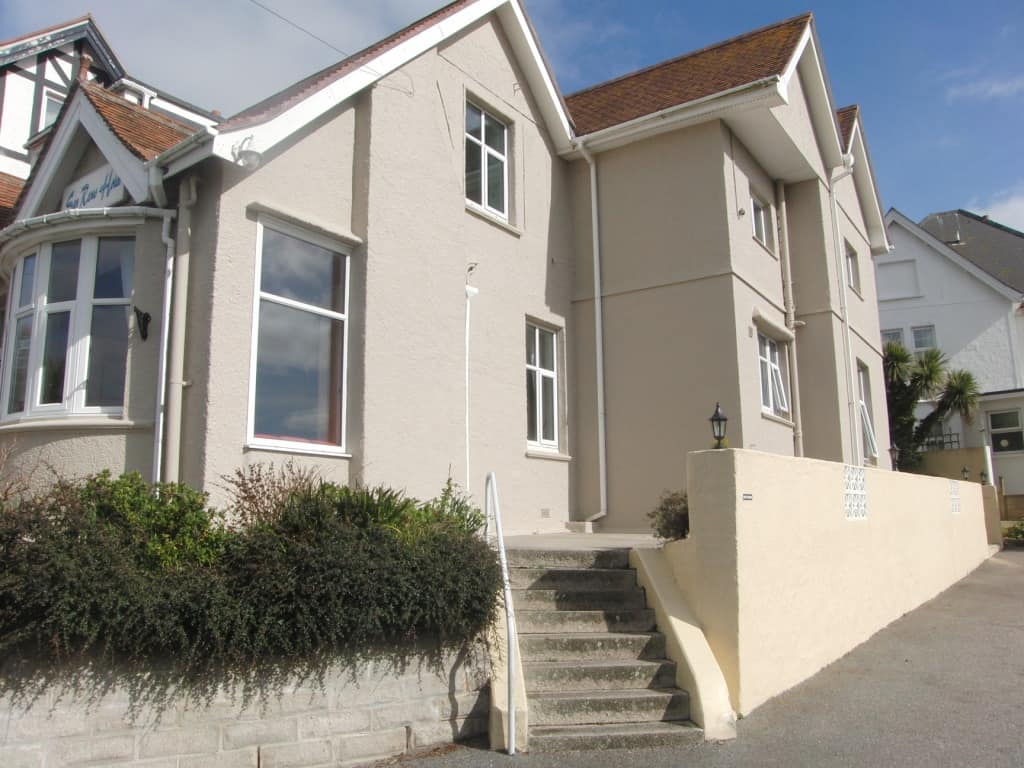 In fact the owners of this very popular hotel had this to say about the service they received from Never Paint Again

………..Very pleased with the operatives [ father & son team Peter and Jack] who were meticulous in their preparation work & application of the product. Very pleased with the end result also.

Roger Gaylor, Falmouth Cornwall.
We can paint any kind of business premises such as a hotel, B and B, Pub or a guest house
We can paint any type of building, and if you are a hotel owner, this kind of work can be done during the winter time, off season, so there is no interruption to the day to day running of your business.
By simply visiting our Contact page, you too can ask us about the benefits of having this long life textured masonry wall coating system on your home and you may be surprised how cost effective it is.
It is ideal for coastal and seaside areas as unlike paint, it does not get washed off in a storm, nor does it get affected by sea salt and driving winds, plus it alleviates the risk of mould and damp happening.
Call us to arrange a quote and survey, on 0800 970 4928
The Never Paint Again Wall Coating Co., 10 Drake Mill Business park, Plymouth. Devon. PL6 7PS.