This smart detached home in Altrincham, a posh part of Cheshire (!) was generally in fairly good condition, however due to its size, frequent exterior wall painting had become cost ineffective.
The owners wanted a long term paint finish solution for their home, so they called us in.
Here's what we did to renovate and refurbish this house in Cheshire.
Altrincham is a lovely part of the world, about 8 miles south of Manchester and is known for it's smart houses and picturesque market town streets.
Here is the main part of the house before we started painting
The walls of the house were covered in pebbledash, which had been painted at some point in the past.
The problem is that when you paint a wall, it needs to be repainted every 2 years if you use normal masonry paint.
Our exterior wall coating alleviates that hassle as once done, it does NOT need repainting for 20 years!
2 decades of not paying a decorator to come round.
Another big problem with pebbledash is it's very difficult to paint and get a decent finish, unless you use our wall coating system.

You can clearly see in the image above that another problem with painted pebbledash is the fact that as the surface of the wall is so heavily textured, it tends to pick up dirt and grime.
This problem is easily remedied with the NPA wall coating system.
This is because as our wall coating is self cleaning, water, and the dirt contained within rain, just beads off, like a non stick frying pan, meaning your home exterior won't quickly start to look grubby, as it does in the image above.
Looking down the side wall, it just doesn't look "clean" does it?

The house was actually in good condition so we did not have to carry out much in the way of repairs as we do with other customers homes.
The process:
We checked the walls for any problem areas, or even suspected issues, but found very few.
We carefully protected plants, shrubs, bushes and paths, from any mess.
We covered up doors and windows with brown paper
The team hand-applied a cement slurry primer known as Bagging, which consolidates the surface and fills in the deeper holes in the wall texture.
The team then painted on a weatherproof and waterproof primer
We then sprayed the thick top coat of Wethertex MP44 textured masonry coating.
We then removed the masking and dust sheets and hand finished around doors and windows for quality.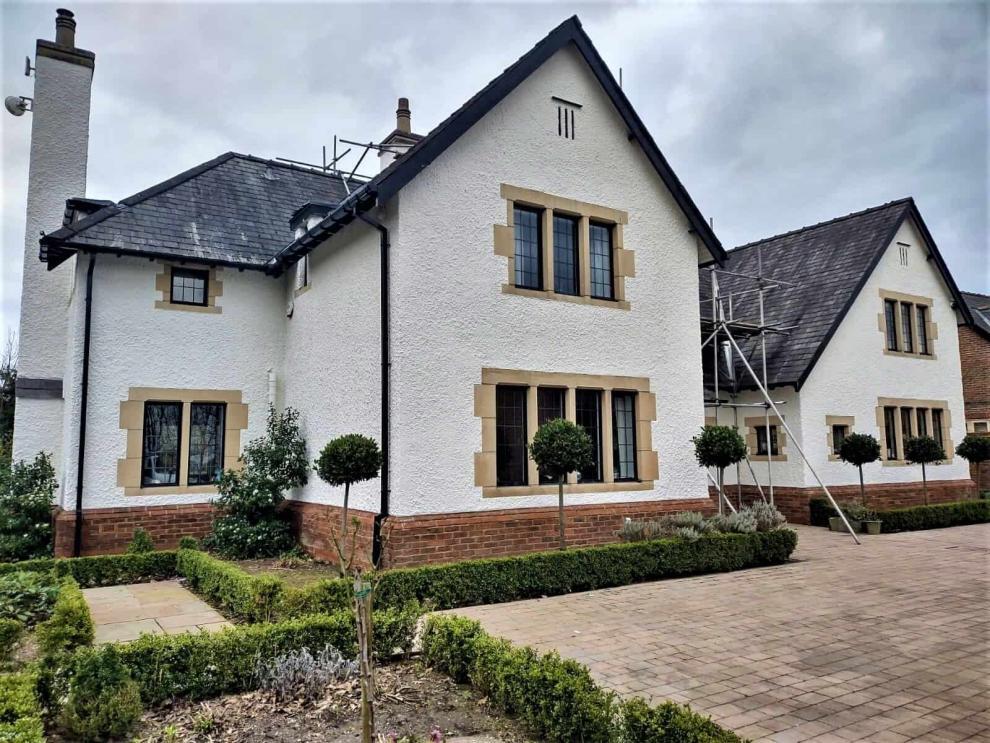 As you can see from the rear of the house once work had been completed, the site was left very clean indeed. We always tidy up meticulously and never leave a property like a building site.
The benefits of a NEVER PAINT AGAIN exterior wall coating.
Having our company spray paint your home with one of our elastomeric and waterproof wall coatings bring many benefits to you, such as:
No fading, chipping, cracking or peeling
Resists rain, snow, dirt, mould and pollution
Lowers your home heating bills, saving money.
A 20 year written guarantee
Conceals cracks, scruffy pebbledash and uneven walls.
Cures mould, condensation and penetrating damp.
Never fades, with beautiful shades, textures and colours.
Stops erosion, cracks, flaky paint, damp and mould.

I know you have probably read this page, and seen the photos, and are currently thinking "yep, looks great, but I bet it's expensive!", nothing could be further from the truth.
Our exterior wall coating service is a LOT MORE than what your local decorator would offer you, especially as we carry out repairs where needed, such as alterations, rendering, crack repair and so on, something your local painter can't be bothered with.
You will also save a lot of money in not having to have the house repainted for the next 2 decades.
It is our mission to leave your home looking its best, to make sure you are 100% happy with what we've done, and to reassure you that your house will carry on looking great for the next 20 years, guaranteed.
With this system, your property, your largest asset, is fully protected from all kinds of weather and erosion, all of which can damage a home if left unchecked.
Get in touch for a FREE quotation and home inspection today

This service is available across England and Wales via our network of accredited applicators, and a quote from us is FREE and without obligation.
We are also a covid safe company, please ask for further details of this.
You can contact us FREE on 0800 970 4928 or send the team and email here.