Despite your fireplace being largely forgotten about during the summer, just like my own family, you will all welcome a healthy hearth come winter time.
Today we are going to tell you a few tips how to clean and maintain your chimney, how to spot problems with it, both internally and externally, and offer a few "best practice" tips on keeping your chimney healthy and happy all year round.
I must admit, before I start, it does feel strange writing about fireplaces, keeping warm, chimneys and such, when outside it is August, sunny and quite mild!
However I do like to think ahead, and during my holiday time in August, I tend to plan ahead and get a few things done so I don't have to worry over winter.
And yes, if you too are reading this in August or September, don't be complacent, winter will soon be here!
With chimneys and flues, it pays to plan ahead NOW.
Up until the latter part of the 20th century, most homes, in my country at least, were heated by means of coal fires or wood burning appliances.
If any of you still have a coal fire, you will welcome to warmth and heat during winter time but probably will not like the associated dust, dirt and grime it brings.
In the latter half of the twentieth century many houses had their fireplaces removed and blocked off and everyone got central heating instead.
Please note that we are ***NOT a chimney repair company****. Thank you
That trend has now thankfully reversed and with care and attention, a fireplace can be the central focus of any room.
Of course coal is also used in very old AGA type ovens, although with the sharp decline in coal use in the UK, many are now converted to run on other fuels.
In our own kitchen we have a Rayburn, similar to an AGA but these models can also heat your water and your central heating, although ours just does the cooking, plus it heats the rear of the house as it belts out a LOT of residual warmth.
These appliances also need to be vented, usually through an existing chimney or a flue. Our flue travels up inside the house and out onto the roof, but it heats the rear chimney breast inside our home (we have 3), and also the rooms surrounding it.
An old 1960's Rayburn vapurising oven, a smaller version of the AGA, still going strong today

=
It is just as important for us to keep the AGA chimney clean as it is the main chimney breast at the front of the house, so with the risk of me waffling on and on ever more, here's what to look for and what to do, to keep your chimney working at its best.
The importance of keeping a chimney in good condition.
Firstly, a chimney, if you are maybe reading this from the moon, is a large hollow vertical shaft, to allow smoke and fumes from fires, to escape out into the atmosphere.
It is therefore of vital importance that your chimney is kept free of obstructions, because if not, the harmful gasses caused by burning wood or coal, will not vent outside, and will stay inside the room, and possibly kill you.
If you use your open fire each winter then it is essential to have your chimney swept and cleaned every year, even if the chimney is used for a flue to a gas fire and nothing else. (SOURCE: The guild of master chimney sweeps).
How to spot if your chimney needs cleaning
If you use your fire each year, you should probably have a record from your guild registered sweep of when it next needs cleaning.
If you have just moved into a home, or you are renovating and uncovering a previously blocked fireplace, the FIRST thing you should is to get it cleaned.
If the fire has been in use fairly recently, and there are black smoke stains on the wall of ceiling above the fire, this is a DANGER SIGN that fumes have been coming back into the house.
You could do yourself a favour and buy a carbon monoxide detector, an example of which can be found online. We got the "FireAngel CO9-X" from safedirect.co.uk for about 17 quid, and NO we were NOT paid to say that.
It is worth getting a good one as this could in fact save your life.
If your chimney has been blocked off and there are stains on the chimney breast inside the house, this is because the chimney has not been vented as it was incorrectly sealed off (Yes you need to do that), and therefore the chimney breast and stack have become damp.
This turns the coal dust into a slime that seeps into the walls.
Burning wood fuel can result in the accumulation of creosote inside the chimney breast, which, if not removed, can become flammable when mixed with dust, and can result in your chimney being actually set alight, and this can spread to the rest of the house, utter disaster.
Your local fire brigade can give you advice on how to prevent chimney fires and/or what to do if one happens, so simply pop down to your local fire station and ask, they will be only to happy to help.
Look after your chimney and it will look after you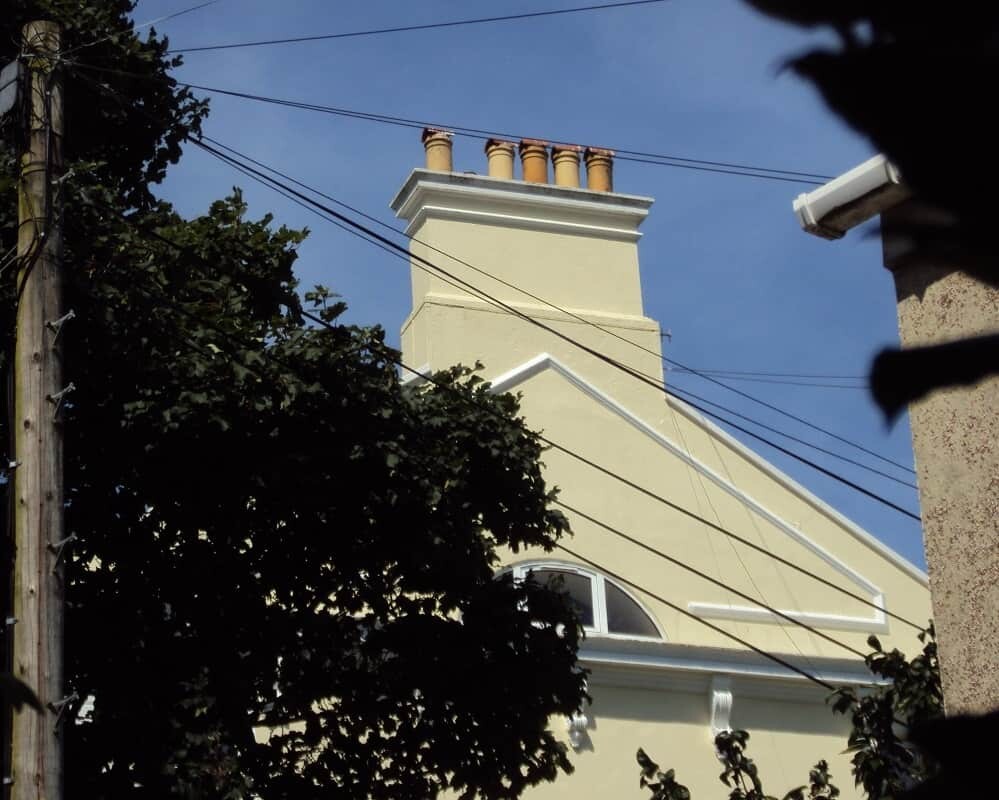 As you can see from what has been discussed above, the golden rule of keeping your chimney in tip-top condition is to have it cleaned and swept every year.
Forget about Dick van Dyke in Mary Poppins, some chimney sweeps are very high tech and knowledgeable and not only can they advise you of the condition of your chimney, some actually use a vacuum cleaner rather than brushes, it depends on how dirty your chimney or flue actually is.
Don't leave it to chance.
Now to check the external condition of the chimney stack (from the street)
Take a look upwards at your chimney. Does it good or bad?
After you have finished this article (and of course shared on on social media!) then I would suggest that you take a walk outside of your house and have a good look at the state of your chimney or chimney stacks from the garden or street.

CAUTION: do not go up on your roof, leave that to a professional.
I looked at one of my chimney stacks, see above, from the rear of my house.
If you are a regular reader you will know I only recently moved here and have a "stack" of tasks to get done, the missus keeps telling me, LOL!
As you can see, it is a Victorian chimney, which is placed on the party wall, the wall dividing the 2 homes, and as you can see, one side is our chimney, the other side has been blocked off by the neighbours.
Although it is a brick-built structure, it has been externally rendered at some point, as has the adjoining firestop wall between the two homes.
Visually, it looks OK, although to be sure, I would have to get a roofer to go up there, which will cost me money, but I am confident I don't need to do that, however ..
…looking at the chimney on the house next door in the photo below….

I can see that because their chimney is faced with the original Victorian bricks, it has not been protected and is weather-beaten, with eroded bricks, loose pointingand vegetation growing from the sides and the top.
So in comparison, my neighbour's chimney looks terrible and does need some attention.
Not bad for taking the weather in it's stride since the year 1883, when this street was built but definitely in need of some attention now.
The top of the partition wall also needs attention and needs waterproofing or else water will settle on the flat concrete surface and seep down into the walls, making the inside stink of mould and also removing your wallpaper and replacing it with black mould spots, which believe me, you really do NOT want.
So what does YOUR chimney look like externally?
If yours looks like the 2nd photo, and you are also thinking of having some work done to the rest of your home, call us on 0800 970 4928, we may be able to help you, although bear in mind we are NOT a roofing company and only do such jobs if we are working on the rest of the house too.
A typical example of when we work on a chimney would be the main photo right at the top of the page.
When we do work on a chimney, we don't send a 16 year old apprentice up a ladder like some small-time contractors would (!), we use proper chimney scaffolding, erected by a CITB registered firm, like the example on a house we painted a few years back…..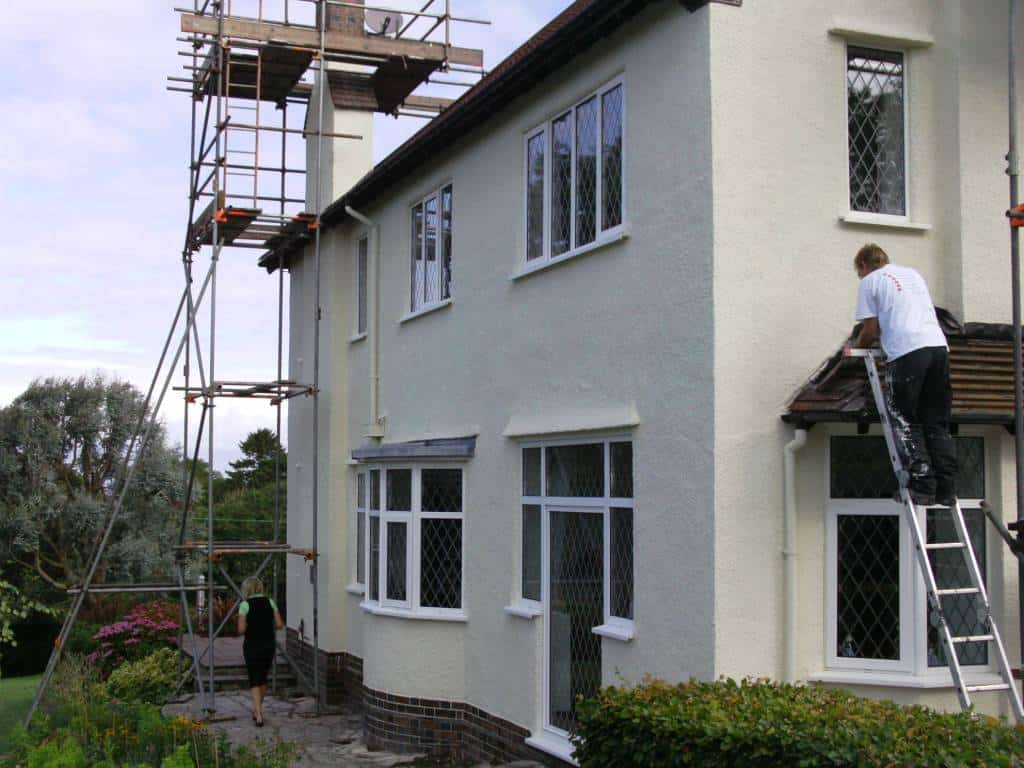 Conclusion
A clean chimney is a happy one so make sure you get that done before winter time, and NO please do NOT call us, we are NOT chimney sweeps, this is another original home improvement article from the famous NEVER PAINT AGAIN blog and is for information only.
Our company can only carry out external repairs to your chimney, and only as part of a wider programme of works such as re-rendering and painting the rest of the house.
If that interests you then click HERE to contact us.
If you have a general question, please post it below using your facebook account and it will be responded to personally, by me, or visit and LIKE the NPA facebook page here.
Thanks for reading and I hope that my advice proves helpful to you.
Please note that we are ***NOT a chimney repair company****. Thank you