This semi-detached house in the market town of Newton Abbot in Devon, had various issues with cracked rendering and flaking paint.
Normal masonry paint will not stop these problems occurring, so the owner asked our Plymouth office to come up with a more longer lasting solution, which they certainly did!
This rendered and extended home was probably built in the 1950's and since then it's had everything that mother nature could throw at it, and more besides.
If your house has painted render on the walls, you could save a lot of time and money by having us refurbish it instead of your local decorator.
The fact that it was not weatherproofed, only painted, was reflected in the poor quality of a lot of the render, having issues such as flaking paint, damp and cracks in the rendering.
You don't need to know much about decorating to know that all these problems have to be sorted before one tin of paint is even opened!
This page briefly shows us working on a house, overseen by our Plymouth office, although we work nationally, and have done so since 1986.
Here is the front of the house during work in progress.
(You can compare this with the "after" image at the top of the page to see what a change this made)
As you can see we had to remove and replace several areas of render that had detached itself from the wall.
We also had various areas of flaking paint to remove, and several nasty cracks around the front and back of the house.
Unlike your typical painter and decorator in Newton Abbot, we don't just turn up, slap some paint on and go to the pub (!), we spend an intense few days concentrating solely on working on the house.
The rear of the property also required repairs before we could carry on with the painting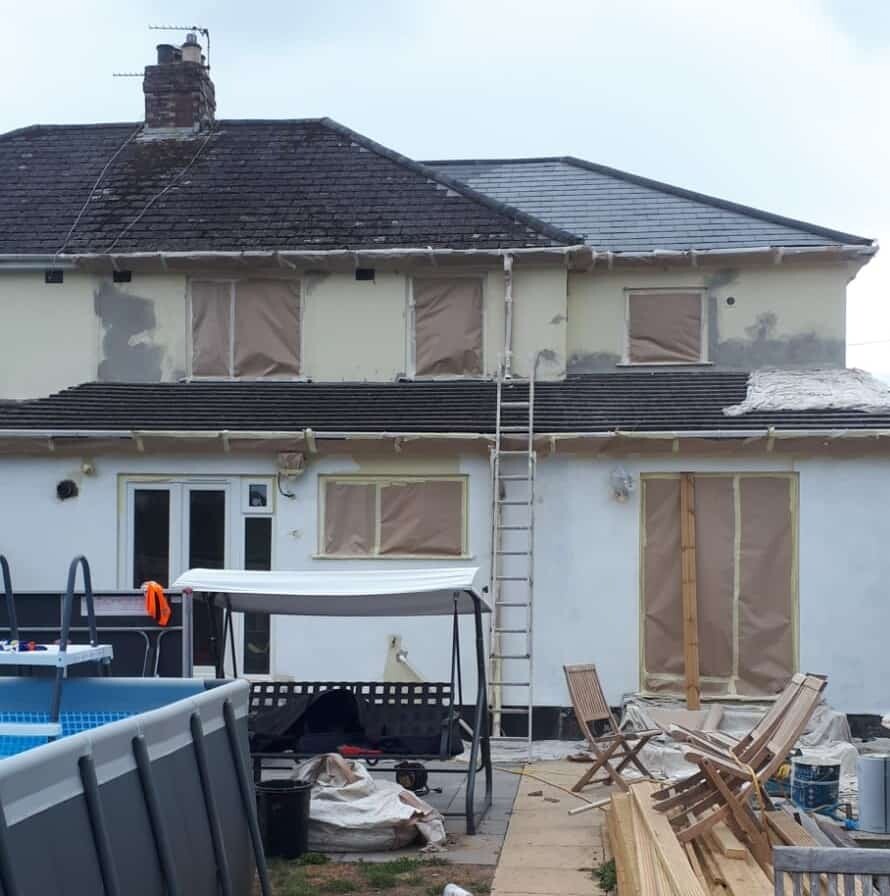 More areas of hollow render needed to be taken out and put back to match the existing walls before we could carry on.
As you can see, to avoid mess, and to speed up cleaning at the end of the job, we cover the floors, lawns, decking and paths, and mask up the doors and windows.
Once the repairs to the walls were all done, we hand-applied an off-white primer coat to the walls and then stood back and allowed it to dry over the course of the day.
This primer also contains fillers which gives us a better surface to apply our long life wall coating system, a special paint which will not need to be repainted for at least 2 decades, guaranteed.
The wall area to the side was a later addition, and in better overall condition than the rest of the house.

To renovate this part of the property, all we had to do was to remove a little bit of flaky paint, but not much.
We then covered the floors and hand applied the Wethertex primer coat and allowed a dry time of 12 hours before we continued.
Once all the walls had been repaired, the windows masked up and the primer applied, we then set up our special spray machine.
We started to mix the paint coating in order to spray it onto the walls, a much quicker way of painting a house, but one that requires training and skill, and a lot of pre-done preparation.
This is what the side looked like after an application of our exterior wall coating

This product, unlike masonry paint, will last for over 2 decades without the need to repaint, and it's supplied and applied by our own teams, NOT subcontractors.
Our "Never paint again" wall coating system is suitable for virtually all exterior walls, whether they are rendered, pebbledashed or brick, if it's outside your house, we can sort it.
The main benefits of having a wall coating are the fact that, unlike masonry paint, this system does not fade, crack, chip or peel, and comes with a 20 year guarantee.
All our products are independently tested and verified and are approved by the BBA and specified by architects. Now this all sounds expensive doesn't it?
You would be wrong to assume this is costly, on the contrary, because factoring in the amount of repair work often needed, and the fact that the house doesn't need repainting for 20 years, this system can actually SAVE YOU MONEY!
Here is the rear of the house, finished in Wethertex MP44 exterior masonry coating.

The entire house is now weatherproofed and fully protected from all types of weather for the next 20 years.
If you want to see the front now it's nice and freshly painted, scroll back to the top of the page.
Getting a price to have us repair and paint your house is very easy and hassle free.
Simply call us on (0800) 970 4928 or you can also email us for a quotation.
This service is available across England and Wales.
Here is the actual review left on Google by the owner of this house.
Never Paint Again Wall Coating co. painted my 5 bedroom house in Devon. what an amazing job they did. Cant believe it's the same house.

Money well spent, thank you so much to the gentlemen that worked on the house.

they were friendly, hard working, and nothing was to much trouble for them. they even cleaned up after themselves, which is a first for me.

I would highly recommend this company to anyone wishing to have there house painted.

Judith Cockroft
Project carried out by The Never Paint Again Wall Coating Company, 10 Drake mill business park, Plymouth, Devon. PL6 7PS.
Tel: 0800 970 4928