Check out this delightful 1930's large semi detached property in Guisley, near Leeds, Yorkshire, which now benefits from a weatherproof NEVER PAINT AGAIN textured masonry wall coating, guaranteed for 20 years!
How do we paint these houses if we don't use paint brushes?
Read on and find out!
As you can see from the gallery images below, this house, albeit a delightful place, had some problems and issues with the render, insofar as there were quote a few cracks and patches of hollow and loose render which needed to be repaired before anything could be done to the walls.
The owner was well aware that paying a decorator to paint the house yet again, after only being done 16 months ago, started to become a false economy especially as the house was large, so even painting it with normal paint was fairly expensive.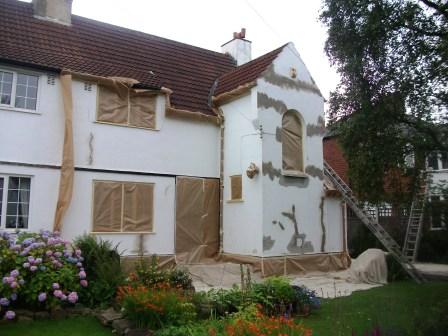 The photo above shows the stage where we have done the repairs like the cracks and the rendering, and now we have masked up the windows as we are going to put some primer onto the wall.
Here we can see the view from the side of the house, which was where it caught the wet and windy weather, meaning that the top half had to have quite a bit of rendering done to make it good again.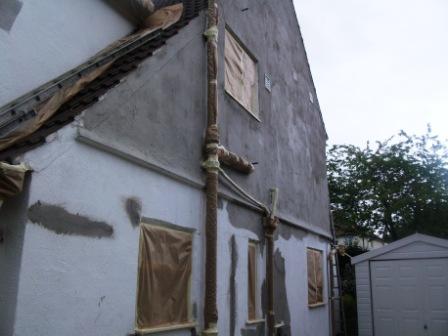 This is what the same elevation looked like after we had done the repairs, the primer and the top coat of a special plasticised wall coating that resists the frequently awful British weather, as I am sure many residents of Leeds would agree with me on that forecast!
We completed all the repairs, which were mainly cracks, masked up the house and protected the lawns and paths etc, and then applied a coat of slush primer, and then spray applied a good thick coating of npa fine textured wall coating, in white.
The exterior wall finish products our (Leeds based) coating application team used on this particular home have a proven track record since the 1970's.
This house will now NOT require exterior decorating for at least the next 20 years and costs less than HALF the price of render based exterior wall coatings.
Here is another photo of the freshly painted wall
These special exterior wall surface restoration coverings act like paint, in a decorative way, but they are far more versatile, hard wearing and durable, and last for up to 20 years, which means this lovely white house will stay white, for 20 years, and will go on protecting the building from the weather, guaranteed.
Interested?
Call us now on (0800) 970 4928 for specifications, prices and availability.