If you are planning a decorating job this year, which type of paint should you choose?
Will you go with trade-only paint, or the paint that's readily available in your DIY store?
Is there a difference between the two types, even paints by the same brand?
Why are there two different sorts of paint that look almost identical?
It can be confusing for the novice DIY'er to find that there are two separate types of paint, and we are not talking about emulsion or gloss, we mean "trade" paint and DIY paint.
If DIY paint was really good, surely all the painters and decorators would be using it? Are the paint companies short-changing the general public? Are they ripping us off?
It would appear so.
Most painters and decorators, well, the good ones anyway, will head for the trade paint store for their materials and not B&Q, or Wickes, but for what reason?
Trade paint Vs DIY paint
Firstly, a decorator using trade paint will want the best available masonry paint for their client. When working for someone else and not painting your own house, a lot is expected of you (the painter) and reputation is at stake.
With that in mind, buying some cheap paint is the sign of a cowboy, and any painter using this on a daily basis is best avoided.
One reason that a painter and decorator will head for their local trade store is rather obviously that they will buy larger amounts of paint at any one time.
They will get it cheaper than Joe Public.




This is also the same with the actual size of the paint tins as it's quite common to purchase very large tubs of trade emulsion, maybe up to 20 litres. A contractor will use this tub for more than one job or a whole house, compared to the DIY buyer who may just want to decorate one room.
Guarantees, and perhaps a good reputation too, are factors that your decorator must consider when purchasing paint for a job.
If your decorator uses cheap paint, the job will not be as good and of course they will not get as many follow-on work or referrals.
They might even have guarantee claims from clients who's paint job has gone wrong, which will eat into business profits.
The quality of trade paint is also better as the paints have more pigments (the coloured dyes) in them.
This means that the DIY paint will take three coats whereas the trade version will only take two and have a better opacity, meaning more profit and a better job.
What is meant by the "opacity" of paint?
Opacity is sort of related to the amount of light that can pass through something. In terms of paints and coatings, it refers to the ability of a coat of paint, when applied at a given thickness, to hide the substrate, the wall beneath, or the previous coat of paint from view.
A DIY paint, especially a "one-coat" or "self priming" paint typically has a poor opacity. Therefore, once the job is finished, there is a good chance that the paint underneath may show through, leading to a very poor quality paint job.
The hiding strength (or opacity) of paint is largely influenced by the difference of the refractive indices of the pigment and the medium, particle size and dispersion of the pigment (i.e. particle shape and degree of aggregation of the particles), the proportion of pigment in the vehicle (i.e., pigment volume concentration or PVC) and the thickness of the applied film.

These factors determine the opacity of a particular paint.
Source: George O'Hanlon the founder of Natural Pigments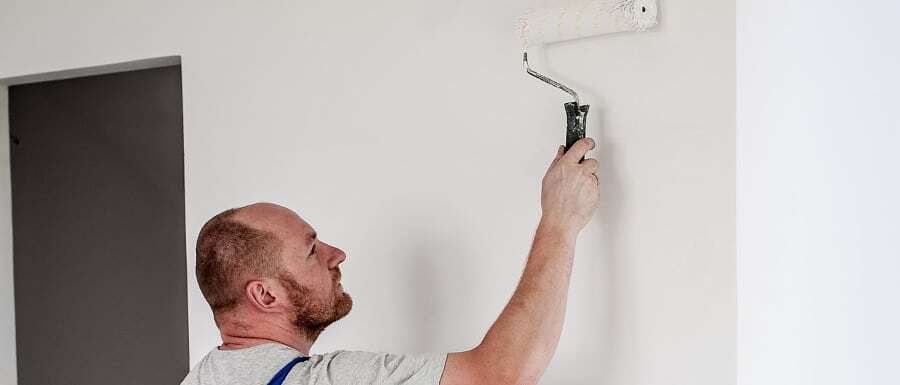 Decorating trends are also a factor in DIY paint
Trends and fashions come and go. DIY paints follow these as the consumers change their taste often depending on what's "in" for a particular seasons, so DIY paint is often consumer led.
A good example can be one-coat paints as we mentioned above, which do not give good results but save the DIY painter time and most DIY'ers to be honest would not know a good paint job if it smacked them round the chops with a wet fish.
The awful Dulux paint pod is a prime example of this.
A true decorator would not touch one of those.
Colours are also a factor and the bolder and wackier colours that the public demand are very difficult to achieve.
They often do not last long as they are so complicated to make, especially paints that rely on a lot of blue pigment which is not as colour fast as lighter shades and the public are always looking for the latest colour to decorate with.
So should I only buy "Trade" paint?
Be careful! There are some DIY shops who have cottoned on to this and have allegedly re-labelled some tins as trade when the contents are exactly the same as the DIY version.
It is best to consult your local professional decorator who can help and advise you on the best paints to select for the work you want him or her to carry out.
Please don't go to your local discount shop and pay 99p for a tin of white gloss and expect your painter to use it. It's more than their reputation is worth to use cheap paint, which will result in a poor quality job with a short lifespan.
All in all trade paint is better quality, in our opinion, and cheaper than DIY paint. So, make sure it is what your painter and decorator uses on your home this year!
However, it also worth noting that masonry paint, be it trade or DIY, is actually just coloured water and if using an exterior paint, that is what you are putting on the wall, coloured water.
We can see right here that Dulux paints are full of WATER

Painting properly needs preparation!
As a final thought, it also goes without saying that the painter should never underestimate the importance of good and correct preparation before painting.
If that factor is skimped on, the best paint in the world will not stand up to the job and the results will be poor. So whatever materials you choose to use, always prep before painting, or just don't bother at all.
If painting indoors, new plaster should be allowed to dry before applying the paint and old plaster should be sanded down and freed of dust, along with proper crack repairs and removal of any old remaining paint or wall paper.
Also, if the wall to paint has obvious issues, consult a DIY guide to damp proofing walls before any painting at all is done.
We have only looked at one brand in this article, Dulux, which is a good all-round brand but there are lots of other brands to consider such as: Johnstones, Leyland, Farrow and Ball, Sandolin, Zinsser, Crown, Sikkens, Albany, to name a few.
As you may have guessed, even if you are a first time visitor to our DIY and decorating blog, we've been in this business for a while now.
In fact, I started out on the brushes when I was only 14 years of age, and now at the rip old age of 48. I've been there and done that and used all sorts of paints, so my thoughts here are based on fact, not hearsay.
I've worked all over the world, and have painted houses and business premises of all shapes and sizes and with great results, so I quickly learnt that to do a great decorating job, internally or externally, you need to start with the right paint, a good quality paint!
We use Wethertex exterior textured wall coatings on most of our house painting projects.
Finally, what do Dulux themselves say on the matter?
"Q: What is the difference between Dulux Trade paints and Dulux Retail paints?
A: The key difference is the consistency of the paint. Dulux Retail paints are ready for use straight from the can. Many professional decorators, however, like to thin their paint before use and so Dulux Trade paints have a slightly different formulation.




However, both Dulux Trade and Retail paints are manufactured to the same high specification."

Source: Dulux.co.uk
For a quote to have your house painted, click here.
Disclaimer: Dulux® is a brand name owned by Azko nobel and is used here as a product review only.