Are you having some exterior home improvements done to your house and are worried that the workers may damage the lawns and the plants?
Many people worry about their gardens and plants when having their house painted.
Having exterior work done to your house can ruin plants and grass, with debris falling on lawns or workmen crushing your rose bushes. Here's how to avoid that
We decided to write this piece to reassure prospective customers that our own contractors take VERY good care of all your plants, lawns, flowers and any other flora and fauna around the house whilst we are painting it.
It's a valid question and one we get asked frequently, after all, having your house painted is one thing, but having rendering done, for example, is another thing altogether and represents major home improvement work.
Many people get put off by the thought of having "workmen" around the house for any length of time, perhaps due to the perceived upheaval, the mess, and of course, having strangers in the house!
Professional decorating companies have teams that are polite, conscientious, hard working and above all they RESPECT your home and take the utmost care in doing what is essentially major but essential home improvement work to your home.
When carrying out exterior painting, the LAST thing you want is to spend days clearing up the mess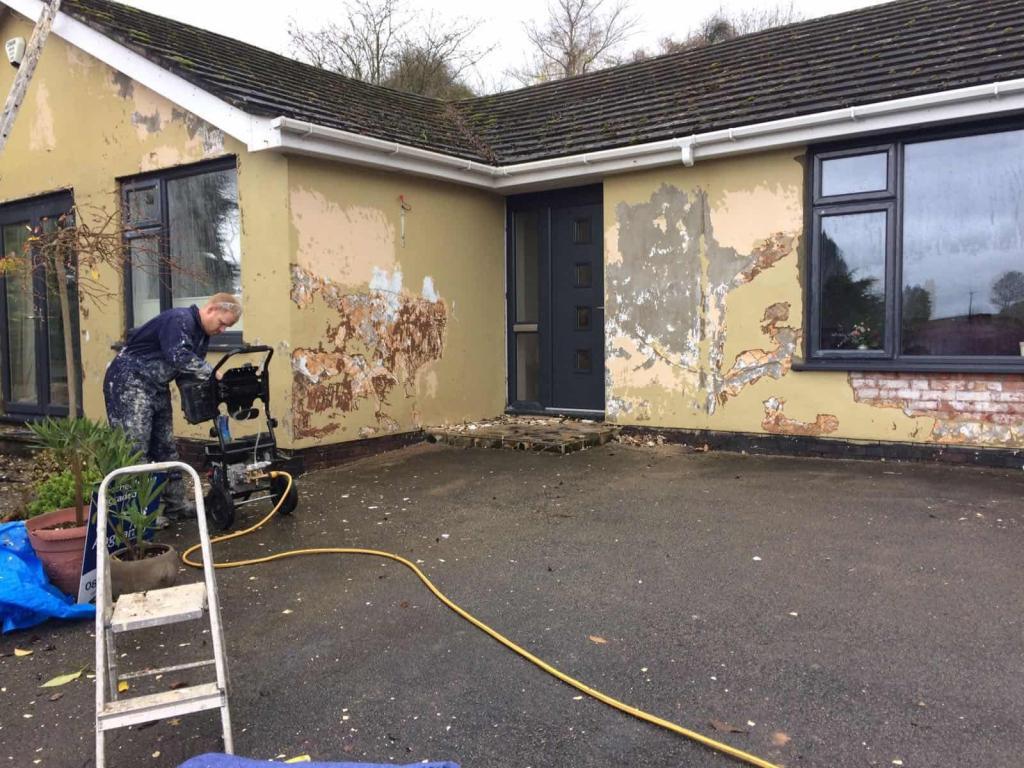 We take many steps to alleviate the risk of mess and dirt during the time we spend working on your house.
For example, masking up the windows and doors, means that, for a few days of the minor inconvenience of your home looking like you are about to take it down the post office with all the brown paper and tape, it means that we don't have to clean off paint from your windows or pipes.
We also cover the floor and the guttering, making the job easier for us, and more professional too.
What you can do to help your painter or your builder.
Well, one of the first things we suggest to you is how YOU can help us by doing a bit of work yourself, the day before the team arrives to paint the house.
It is best if you remove any pot plants that are next to the walls and put them in a safe place, along with anything else that is adjacent to the wall such as benches, tables, wheelie bins and so on.
Make sure also that while we are working, children and pets do not come anywhere near the walls, or any materials we are using as they can be harmful to pets, and potentially dangerous to kids, just like any work that is going around the house.
Protecting your garden whilst workmen are around
After plants and other movable objects have been removed from the walls, we also need to look at trellis and climbing plants.
There are some climbing plants that can actually do serious damage to your house, despite the fact that they may look nice.
If we find an area like that, with ivy or similar that is attached firmly to the surface of the wall, we need to remove it.

This does not mean the destruction of the plant as it can be cut back to a stump, and then re-attached to a trellis when it grows back.
NOTE: If you choose to allow the plant to climb back up the wall after the work has been done by us,  it may damage the wall coating which will invalidate the warranty.
If you have a nice trellis already with a climbing plant that has not affixed itself to the wall, we would work with you in cutting back and lowering the trellis onto the floor, with supports, so as to not damage the plant.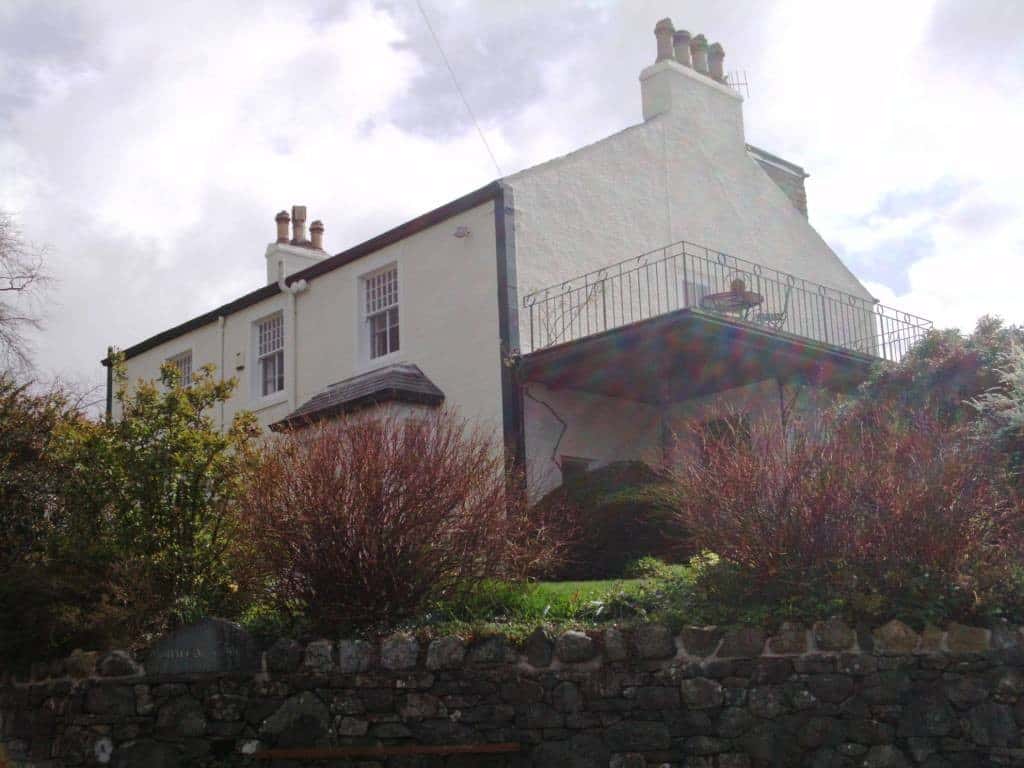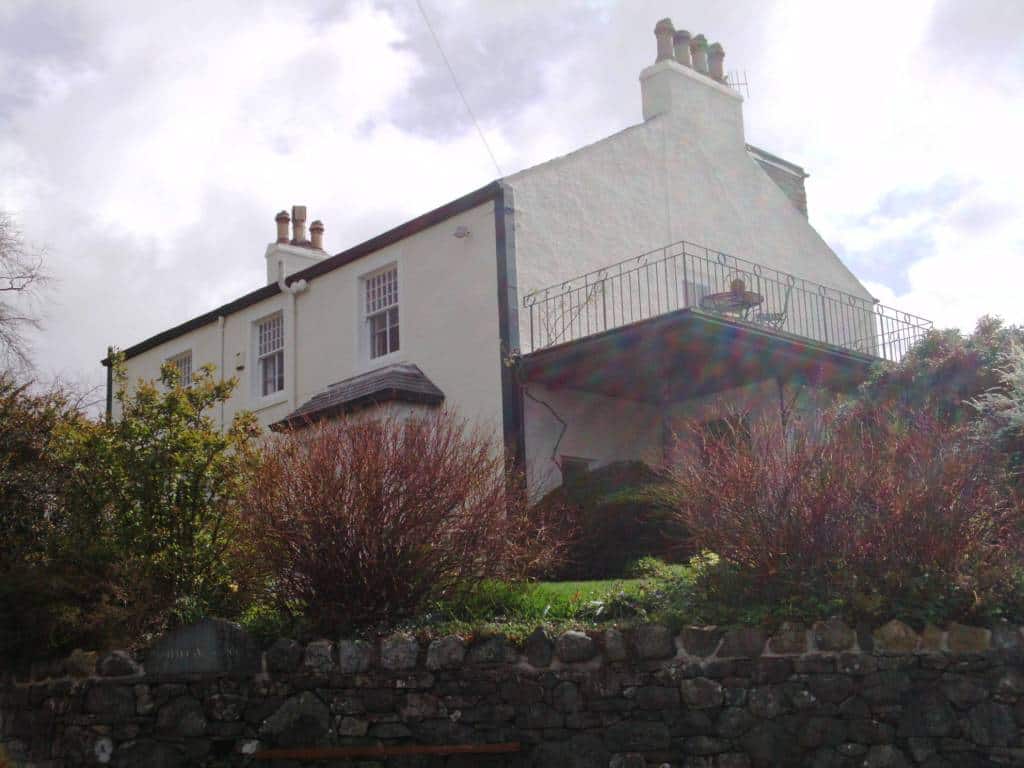 When we are faced with trees, bushes or shrubs next to the house, we wrap them up with a new sheet, and then tape around them, to fully protect them, or we may use some sort of twine to do this.
We also have a duty of care to your lawns, although most people do understand that if the only way for us to work on the house is to walk on the grass, then we have to do what we have to do!
Rest assured after we have gone, your grass or lawn will grow back, but once again, we are happy to work with you on any solutions or ideas you may have.

And finally, what about protection for fish ponds?
Many gardens benefit from some lovely features and fish ponds, and of course some of these, such as the image below, are quite near to the house.
Fish are of course different than plants and great care must be taken when dealing with live animals and aquatic creatures.

Of course, if the fish can be moved temporarily, by yourselves, then that would be the ideal situation, after all they are living things and we certainly don't want to harm them when painting or rendering your house.
However in some cases, moving the fish would be either impossible, or dangerous to the creatures, so we would recommend the following solutions:
Buy oxygen tablets for the water or increase the intensity of the air pump if you use one.
This is because we have to COVER the pond, because if we do not do that then it means that the pond may collect overspray from the painting, or perhaps drops of render or cement may get into the pond and poison the fish.
This is also the case if we did not cover the pond because due to the nature of our work, an oily film would appear on the top of the water, starving the fish of oxygen and killing them, which nobody wants, so the safety of your pets is of paramount importance to our teams.
We work safe and respect your garden!
We always make sure that we take the utmost care in repairing and painting your home and that includes NOT ruining your garden!
Of course as the saying goes "You can't make an omelette without cracking a few eggs" but we try our best to minimise any problems.

When our surveyor comes to see you initially, you have ample opportunity to point out any areas of concern and work out a solution with us, so the job goes well, and without instance.


If you have any questions at all, simply drop us a line here!