Top time and money saving tips and ideas that you can use to maintain and protect your home right away, even if you are a DIY novice, we'll show you how.
All info sourced from the public domain and hand edited by a qualified surveyor.
In 30 years working in the UK building trade we've picked up a few tips along the way, so improve your DIY skills and learn new home improvement tricks from the pro's
You are invited to browse through this, our very special collection of really great ideas, tips and unique products all to do with painting and maintaining your home the easy and cost effective way.
You will find loads of massive time and labour saving snippets of information that will save you a serious amount of precious time, money and loads of un-necessary hard work. We also review a very versatile product called Owatrol oil, which is mentioned a few times, but we actually tried it all out for real, and no they didnt pay us, we didnt ask.
Unlike other websites similar in nature to ours, we aren't selling you anything, well, not on this page at least! If you have a read through, or maybe print it off for later reference, whatever has brought you to this page, I guarantee if you READ it through, you're going to learn something.
First up, we look at one of our top topics: painting
Top DIY and painting tips.
Tip: How to keep your paint roller tray perfectly clean while painting
Before you load your paint roller tray, wrap a plastic bag all around and over it, so that when you're finished painting or even changing colour, all you have to do is throw away the bag (safely) and your tray is spotless!
TIP: The Easy Way to freshen up those glossed or varnished doors and skirting boards
Normally, to paint over previously glossed or varnished surfaces such as doors, architraves, skirtings etc, you would need to sand the surface first, then undercoat and finally top coat.
Three tedious and off-putting operations. Here's the best trick yet for a quick lick of paint or varnish to brighten your place up a bit.
All you need to do is clean the wood with some warm water and sugar soap, and allow to dry.
Apply ESP, using a clean, lint-free cloth and leave it to cure for about two hours (at normal room temp). All you need to do then is apply your topcoat directly to the  surface and the jobs done.
For best results, if you are using oil based gloss, satinwood, varnish etc, add in some Owatrol oil as it makes it flow out nicer and gives a finish your neighbours will hate you for! If you choose to apply water based gloss etc, consider adding in some Floetrol paint conditioner for a similar result.
With this method you could totally repaint or varnish a few doors all inside one day, and at a very cheap price.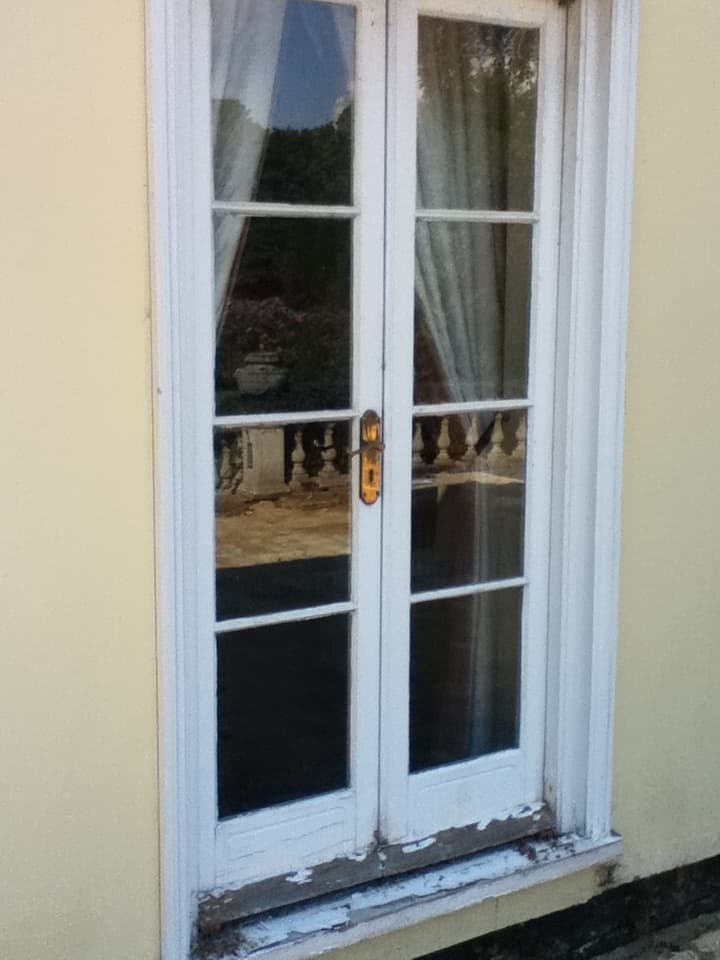 TIP: How to prevent your paint peeling
Insufficient key or grip, is usually the cause of paint peeling or flaking.
It can occur on virtually any surface. Shiny surfaces such as tiles, aluminium, melamine require a special primer like ESP to make paint stick otherwise the paint will simply peel off.
Other examples would be applying gloss over gloss or varnish over varnish.
On all shiny surfaces, always prime first with ESP primer (Easy Surface Prep) for a good solid grip.
On other (non-shiny) surfaces such as normal wood, metal etc, if you plan to use oil-based undercoats, stir in about 25% Owatrol oil for a really strong paint grip and increased covering power
For any emulsions, you can add in 30% or so E-B (Emulsa-Bond) into your first coat of any water based paint, the result will be a peel-proof finish. Some typical areas for above problems include sills, wall cappings, wooden fascias and soffits.
This method is also a good way to prevent what your decorator will tell you is "opacity" or to you and me, a paint job where once you have finished, you can still see the old colour paint underneath.
TIP: Painting uPVC down-pipes and gutters
Tired of ugly faded plastic uPVC downpipes?
You can now paint them any colour under the sun by using ESP (easy Surface Primer).
Just clean the plastic with some sugar soap and water, allow to dry. Allow ESP to cure for a few hours and then you can paint them any colour you wish with either water based or oil based paint.
TIP: Here's a Hot Tip for a Cold Day
Got some glossing to do and its very cold?
Pop some Owatrol paint conditioner into your oil based undercoat, gloss, varnish and your painting application will be transformed.
Say goodbye to heavy brush drag, brush marks, tight paint, plus you can start painting earlier and finish much later! Down to -25c.
TIP: Low hide or opacity colours.
When painting with yellows, reds, to save yourself a possible coat or two of paint, add some paint conditioner called FLOETROL to any Water based emulsion/acrylic paints.
This is useful for using paints with a low opacity
If you are using oil-based paint, add some OWATROL Oil (also a paint conditioner) it really works, try it and see for yourself!
TIP: Roller or brush marks on deep paint colours
Dark or deep colours of paints or wall coverings have a habit of showing up all kinds of roller marks and streaks especially where cutting in and around light fittings and other obstructions.
Prevent that problem by adding about 10% Floetrol into your paint. Paint will flow out level with no brush marks or streaks.
TIP: Water based gloss paints.
Add some Floetrol (between 7 and 15%) in to help the paint flow out level and brush mark free.
TIP: Painting Galvanised steel?
Wipe clean with cellulose thinners and apply AQUALOCK primer sealer and stain blocker.
TIP: Sealing Stone, Brick or Wood surfaces
Apply Owatrol Oil with a brush, roller or spray. Wipe off any excess that does not penetrate to avoid shiners or ponding.
TIP: How to make a powerful oil based solid colour stain.
If you want the bees knees in a good oil based solid colour stain, just add in up to 40% or so Owatrol oil into any colour good quality oil based paint and apply. This has to be seen to be believed! Try it on an old piece of wood or concrete.
TIP: Painting Whitewash or old Distemper.
Painting right over old distemper is no problem if you add about 30 to 40% E-B to your first coat of emulsion. Also works very well on poor sandy surfaces or brick.
TIP: Flies stuck on newly painted surfaces.
Don't try and pick the flies out of the wet paint. Leave the paint to dry overnight and the flies can be wiped away with a damp cloth next day without leaving a trace.
TIP: Hairs coming out of the paint brush.
If you get a paint brush bristle in your paintwork, don't try to pick it out with your fingers. Turn the brush and gently pick up the bristle with the very edge of the brush.
Even very small bits of hair and bristle can be picked up in this way.

TIP: A good one coat exterior paint job.
If you have to do a paint job that is a borderline between one and two coats, but money is scarce, add about 25% E-B to any high quality exterior emulsion, and you will be amazed at the hiding power.
This will, in many cases, give you a very acceptable ONE-COAT finish, which will not peel or flake.
I will say though that more often than not, one coat is never enough and if you are trying to paint a textured wall, like pebbledash, it will look awful with only one coat.
TIP: Painting paving slabs
Just add approx. 50% E-B into any good quality exterior masonry paint and apply.
(On white do not exceed 30%) One coat often does the job! If a second coat is required, apply paint neat. (without E-B) A Great idea for patio slabs, pathways etc. Any colour you want!
However to paint paving slabs properly, the best product to use is floor paint rather than wall paint.
TIP: Painting Tiles, Aluminium, Formica, PVC, Glass, MDF, Melamine.
Use ESP (Easy Surface Prep) Clean the work surface properly with sugar soap, and allow to dry.
Wipe on ESP with a clean lint-free cloth or a piece of cotton and then you can apply either oil or water based paints (to the ESP primed surface) after 90 minutes (at normal room temperature) or so.
TIP: How to save money on having to repaint the outside walls of your house every single year

Instead of repainting the outside of your home every year or so, call us here at NPA on (0800) 970 4928 (UK) or go the contact page to request further details about exterior textured wall finishes.
There is loads of relevant information, tips, advice and photo galleries on this website for you to look at, and should hopefully give you a good idea of what it is we do and we can help you.
It's fine, if you want to read on, please do, there's some handy stuff here.
So if you you are looking to get the house painted, go to the house painting page, otherwise read on
TIP: brush or roller marks?
For any Oil based paint or varnish, add some OWATROL Oil paint conditioner, and for Water based paints (interior or exterior) add FLOETROL paint conditioner (only as necessary but usually between 7 and 20% depending on conditions)
TIP: Painting new Drywall.
Add 25% E-B (Emulsa-Bond) into first coat of emulsion for a superb grip, smooth application and "pull-off resistant" finish. Superb where posters etc are used such as on kids bedroom walls, offices etc.
TIP: Paint Wrinkling.
This is caused by applying a second coat of paint before the first one is dry or applying in strong, bright, direct sunlight. Sand down until smooth and re-paint and next time, be more patient!
TIP: Painting during cold winter weather
When using any oil-based paint, undercoat or varnish during cold weather add some Owatrol oil instead of white spirits and you will be able to paint even in below freezing conditions, that is, if you yourself can stick the cold!
Owatrol has a similar effect in hot conditions; i.e. when white spirit evaporates quickly, Owatrol does not evaporate thereby keeping paint workable without pull or drag.
Resin based external wall coatings are a typical product used to paint houses in colder climates as it does not freeze like normal paint which has added water.
TIP: Paint too thick to brush or roll.
Paints in general terms, are manufactured to work at their best in given temperature ranges, and when temperature drops or rises, paint can become more difficult to brush or roll.
Emulsions can be made more workable by adding in about 10% or so paint conditioner like Floetrol.
All oil-based paints can be loosened up by adding about 5% to 10% (15%) oil based conditioner like Owatrol Oil. Unlike water or white spirit thinning, the above mentioned additives, actually increase paint hiding power and coverage, and so do not damage the inherent good qualities of the paint.

TIP: Paint Skinning.
A skin will always form on paint once the tin has been opened and the lid left off.
This is more likely to happen with gloss finish paints, so before you re-close the can, pour a very small amount (about a tablespoon or less) of white spirit on the paint, just enough to cover the surface.
This will prevent a skin forming for up to a week.
Other people suggest storing the tin upside down, but unless you have sealed the lid tighter than the factory, I personally would not entertain that!

TIP: Painting with Vinyl Silks
Vinyl Silk paint tends to be a bit poor on hiding blemishes and scars and can also be a bit streaky.
For better hiding and covering power, and much easier rolling or brushing, add about 10% FLOETROL emulsion paint conditioner, youll definitely see the difference.
TIP: Paint Flaking off Facias Sills etc.
After removing all the loose stuff, mix about 30% (or more), Owatrol oil into your first coat and apply. This will give massive penetration and bonds the paint tightly.
Add about 10 -20% of Owatrol oil into subsequent coat(s) for a superb finish that will not peel or flake off.
TIP: Painting MDF boards
No. 1. Apply an emulsion with about 33% E-B (Emulsa-Bond) added in to your first coat only, you will find tremendous hiding power and superb paint adhesion. If you wish to make it washable or have a glossy finish, apply a coat of water based clear varnish on top.
No. 2. If MDF is for outdoor application, use as above but with exterior masonry paint for best effect.
No. 3. Apply ESP (Easy Surface Prep) all over the MDF and especially into the edges. Leave about one to two hours at normal room temp, and then paint over with any Water or Oil based paint!
TIP: Painting Asbestos sheeting. (or even Roof Tiles)
Irrespective of whether underside or outside of old asbestos sheeting, mix 50% E-B (Emulsa-Bond) into first coat of any good quality exterior masonry paint and apply.
If a second coat of paint is required, use the paint without E-B. Best applied with an airless sprayer (Note: Work Safely, Do not take chances up on roofs)
TIP: Doing Special effects; ragging, sponging,colour washing.
Get yourself some FLOETROL paint conditioner and mix it into your emulsion. Rule of thumb is: the longer you want the paint to stay open or workable – the more FLOETROL you add. Simple!
TIP: Rolling 'HOT' Ceilings or Drywall.
To make rolling on paint much easier with no more hardship, just add some FLOETROL to your emulsion, and you will put an end to paint streaking and roller mark problems.
Tip: Dealing with leftover paint
At the end of a job, and especially at the end of the exterior painting season, theres always leftover paint to be concerned with.
Ideally we would always buy exactly what we need for each job, but some excess products is almost unavoidable.
Rather than stack half-empty cans in a corner where they take up space, become useless, and may present a hazard, take care of them properly.
One idea is to pour emulsions into a cardboard box or bag, and add absorbent material such as sawdust, shredded newspaper or cat-box filler to speed drying. Recycle the empty paint cans via your local recycling facility.
It is very important as above, that the best method to dispose of old paint is to take it to your nearest recycling centre who will be able to deal with it properly and NEVER pour old paint down the sink, it will congeal and block your drains for a start, plus it will find its way into our drinking water.
TIP: Sealing Stone, Brick, Wood
Dont be too surprised!
Apply Owatrol Oil with a brush, roller or spray.
Wipe off any excess that does not penetrate to avoid 'shiners' or ponding.
TIP: Exclusive Low Maintenance Wood Finish
Try Owatrol Deks Olje D1 (Pronounced O-LEE-A) if you need a deep penetrating, non-peel, Matte finish.
Used on wooden boats below the water line, this product works a treat on outside wooden doors, windows, hardwood garden furniture etc.
If you want a really high quality, flexible non-peel, clear Gloss finish, try Owatrol Deks Olje D2, preferably on top of D1. This usually lasts for years.
If you want to rejuvenate a worn section later on, all you need do is the following for a seamless touch up.
Sand down the area with some 320 Grit wet and dry paper saturated with some D1 & wipe off any residues. Then wipe off with a cloth saturated with D1.
After that just apply a coat or two of D2 for a perfect finish. This system is the preferred choice of boat and yacht owners Worldwide.
To remove dents in wood, especially from a hammer, cover with a wet cloth and hold a warm iron on the dent. Its remarkable how the dent disappears when the steam swells the fibres.
TIP: Need a lovely, easy-to-apply, clear coat on exterior wood?
Apply two coats of TEXTROL, wet on wet, and then end of story. Textrol is a clear (but tintable) deep penetrating, anti UV, matte finish, which will not peel or flake.
Shows up the grain beautifully.
After a year or two, just apply one coat to keep the wood topped up
Used extensively on decks, this product has a multitude of uses, such as wooden garden furniture etc. Will not flake or peel. Available in a few tones also.
TIP: Lovely Rustic look for Interior Wood.
A beautiful rustic look can be achieved on indoor wood with a coat or two of Owatrol Oil used neat.
Apply by brush or roller, wet on wet. Leave about 40 minutes between coats and wipe off excess to avoid shiny spots. Stain it if you wish to darken or whatever. A great idea, yet so simple.
TIP: Cement / plaster burn marks on wooden windows and window sills.
Caustic Soda, acts as a whitener on cement burn marks. Mix the caustic soda with water as per instructions and apply to the wood.
The caustic soda will bring them all back to one colour.
Wash off. You can then proceed to stain or varnish as normal.
Note: Follow the usual safety precautions when using caustic soda as it can literally burn the skin right off you if mishandled.
TIP: Painting a lot of woodwork by using the spray method.
Perhaps you should take a look at the TURBINAIRE HVLP Sprayers.
These wonder tools are capable of applying most types of paint to the highest possible finish.
After a bit of practice, you can spray finish panel doors, frames, skirting, stairs, spindles in a fraction of the time it takes to do with brush or roller.
Also great for applying Fleck type paints. (For pros or serious diy'ers only)

TIP: 5 Steps to the Proper treatment of badly rusted steel or Iron.
You wont beat OWATROL Oil on rust: FACT! It is a very simple, yet powerful treatment that lasts years longer than any other treatment. Heres how you do it.
No 1. Paint the entire surface including rust lumps and seemingly rust-free areas.
No 2. After an hour or so, get a scraper and de-scale (the loosened rust lumps) with minimal effort. You dont need to hammer or wire brush the steel. Brush off loose dust and rust particles with a dry paint brush or similar.
No 3. Top up any hungry areas with another drop or two of Owatrol Oil and leave for 24 hours approx. to dry to a tough but flexible finish.
No 4. Apply a coat of oil based metal primer with about 25% Owatrol Oil mixed in and apply.
No 5. Apply top coat of oil based paint in whatever colour you like, with about 10% or so OWATROL Oil added in to help flow.
TIP: Painting outside steel fire escapes.
If steel has severe rust, prepare with Owatrol Oil first. After that apply 2 coats of OWATROL ALUMINIUM RA85.
This is a highly pigmented, tight-gripping, yet FLEXIBLE paint which will give years of service.
If surface only has tight rust, apply 2 coats of Owatrol Aluminium RA85 direct. Or see other Rust option above.
TIP: Rusty Nail Heads.
If you ever come across rusted nail heads in fascias etc all you have to do is, get a clean old paint brush, dip it in Owatrol Oil and dab it on to the nail head liberally.
This will seal up the nail fully, and fix the problem for years. Paint over with paint (oil) containing Owatrol Oil.
TIP: Painting rusted wire mesh, chain link fencing.
This is a very easy and useful tip, which can save the day in many situations.
Because of the awkward shape of this type of material, it was always a problem to treat or maintain.
All you have to do is get some OWATROL ALUMINIUM RA85, a reasonably long haired paint roller and apply.
Don't be too surprised if the Owatrol Aluminium crawls or creeps right around the rear of the fence because it gets everywhere.
It is truly a great product for all this type of work. It is also very flexible when cured, which allows it to move with the fence without cracking etc.
TIP: Rust stains on concrete.
Next time you have to remove ugly rust stains from a concrete wall or stone, use NET-TROL, an environmentally friendly, oxalic based cleaner.
Ideal, where you have aerial brackets, balustrades, nails etc.
Wet surface completely, apply NET-TROL (dilute up to 4:1) Leave for Up to half an hour and rinse, or power wash off end of story.
TIP: Bringing Fibreglass back to life.
(USA: Fiberglass)
Dull faded Fibreglass need not present a problem any more!
Clean first with NET-TROL and when that dries apply Polytrol or Owatrol Oil and buff to a shine.
You will be astonished with the result!
TIP: Wallpaper
If your rolls of wall paper don't have exactly the same batch code number on them, then there may possibly be slight differences in shade, as they will have been printed at different times.
Buy your paper all from the same batch if at all possible.
No harm to have a roll or two left over in case you need to do a repair.
TIP: How you can remove Mildew and Mould.
Remove mildew with a 50:50 mix of bleach and warm water.
Mildew needs moisture to survive, so identify and fix the moisture problem before redecorating.
A common cause of mildew or mould is insufficient ventilation, bad insulation and or lack of heating.
To prevent the mildew or mould coming back, just add a fungicidal paint additive like VC175 Mould Stop to subsequent paint coats to help prevent a return of the problem.
Also very good on outdoor walls near trees, bushes etc.
NOTE: Some people suggest that to cure mildew inside, water should NOT be used, nor should household bleach, which actually contains water!
If in doubt, use a special mould and mildew remover, of which I would recommend the ASTONISH range of products, which are also really cheap.
I often buy astonish products in discount shops and they are fab! I would recommend their wash n wax for cars, and also their cleaning spray with orange oil, it is really good.

TIP: Wood pigment stains.
Some wood extracts, usually brown in colour, bleed through some paint finishes.
Wash with soapy water, prime with a primer sealer like Aqualock and re-coat.
TIP: Filler sanding. If you apply too much filler, it makes your job harder.
After applying filler, smooth it off with a damp sponge or wet brush to remove the sharp edges.
Some powder fillers (Polyfilla for example) and most ready-mixed fillers dry very hard so apply as smoothly as possible and save yourself the grief.
TIP: Greasy walls and ceilings.
Painting kitchen areas can often be tricky due to all the greasy deposits all over the place.
Paint as we all know will not stick to that, and one good solution is to wash thoroughly with sugar soap and warm water and allow to dry prior to any painting.
TIP: Strippers or blowtorch?! What's the best way to remove paint?

A blowtorch is cheaper and very effective but it can be dangerous and it is not suitable in many cases.
A hot air gun is useful for small jobs where time is not important.
Intricate detailed woodwork is best coated with a liquid or semi-paste chemical as burning can cause damage to fine detail.
If wood gets a burn stain from a stripper, you can usually restore the natural colour very easily with Net-Trol Cleaner and Restorer.
If you want to know even more about methods of paint removal, take a look at our dedicated paint removal page here.
TIP: Is that wet wall damp or is it Condensation?
Not sure if your wall is letting in damp or if its condensation?
Cut out about 20 square inches of household cooking silver foil and tape it to the wall with good masking tape or duct tape. If its damp coming in, the inside of the foil will gather drops of water after a time.
If it is truly condensation, it will remain dry on the inside.
A good product to stop moisture or water coming through your wall is a protective wall coating from NPA. This amazing textured masonry coating is applied by NPA's own expert teams, after doing all necessary repairs to your home.
This differs from a clear coating system as it is a very thick, weatherproof and durable coloured wall covering that gets sprayed on to the outside walls of your house with a specialist machine.
This is a SERVICE rather than a product.

Not only that, but the walls are fully repaired and brought back to life by the expert teams at NPA
For a price far less than you think, you can the exterior of your house sorted out, well and truly, PLUS a great, brand new exterior paint finish, AND nothing needs to be done to it at all for up to 25 years, AND that comes with an insurance backed guarantee!

To find out about how your home could look utterly amazing, call NEVER PAINT AGAIN, on (0800) 970 4928, Monday through Saturday..
Adapted from a resource provided, with permission, from the manufacturer
We do not and cannot answer DIY related questions by email or by phone. If you have a DIY query, please post on our FACEBOOK PAGE. Thank you
We do not supply many of the products listed here but these people do https://www.owatroldirect.co.uk/