No-one knows more than us about the damaging effects the weather can have on your home exterior, but what about if you own a property in a coastal, moorland, sea-fronting or cliff top location?
The outside of your home has to not only look good all year round, but it also has a more important function in keeping you and your family warm, safe and dry.
Most homes have a moderate amount of weatherproofing built in, after all, the UK isn't famed for it's long dry spells (!), but what about if your house lies in area that "get a lot of weather" during Autumn and winter?
Do YOU live in a place by the sea?
People often choose to live in these waterside homes for the fabulous view or the proximity to nature or wildlife, but putting aside any romantic notions about living like that, if your house is exposed to the elements, surely it needs a HIGHER LEVEL of weatherproofing than a house in a city street?
Well, yes it does, so we look at some of the issues facing properties in exposed or coastal locations and suggest some remedies to keep that awful weather at bay.
And from an author credibility point of view, and to let you know that I do honestly speak from experience, I too live in an exposed location, albeit one with a fantastic view, and here it is!
Of course people who live by the sea, don't just make that choice for the nice views.




Even the old age pensioner magazine SAGA, highlighted a study by Exeter University that found that the closer a person lived to our seaside, the better their health!
They went on to suggest that the researchers showed that access to 'good' environments, like the seaside, helped to reduce the disparity in health between well-off and poorer social groups.
They termed this environment as "blue space"
Weatherproofing solutions for coastal, moorland and weather-beaten homes.
In the UK, we get rain each year, without fail, sometimes lasting for several weeks with very little in the way of breaks.
This does NOT do your home any favours, so it must be far worse if your home gets hit head-on when it rains?

Photo copyright Devon live
I live in Devon and I remember when the storms of 2014 washed away the railway line at Dawlish (see photo above) and despite the horrendous disruption it caused to the trains, can you imagine how the houses on the left of the image would have fared if their homes were not actually PROTECTED from the weather by the line itself?
….another reason why the Okehampton, Tavistock, Plymouth railway line should be re-opened, but I digress…..
So instead of relying on facts and figures from some fella who sells paint and writes blogs like this one (!) what is the official line from the government on UK rainfall?
A report from the Met Office stated:
The UK annual rainfall total was 1091 mm (95% of average), drier than average but not exceptionally so. May, October, and December were the only months to record above average rainfall for the UK.

In both October and December, some parts of the UK received over twice the normal amount of rainfall for the month.

December was the wettest any calendar month on record in Scotland in a series from 1910. Source: metoffice.gov.uk/climate/uk/summaries/2013/annual
So OK, it doesn't rain all the time in Great Britain, so would our friends from the USA please also note we are not simple "A rainy little island", but when it does rain, our homes have various systems and protection to ensure that the rain does not enter parts of the structure and drains neatly away, in theory.
The problems arise when your home is subject to a LOT of rain or stormy weather and, perhaps as it sits right by the sea, it isn't "sheltered" by other properties, trees, hedgerows or hills.
Typical problems faced by exposed or coastal properties and what to do about it.
If your house is in an exposed or coastal location, we identified a few major causes of concern and suggested courses of action where possible:
Erosion:
This is when the fabric of your home, the bricks or render, gets a hard battering by wind driven rain and storms and erodes the weather protection away from your house.
This can cause cracking, damp, mould and loose render, all of which can be costly to fix, so it is more important than ever for the homeowner to keep the outside of their home in tip-top condition.

Erosion can also occur AROUND the property, undermining the garden or boundary, and several cases of this has been reported around the British Isles, with peoples gardens disappearing bit by bit each year.

Unfortunately if this is happening to the plot of land your home sits on, there is not much you can about it, but if the erosion is only happening to the house, then get a surveyor in to do a full report.
Then get a contractor in who specialises in repairing erosion damage to exterior walls and do it SOONER rather than later as the longer you leave it, the more expensive it will become
Rising sea levels.
Putting aside knee jerk reactions and "we're all doomed!" type scenarios, the level of sea level rise is about 3 mm/year worldwide, according to data published by the US National Oceanic and Atmospheric Administration (NOAA).
The findings to other surveys by British Geological Association (bgs.ac.uk) agreed with their American counterparts, but also suggested that the levels of the earth itself rise and fall over millions of years too.
So if you are considering buying a beach front home, make sure it is future proof. It reminds me of some houses I know in Walmer, Kent, where I am originally from.
Lovely Edwardian homes right by the sea but in later years they had a huge earth bank built in front of the entire terrace to protect the shore.
The downside is the houses all lost their view, so be warned.
The British Geological Association cited evidence of Britain's long lost villages under the north sea, and various areas of the UK land mass that were once underwater (e.g. The Somerset levels), so any notion that we are all going to sink soon seem somewhat remote.
You yourself may have read or heard about global warming and rising sea levels, but don't worry, you won't have to swap your car for a boat just yet…..
If your home is close to the sea and is at sea level then it may already be at risk, or you may have experienced flooding in the past?
There is not much you can practicably do to prevent the forces of nature, but you can at least take some steps to protect your home from flooding although these can be expensive in extreme cases.
More information on how to prevent flooding is available from the Environment agency.
Wind-driven rain.
If your home faces the sea, the chances are when it's stormy, you really get the brunt of that, with the wind perhaps also spraying your home with sea water whipped up from the foreshore, but remember one thing: Sea water isn't just water. It's also SALT.
That means when there is a storm, your home is battered by salt, which is forced against the walls or roof with tremendous force, and as sea water is more dense than tap water, it, in effect, weighs more, compounding the potential for damage even higher.
In extreme cases, the wind-driven salt can strip the paint off the walls of your house.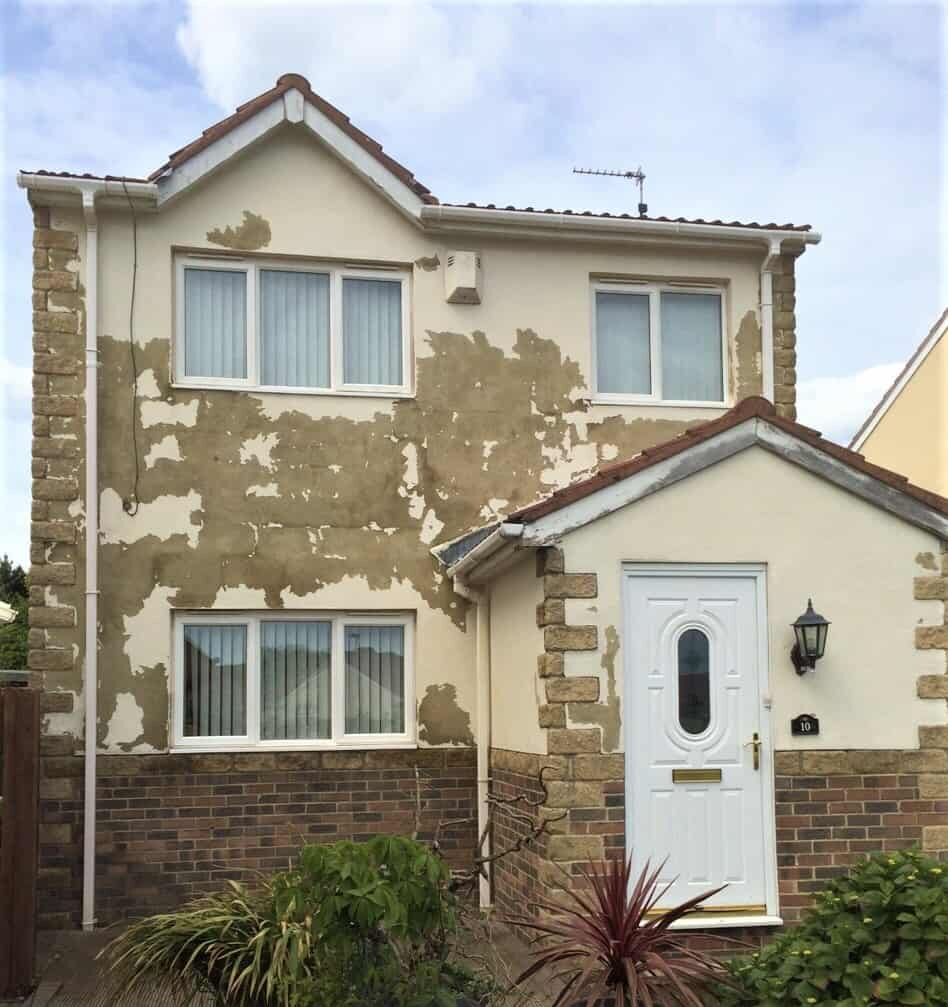 If your home is constantly battered by salt water, driven against the walls, instead of running downwards like rain in a town house, this has a negative effect on the painted surfaces of your home, including walls, doors and windows.
Normal masonry paint lasts 2 to 3 years maximum, and that is only if it is good quality and applied by a professional.
The same quality of paint job on a house in front of the sea rarely lasts longer than 12 months.
If your home costs £1,500 to £2,000 each time it is painted, can you imagine having that cost each year?
Luckily there are a range of high performance masonry coatings that are specifically designed to withstand this harsh battering by sea spray and rain, and with a lifespan of around 20 years.
It's worth checking out if you have a home that always seem to need painting and you can get more information on this, including how much it costs, by calling NPA on (0800) 970 4928
Natures sandblasting service.
Rough sea weather can also scratch the window panes meaning that over time, your windows would become opaque and would need replacing.
If you live by the sea and your house overlooks a beach, on windy days the house can be pelted with sand, whipped up by the wind, which not only blocks gutters and drains, it will also erode the paint on the house.
Shutters affixed to the outside wall can help protect against storms and in some cases can enhance the exterior of your house.

We found a good example at oasishurricanshutters.com , although they are not based here in the UK, but the quality system they sell is a very good way to protect your house from storms and extended periods of when the house is empty, for example a holiday home.
Living next to the sea often encourages damp.
One downside of living next to our coastline is the possibility of damp and the problems it can cause for your home.
Unfortunately and due to our climate, rain comes in many forms, and coastal rain can also turn into drizzle, sea mist and freezing fog.
This has the effect of something akin to covering your house in a damp sponge, meaning the house has the wetness enveloped or drenched and gets into every nook and cranny.
Water easily finds a way into any small defect on your house such as cracks or hollow render, meaning in a few months time, you could see the appearance of mould inside, or worse, toxic mould spores.
This saturation can also affect anything metal on the house and no I don't just mean railings or door handles, I am talking about the metal that is inside reinforced concrete, which can rust and then cause all manner of very expensive issues.
So if your house is located in one of the types of area we have spoken about, it is paramount that you keep your house in good condition, paying special attention to keeping out the weather.
It's all well and good to sit there on your balcony overlooking the sea with a glass of Chardonnay in your hand and not a care in the world, but think ahead to the wetter months. Is your house fully protected? Probably not.
What about protecting my home from mother nature in general?
Everybody knows that winters in Great Britain are not exactly famed for their good weather, your house certainly knows this and has to withstand everything that mother nature throws at it.
So, and without repeating what I've already written about previously, it's fairly obvious that we need our homes to protect us from this nasty woman (I'm still talking about mother nature by the way, not the mother in law), so what can we do?
Does our house already protect us, to a point?
Well, yes and no.
Our roof, for example, if kept in good condition, should at least protect us from the rain coming into the house, but it is something that many home owners take for granted and forget it is there, until a leak occurs.
Who is Mother Nature?
Mother nature, also known as mother earth, or earth mother, is the term that refers to a human form of the earth itself, in terms of notions of life giving, birth and of nature.
Many ancient tales of goddesses from thousands of years ago also depicted our planet and nature itself as a human personification.
The term is often used today in popular culture, but today we look at her as a nasty person, in a way, or at least a strict old woman who one hand gives the planet life, growth and abundance, and then takes it away with violent storms, hurricanes, rain and a general reference to bad weather.
Let's face it, you wouldn't want to meet this woman down the shops.
Here are five great tips to winterise your home and help keep that nasty woman away this year.
Five tips to keep mother nature away
TIP ONE: Check your roof

Your roof, as above, should give you many years of trouble free protection but it's certainly worth getting it properly inspected by a qualified roofer every 5 years or so, just to make sure.
If you are planning on moving house in the near future, the last thing you need is for the buyers surveyor to find a potential costly problem on your roof that needs fixing.
This also applies to the chimney too.
A roof replacement can run into tens of thousands of pounds, but sometimes a special roof coating can be applied which will lengthen it's life, although roof coatings will not fix structural issues so be wary of leaflets through your door from companies saying a roof coating will fix a dilapidated roof as its untrue.
TIP TWO: Avoid leaks

Avoid potential leaks from elsewhere by keeping all gutters and pipes clean and free of debris, especially if there are trees near your home.
Make sure all external pipes are in good condition and are lagged, which means that if your pipes have insulation around them, the water inside won't freeze, because water expands when frozen and that will crack your pipes, causing a flood, which can have catastrophic consequences.
TIP THREE: Pay attention to your exterior walls

Make sure the walls of your house are in good order and free from cracks or loose patches of pebbledash or rendering.
When that awful woman (mother nature) brings the wet and cold weather, if your walls absorb the water, driven further in by wind, this will cause damp, mould and cracks, again, very expensive to fix, so a preventative measure is best.
This could be an external thermal render, such as what the green deal suppliers are offering, or at best, a repair programme and one of the cheaper wall protection systems like a spray applied wall coating.
TIP FOUR: Insulate!

Keep out nasty draughts and cold by making sure the loft is insulated and there are several government schemes that can provide this for free, or at least, heavily subsidised.
This can also apply to cavity wall insulation, which will greatly reduce heating bills, paying for itself in no time at all.
Buy draught excluder tape for doorways and fit draught excluder under doors and maybe even around the letterbox too. These are really cheap things to do and make a dramatic difference in keeping your house nice and warm.
TIP FIVE: Heating, flues and chimneys need to be checked


Finally, and again something people take for granted until it breaks down, make sure your heating and all appliances are working well and the chimney, if you have one, is free of debris and has been cleaned by a chimney sweep.
This is especially important as when we are in winter time and snuggling up in our warm home, we are not letting fresh air, as it's COLD of course!
This means that if there is a blockage somewhere, or a small gas leak, carbon monoxide, a deadly gas, can build up in your home, causing death.
This is especially important if you are using one of those calor gas portable heaters, so make sure you at least let a tiny bit of fresh air in when you can, even if it's only for a few minutes.
Get in touch with us today as we specialise in weatherproofing homes, especially those located in coastal or moorland areas. You can call us on 0800 970 4928