Let me tell you a story…….
A long time ago, way back in 1986, as a young lad of 15, I started work with my dad, painting houses.
This wasn't just any old painting job though, as I had embarked on a career than still keeps me busy to this day. Installing exterior wall coatings.
Little did I know as I scrambled up those ladders, masking up windows, cleaning gutters, painting on the primer and sweeping up, that in 2013, I would still be involved in the industry.
Here is my story.
This is how I got into the wall coating industry, purely by accident!
Once upon a time, a long, long time ago, …..er…..ok maybe not that long ago, but it seems like it, I was a cheeky young school kid, attending Ridgeway School in Plympton, and getting up to all sorts of stuff as kids do.
My dad was working as a crew foreman, for Wallcote, or London Coating Company, based initially out of a depot in the old Fox Bros. mill in Wellington, Somerset, and then a year later, with a new depot in Taunton.
I often used to help him out on Saturdays, even when I was still at school, I was the sort of person that couldn't keep still for 5 mins, and I liked the money too! Then I started working more and more for him, school holidays and suchlike, I really loved painting houses, I think I had found my niche in Life!
Embarking on a career in Exterior wall coatings
Back in the 1980's, exterior wall coatings for houses, where quite a newfangled thing, although they had been around for a few years with the likes of Kenitex, Canadian paints, mastex and BMS.
The 80's saw a boom time in houses, and with the governments right to buy scheme, many people were getting on the housing ladder for the first time and wanting something drastic done to their house to make it stand out from the rest, and of course to increase it's resale value.
The very first house I ever worked on was in the area of Lower Ham in Plymouth, an ex council house with a very kind lady who brought us tea out at what seemed to be 15 minute intervals!
Even to this day, our teams always appreciate a nice cup of tea!
I learned a lot whilst working for my old man, and I started at the very bottom, yes, me, the fella who is sat here writing this just now! So what does that mean for you, the person browsing this site and the person who maybe needs their house painted?
This website stands apart form all the others because it is written with AUTHORITY AND EXPERIENCE, right from the start, not by analysing what keywords you are likely to type in.
Even if I say so myself, LOL
Later…
I digress. At the age of 16, I left school and went to work full time for my dad. We did quite a bit of work in the south west, including our home town of Plymouth.
Not only that, we often did jobs in the lovely county of Cornwall too, in such places as Mevagissy, Newquay, Truro, Falmouth and St. Ives to name but a few.
We even were working in Padstow, long before Rick Stein had probably ever heard of the place!
When I was 18, I had completed my apprenticeship and was awarded my own van and took on a couple of labourers and went out spraying wall coatings myself.
This took me all around the country (including Ireland) working for London wall coatings, and then I went freelance, often doing jobs for new Andura dealers, plus I trained them too. It was a hard life in some ways, OK it got me to see the whole UK, a nice bit of the outdoors life and this green and pleasant land, plus I was the youngest person ever to have held the position!
My dad often also did building work during quiet periods, for many of the presenters on our local TV station, TSW, and also Plymouth sound and radio Devon.
I only wish I had taken photos of the some of the houses we painted back then as it would be quite some portfolio!
I also ran my own textured coatings company and did a lot of the sales, the marketing, running PR campaigns and basically every aspect of our profession.
I took a break, and went part time, to do my degree at the University of Plymouth, From 1994 to 1998 and came out with a "gentleman's degree" of 2:2 !
Here are some houses in the west country that we painted a long time ago.
We often worked in the Peverell area of Plymouth, largely because the terraced Victorian homes there were always needing to be painted so to have our long life weatherproof paint system on the walls was a step in the right direction for the home owners.
As I lived in Hartley, just up the road, it made a change from travelling around the south west all the time!
We had a look recently at the above house, and 11 years later, even stuck by a main road, it is still as white as they day we painted it!
Speaking of the Peverell area of Plymouth, here is another small terraced house we did, not as old as the one above, probably dating from around 19000 and this was a few streets away. We had quite a bit of work in restoring the damaged cornices and mouldings but we got there in the end.
I must say that, and I guess it is because Plymouth is so built up, that we often get to paint terraced homes, which brings problems in themselves as we have to make sure that none of our overspray goes onto cars or the neighbouring homes.
What a difference eh? I could go on and on publishing pictures of jobs I have done previously, not just in Plymouth, but across the country, however this article is already far too long!
If you want, you can take a look at a selection of our previous wall coating jobs
How we got to where we are today
It's been a long time in the exterior wall coatings business and of course I don't climb up ladders or get my hands dirty any more, I have already earnt my stripes, however we do have a great team of fellas who do that sort of thing on my behalf!
In 2001, we started up a basic sales website and the work started rolling in and we couldn't work out why!
After a while, we saw the potential of online marketing and worked with my good friend Mark, to create a brand new website, on the domain you are on now (neverpaintagain.co.uk) and we went from strength to strength, getting work from across the UK and taking on more and more staff, in fact we were featured in several magazines and in newspapers too.
At that time, no one in our industry was doing anything at all online, in fact they mocked us and said it would never work. Well, it did work, and now we are in a sea of exterior wall coatings websites, most of which are rubbish adverts, very few contain any meaningful information at all.
2001 was a landmark year for us, in good and bad ways. Personally speaking, I gained a new daughter, but sadly my dad, the cornerstone of my business partnership, died at the age of 55 from a brain tumour. The months after that were "foggy" to say the least but nevertheless we had to carry on. I never did thank enough the people from Andura, and some of their dealers too, for being so kind to us back then.
Fast forward
We still have a base in Plymouth, but just for administration and accounts as we do all our work of course, at the customers home, so due to the fact that we don't have huge offices, we do not have charge a fortune for our work.
In fact time and time again when people get quotes for house painting, our quote is not that much more than the decorator, so it's a wise choice to get in touch with us if the exterior of your house needs a fair bit of work and a new paint job, just like this customer in Elburton, Plymouth did.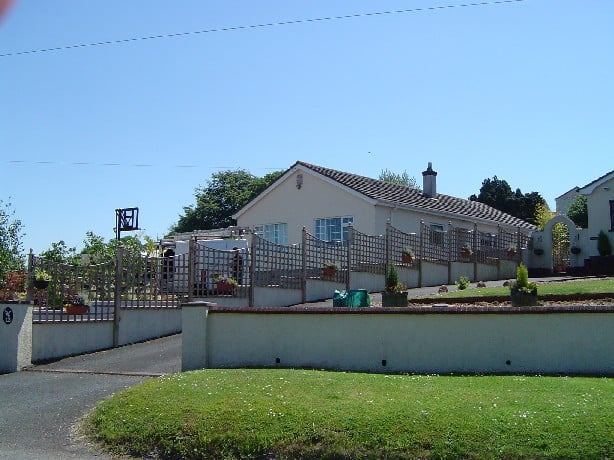 For those who know me, I also owned a house in Valencia, Spain, and spent quite a bit of time there engaging in my hobby of Travel writing for magazines and tourism websites but trips back to the UK are of course frequent, after all, I have a business to run, and I don't want to be away from my home city of Plymouth for too long!
House painting now across the entire UK.
Times change, as do people's circumstances (I'm a granddad now) and now we offer a house painting, rendering and wall coating service across the whole of the UK. We teamed up with another company, located in Yorkshire and we were able to cover a much wider area, plus we have more people, a dedicated call centre, admin staff and so on.
All this contributes to, hopefully, giving you some confidence when you look for someone to paint your house, you know we are not a one man band, but we are not a huge expensive organisation either.
And this is me!
We are big enough to cope but small enough to care too, and the attention to detail is what has brought us from those early days in Plymouth, to what you see now.
We recently got featured by no less than 8 major regional newspapers for our work curing damp and mould!
I hope this has inspired you, a little bit anyway, and remember if you want your home painted this year, give us a call on 0800 970 4928