This another one of our case studies involving work to pebbledashed houses, something we get asked to paint quite frequently.
This particular pebble-dashed bungalow in the area of Elburton, near Plymouth in Devon, had  evidence of previous repairs and alterations which made the appearance untidy.
The owners asked us to totally repaint it with a weatherproof wall coating so this is what we did.
The main issue with this smart pebbledashed bungalow was that it had various alterations and extensions over the years, which made the pebble-dash wall surfaces uneven, and visually, it looked like a patchwork quilt.
There were various patches here and there that, quite frankly, looked ridiculous.
Previous work here shows you will NEVER match old and new pebbledash!
What do I mean by that?
Well, if you take a look at this piece of the wall you can see what I mean.
I can tell you right now that no matter what approach you take in trying to match old and new pebbledash, it will NOT work.
It is IMPOSSIBLE to match in old and new pebbledash, even if you are using exactly the same stones left over from the original work, the texture will not match, nor will the mortar that the stones are set in.
Once you get this sort of thing on your house, you only have 2 options: Paint over it with a wall coating designed to cover spar dash and pebble-dash, or remove the dash and start again!
Although we say this is pebbledashed, and this is how the owners viewed their house, it was, in my opinion, actually SPA DASHED because the stones there are flint chips, NOT pebbles,but that's just me, an experienced exterior wall coating surveyor, being typically pedantic!
The front of the house before painting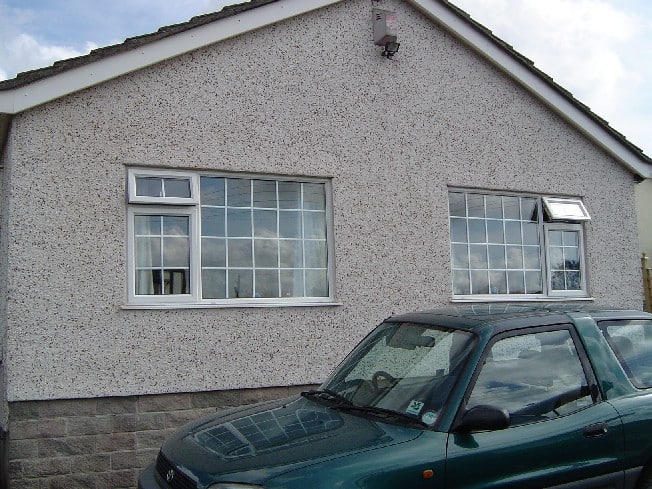 As you can see, the house itself was actually in quite good condition.
(It is worth noting that when we did this house it was more or less in the countryside, but now (2019) it is dwarfed by the new development called "Sherford" on the outskirts of Plympton and Elburton.)
There were one or two minor cracks that the team had to attend to but it was nothing major at all and we soon got to the stage where we could start to prepare the wall surface.
This was one side of the pebbledashed house beforehand
In the photo above, you can see on the side wall where the owners had a new window installed, showing another patch of badly fitted dash, in fact it is a totally different colour to the rest of the wall.
The pebbledash wall coating process explained
The team applied a cement wash primer known as "bagging" or "bag rubbing" which sealed the stones in the pebbledash to the wall and hid the various scars from the alterations done by previous builders and UPVC window installation teams.
Here are the hunky lads in the team (!) applying the first primer, on a particularly warm summers day! (steady, ladies!)
It is of major importance to prime pebbledash walls before painting, however we do this all the time and we know what we are doing, don't try and attempt to do this yourself.
If you do try and paint a pebbledash wall, with a brush or a roller, it will take AGES and will look utterly rubbish.
If you don't believe me, please try it and then come back to me!
This is what the above wall looked like once the first primer had dried
And to put it into context, here is a shot of the same wall but taken further away.
Here is one of the team applying the bagging coat to the rear.
This is where earlier we saw that square of pebbledash around the house, which looked daft!
We don't have any images of the primer coat as I was not around when they did it, so you will have to imagine the walls with an off white primer on them!
Here is the house in Elburton during its prep stage
The next stage in painting the pebbledash

Then the house was masked up and protected and a waterproof primer was added.
Then we set the spray pump and sprayed the wall coatings onto the pebbledash, and this is by far the BEST way to paint pebbledash: Spray it!
This is the side, by the driveway, we saw earlier.
And what about the front of the house?
What does pebbledash look like when the professionals paint it?
Hopefully the images on this page will convince you we know what we are doing and have painted many other pebbledashed homes too.
Well, as you can see, it has certainly given the house a complete new look!
If you have a pebble-dashed house that you are sick of looking at, why not contact us for a free appraisal and we can run through various ideas we have for the house.
You could have it a different colour, a different texture, basically whatever you like.
Here's the proof that all jobs you see on our site are done by us or one of our approved contractors!
So, to finish off, we thought we would show you the final image, taken from the road on a lovely sunny day, of the finished house.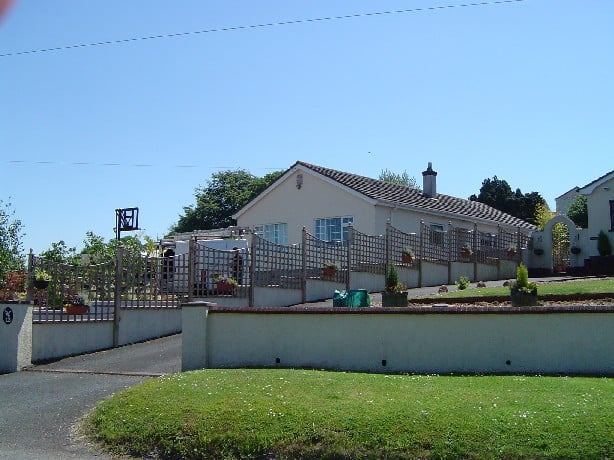 The benefits of having this system on your house is the fact that not only does the house NOT need painting for up to 20 years, it actively repels rainwater, cures and prevents damp and doesn't fade.
Why not contact us today and talk to us about a makeover and wall coating treatment for YOUR pebble-dashed house?!
All work comes with an insurance backed 20 year guarantee.
Of course we don't just apply our special guaranteed coatings to this type of house, we can do brick walls, render, stone and so on, so be sure to check out our GALLERY pages in the menu bar!
Call today on 0800 970 4928 for a free quote