Here is another example of an exterior wall coating for a rendered house near Doncaster, south Yorkshire, in its finished state, and what a lovely house it has turned out!
We really enjoyed spending some time on this house, although I think this was about 7 years ago now?
Anyway, in this article we are going to explain in brief the things we did to this house as part of our exterior wall coating service.
See the different stages involved in applying a wall coating
But before we start talking about this house and the work we did on it, I wanted to tell you a bit about the city itself as unless you are lucky enough to visit South Yorkshire, you will have missed a city that you really need to go and see, but don't visit in July!
Why? Read on and I will tell you.
A bit about Doncaster
If you are not familiar with the city of Doncaster, it is located in South Yorkshire and is rather unsurprisingly bisected by the river Don and of course their local football team is the famous Doncaster Rovers. I refer to it as a city however not many people know that is actually only a town officially, but one with a population of around 280,000 making it England's largest town!
Doncaster gets its fair share of rain over the year with an average rainfall of around 35mm throughout the year although they certainly do not enjoy summer time there as for July, the average rainfall is a whopping 90mm of rain!
December is not much better with an average of around 65mm of rain and all that wet weather takes it's toll on houses in the South Yorks area.
Home-owners up there need to make sure their homes are watertight and weatherproof so an exterior wall coating is an ideal product to keep the rain at bay as it is totally waterproof but breathable too.
This lovely property near Doncaster needed a new coat of paint and repairs to the render walls but the owners did not want to have to have it painted again, year after year, so they engaged the services of NEVER PAINT AGAIN professional exterior wall coating contractors.
This is how the house used to look
The property needed rendering first, which was done before our team arrived, meaning we had little in the way of repairs to carry out, so the next task was to mask up the doors, gutters and windows and start applying a waterproof primer to the wall.
Then once that was done, we set up our spraying machine, mixed up the huge tubs of NPA wall coating and got to work spraying the house, like this…..
As you can see we make sure no mess is ever made

When our teams are spraying it is always a good idea, if we are going to be working on your house, to keep all pets and kids away from the work area, especially as our paint will NOT wash off hands or clothes, so be warned!
Here is another look at the work during the spraying process, and you can see the amount of masking we always do, plus the protection we give to all plants, paths and grass areas.
Although there is some lens flare in this photo you can see that we are very thorough in our work, and we even moved away from the wall, all the pots and vases that were up against it, we don't leave anything to chance, our clients expect the best service and that is what they get!
More hard work in progress

Having the NPA Exterior wall coating system on your house means that for at least 20 years it will NOT fade, chip, peel or crack, guaranteed, and repels damp, green mould and algae!
The final finished house in all its glory!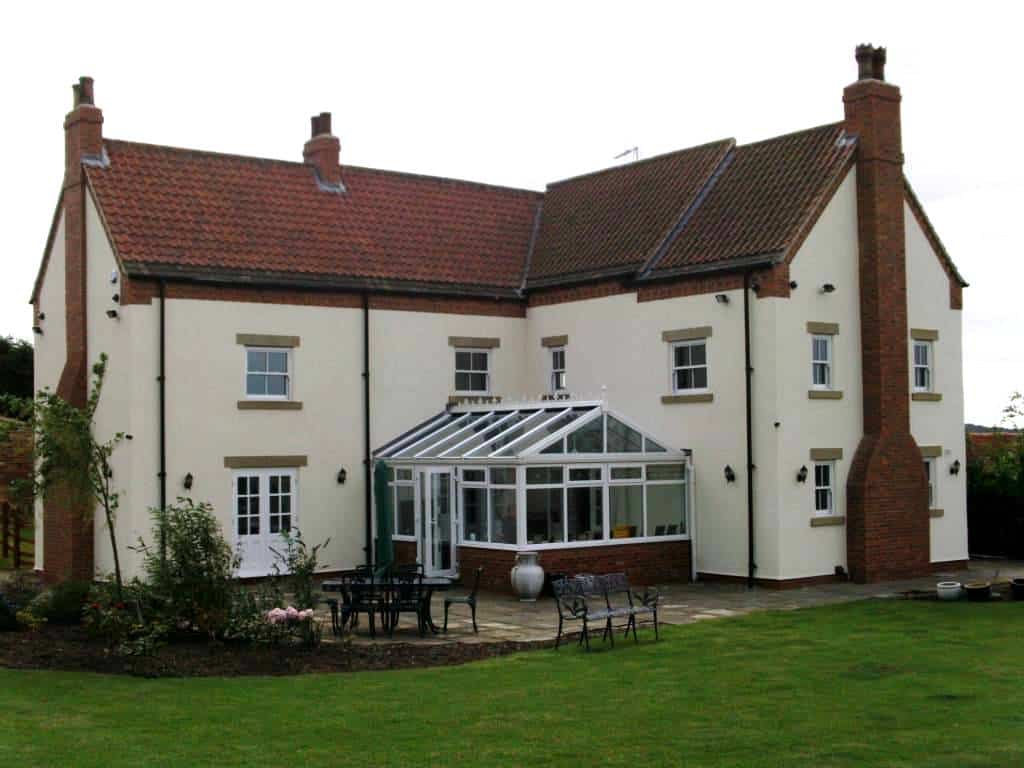 Our exterior wall coatings are a great alternative to paint or pebbledash and spar dash finishes, being maintenance free, crack proof, fade resistant and hassle free!
In addition, our wall coatings stop damp, and they will resists the growth of algae, moss and mould on your walls too, ideal for Yorkshire houses that get far too much rain in the year!
Our teams carry out a full repair programme to your walls, BEFORE the application of our exterior wall coating.
If you would like to find out more about having the NPA exterior wall coating system on YOUR home, simply go to the contact page and submit your details,