What sort of house do YOU live in? A terraced house? Maybe a bungalow, or perhaps a detached home?
Chances are that you reside in one of the many common forms of housing in the UK and I don't need to tell you that, in most cases, getting someone reliable, affordable and professional to paint the house is a nightmare in itself, am I right?
Well, this could be your lucky day as we are going to show you how diverse the range of homes (and business premises) our company is tasked to paint, up and down the UK, since 1986.
You can be rest assured you are in good hands.
So what differing types of homes do we paint?
Well, first off, we only paint EXTERIORS, in fact we specialise in the outsides only, and we have the correct tools and equipment to do so, so forget buying outdoor wall paint, you won't ever need to again.
That coupled with our experience since 1986 means your home is in the very best of hands.
That does not mean we are the most expensive by the way, on the contrary, although we are not the cheapest and we are quite pleased about that fact, and so should you be too.
We will go through some of the business premises and then talk about the residential ones afterwards.
Some commercial and business premises painted by our teams
All of these buildings have been repaired by our teams, and all benefit from a weatherproof "Never Paint Again" masonry coating, applied by us and guaranteed for 20 years.
NOTE: Some of these images click through to their own case study page….
The San Remo Hotel, Falmouth, Cornwall.
A warm and friendly small hotel in Cornwall got much warmer with a new coat of paint from our teams!
Redmain guest house, The peak district, Cumbria
The exposed location of this moorland home got the weather protection it needed with a spray applied textured wall coating.

The Spirit restaurant and wedding venue, Cheshire
This place was a wreck (see case study) but we turned it into something really special!

………and that is just a small selection of completed jobs, most of which can be found in our CASE STUDIES category.
Now we can take a look at some of the residential properties that have benefited from our famous NEVER PAINT AGAIN masonry wall coating programme.
Here are some various types of private homes we have painted over the years.
A bungalow for a retired couple, in Derbyshire
We removed the flaky paint, repaired some cracks and then applied 2 coats of our super tough wall coating system.
The owners won't need to see us again for 20 years.

A traditional stone built house in the windswept Pennines in Yorkshire, Todmorden, to be exact.
Now this place REALLY gets the winter weather, so what better to protect it than our famous NEVER PAINT AGAIN wall coating system.
Once applied it cut the wind chill and the problem with cold internal walls, but asides from that, it looks great now!

A modern house in Newcastle upon Tyne with a serious flaky paint problem cured by us.
Masonry paint would just not stick to the walls and the weather just kept ripping it off.
What a mess when we started, what a change in appearance and no more flaking paint ever again.

A pebbledashed, extended bungalow in Exeter, Devon
An extended bungalow in Devon got the full NPA treatment to the outside.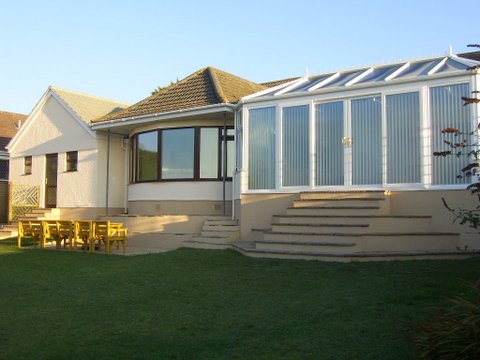 A grand Grade 2 listed villa in Liverpool
A listed building which was home to Mr Ismay, yes THE Mr Ismay of Titanic fame. (Or infamy?)
One of our more prestigious jobs and a little slice of history too.

If you don't live in a grand house like these people, you may be one of our other customers who live in the sort of normal house most of do, such as this one…..
This was a house that hid bomb damage from the Plymouth Blitz in WW2.
….. which we found once we took the old render off!
The new owner of this rented out property soon realised why he got it cheap at auction when we took the old render off and found the front of the house ready to collapse into the street.
Yes, I'm being serious, but we fixed it!

Here is an ex-council house in the West Midlands
This had a render coating and then a nice paint job using our spray applied wall coatings.

Talking of all shapes and sizes……..
Here's a property in the "Arts and crafts" style, in rural Pembrokeshire, Wales.
Tons of period features on this home and what a lovely setting it was too.

Our final example today (Remember, we have HUNDREDS of finished jobs on the site), this is …….
……a nice example of a city centre house in Bristol
…..which had quite a transformation.

I think we have explained ourselves OK today! LOL!
We can paint ANY building exterior, any size and any condition.
Our expertise means we can minimise disruption, each coating installation team work on ONE property at a time, unlike your local builder who may have several jobs running at the same time.
It's far more than a paint job though.
Because we do all the repairs and because we are so pedantic about getting the job perfect, our customers are always happy to recommend us to others and we would like to think that one day YOU might become a valued client of ours and you would no doubt be happy to sing our praises!
Prices, estimates and quotes.
All the above house renovations cost different prices, obviously the size of the building affects the cost, as does the general condition and if it needs repairing before painting.
To find out how much our long life weatherproof wall coating would cost for your own home, give us a ring on 0800 970 4928 or email us and ask for a free wall coating quote, and let's have a chat!
We are open 7 days a week, all year round and we look forward to hearing from you!

Kind regards from Alex