With summer just around the corner (honestly) it's time to get your home set for (we hope) a scorcher of a season, so here's how best to enjoy time spent at home in the heat.
You can't say I'm not optimistic I guess!
Easter was great for us, at home we had over 2 weeks off, and it certainly helped us recharge the batteries, so to speak, but with May just around the corner, and summer soon to arrive, we have a whack of stuff to get done around the house so we can enjoy our summer in peace.
But with so many things to do, and things we wanted to fix or replace during winter time but with all the storms we were not able to, there's a big list of things to get done, so what about your house?
Are you prepared for a nice relaxing summer or not?
Whether it is something as simple as being able to mow the lawn, or to get rid of those horrible weeds at the front, if you look around you there will be loads of stuff you can do, so why not get it done now?
This is the time to take action, because summer is the time to relax and enjoy, not to work hard doing stuff you know you should have done a while back!
Here are a few things that you should get done around the home before the warmer weather arrives.
Getting your property ready for summer.
If for you, winter means wrapping up warm in front of a cosy fire, and then getting in to bed at night under a mountain of thick blankets (and in our case all 3 of our cats too!), then summer is characterised by light evenings, warm days and lazy afternoons and no excuse at all to be stuck in on a nice day.
The first thing you need to do is to pack anything winter related away.
This can include blankets, swapping thick for thin duvets, packing away thick curtains and replacing them with lighter ones, getting any portable fans out should you need them, and of course tackling the Spring clean when everything gets dusted down and spruced up.
Unpack and get ready any fans you may have, and if you are lucky enough to have aircon in the home, make sure the pollen filters are clean.
It's a very therapeutic time too.
Out with the old and in the new.
If you have a fair bit of work to get done, maybe some heavy lifting, or some strenuous work outside, or some hardcore gardening, remember it's exercise and therefore it's good for you!
Spring clean time.
Spring cleaning is a great way to feel good and literally dust the cobwebs away.
Start with getting all your cleaning materials together, and that includes outside stuff too like decking cleaner (Swarfega deck cleaner from Toolstation, £7.90 for 5 litres), or a good non smear window cleaner such as SEE SPRAY by Amway, only £5.50 but great results. Saying that, you don't have to spend out on premium products, especially if money is tight.
For those of us who don't bother spending a fortune on cleaning stuff,  these sort of things can be found at most pound shops and I would recommend the ASTONISH range of cleaning products to do this.
They are really cheap and they do the job, which is what you want. One thing you may NOT know is that all Astonish products are VEGAN FRIENDLY! They have no animal by-products in them, and you would be surprised how many cleaning products do, but apart from that, look how much I paid for it!
I went to Chaplins in Plympton, a tacky pound store near to my Mum's house that was there before pound shops existed, with laughably indifferent customer service, a bit like Fawlty towers but in a shop.
I got a few other items when I was there, so get this brand and save money.
Of course this is a genuine recommendation as I use them myself and have done so for years. (The wash and wax product for the car is particularly good)
Clean all surfaces down, dust shelves, paying special attention to the tops, do the hoovering (moving the furniture out of the way to get underneath), I mean, I don't need to write an article to tell you how to clean your own home do I?
You also need to change the settings on your heating system to reflect the longer days and warmer weather after all what is the point of having the expensive heating on when you don't need it?
So apart from a Spring clean, what else is there to do?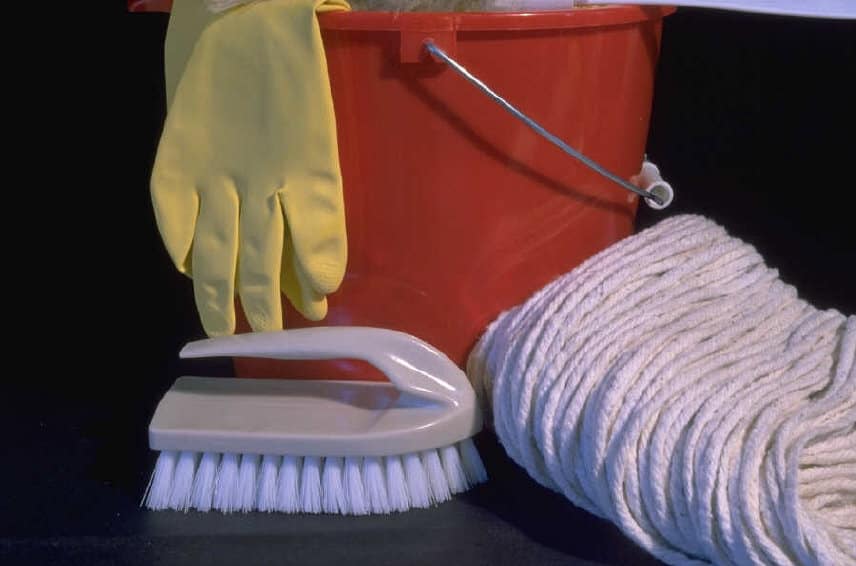 If you are confident with sorting the inside of the home out, maybe de-cluttering as you go, and are happy with the way it is looking then let's go outside and see what we need to do to get it ready for summer.
Getting the outside and garden ready for the summer time.
The garden and the outside of your home in general (if you don't happen to live in an apartment) will become your home for the warmer months so let's hope 2014's summer was as good as last year eh?
So what could you get done outside in readiness for summer?
How about this quick list?
Check your gutters and pipes. Replace any broken ones, which is very cheap to do.  Give them a wipe down with upvc cleaner and make sure the insides are free of dust, dirt, debris and fallen leaves.
Kill the weeds! There are several products you can use to kill weeks, some are suitable for paths and driveways and some are OK to use on the lawn without damaging the grass. I recommend RESOLVA lawn weed killer, 1 litre (code 209352) from Wickes, and no they haven't paid me to say that.
Dig the flower beds over. Whilst getting rid of any weeds that have grown in flower beds, take time to loosely turn and aerate the soil to promote growth.
Trim trees and bushes before they get out of control! Spring time sees previously dormant plants, even bushes you thought had died, all of a sudden spring to life. If they are not trimmed before the growth spurt starts they can grow out of control so show them who's boss in the garden!
Hose down or power wash paths and drives. You would be amazed at how slippery paths can be when covered in mould so get the power washer out, it's easy to do and the results are very satisfying!
Get the outside of the house painted by a professional company and if you choose the right people, your home will look amazing, which if you are going to be outside a lot, you will certainly notice that!
Get someone in to check the roof, especially if you have had damp or mould appear on any ceilings upstairs.
Mow the lawns. Grass start growing again in March so (once the rain stops) get the mower out. Make sure you cut in around the edges too, preferably with a strimmer. If you want to sell your home this year then this is an essential task to best present the property.
Get the BBQ out! Yes, it's that time of year when I can get away with having steak because in the colder months the wife won't cook it for me as it stinks the house out for 2 days! You have 2 options with a Barbecue, gas or charcoal. I always go for gas, and you often get a better quality BBQ unit too. Try and pay around £120 and you should get one that will last you for years.
Time for a makeover? This is especially important if you plan to sell your house this year so make sure it LOOKS good and all repairs etc are done. You can learn more about how to sell your home fast HERE.
Finally make sure you stock up on food and drink suitable for summer time and always make sure there is plenty to drink to quench that thirst!
I hope that these tips have given you some inspiration to get outside and get things done, and I hope that you all have a great summer!
 OH and…..if you yourself have any cleaning tips, log in to facebook and post your comment below, at the bottom of the page. Thanks