How to spot a bad contractor from start to finish
. This article is collated from 30 years experience not only in the exterior wall coating and paints industry, but also as consumers ourselves.
This article does not refer to any particular company or individual IN ANY WAY and is based on firm empirical, anecdotal and observational evidence.
This article is original, has not been copied from anywhere else, and has been written by us here at never paint again as a guide, and word of warning when choosing any tradesman to do work on your home.
Many "cowboy" tradesmen can seem very charming and friendly and like to put across the image of doing you a great favour, but take a step back and remember they are doing it for money and should not have to sell their service to you beyond being pleasant and professional.
Despite a shortage in the UK of good, skilled tradespeople (blame Tony Blair's education policy in the 90's for that), with persistence and armed with information, you should be able to secure the services of someone good to do the work, but read on and take note!
First impressions count: How to avoid the sales patter from a dodgy tradesman
So you have decided to get your house exterior repaired and painted? Looking for a house painting quote?
Here comes the hard part, choosing someone to do it.
You have 4 options really.
1) Choose a builder
2) Choose an exterior wall coating specialist or similar
3) Choose a professional painter and decorator
4) Do it yourself
While we do not recommend the last one, the choice is up to you, but bear in mind that painting (let alone REPAIRING) a house exterior is a highly skilled job and can also be very hazardous.
If you are not fully experienced in tasks such as this, our advice is not to bother unless you have a lot of time on your hands, a good head for heights and you live fairly near to a hospital with an accident and emergency department.
Around 85,000 complaints are made about building work in homes each year according to the Office of Fair Trading. Source gov.uk
Get recommended traders
You could choose a builder to repair and paint the house exterior, and the best way is to choose from a personal recommendation from a family or friend. This can sometimes be handy if you have other work to be done around your home at the same time as the outside
Builders doing up the outsides of houses are easy to spot in the street, so if you see one working on a house, why not go up and talk to him or her?
Also be aware that many of these trusted trader type websites are chock full of fake reviews, research has suggested, so be very wary if a jobbing builder or sole trader has hundreds of 5 star reviews, where people go on and on for several paragraphs about how fabulous the builder was and they would marry him and have his babies etc etc,
Many of these glowing reports are written by their mates down the pub.
Check their previous work, it's always the best way to weed out the bad ones from the good ones.
That gives you an ideal opportunity to inspect the quality of their work and how they work.
Ultimately the choice is yours but bear in mind most good builders are all-rounders meaning they are multi skilled, so for a great job, its sometimes best to choose a company that specialises in exterior work ONLY, or you may be dealing with a perfectly nice, competent looking builder, who then sends a 17 year old trainee painter around to do the actual work!
If you are approaching them in person, a sign-written van is a better reference as you are immediately made aware of whom they say they are, and contact numbers etc would be fully displayed.
Remember also if you are going to approach a builder working on a house locally to you, don't trespass on someone else's property unless invited by the owner.
Don't go onto a site where works are being carried out for obvious health and safety reasons, instead try and (safely) catch their attention from the path or road or make a note of their phone number and call them later.
Please remember not to distract someone doing work on a house, like using a power tool, or up a high ladder, for example, be sensible and WAIT til they stop whatever they are doing before speaking to them about doing work for you.
Check with trade organisations to see if the contractor is legit
Another (fairly) good indication is if they are members of a trade organisation, although some memberships are useless and accept anyone who pays them, so check out the trade body too if you are sceptical and bear in mind there are plenty of excellent tradespeople who are not members of a trade body.
If you plan on choosing a painter and decorator to decorate the outside walls of your house, the above would also apply, but above all, personal recommendations are best.
Bear in mind, if you have any problems on the outside walls they will probably stay there for 2 reasons.
1) they want you to call them again in a year to have it repainted, and 2) A painter will PAINT, and that's it, nothing else, so if you have hollow or unsound render, poor or flaky bricks, missing pointing for example, they will probably just paint over the top of it.
It is unlikely that you will be offered any guarantee if you choose work to be done by a dodgy builder or a painter.
Builders Websites. Anyone can knock up a website in an hour, so choose a website that has taken YEARS to build, as they are likely to have a good reputation.
Do they have a website at all?
Has it been online for long?
Is it popular? Is it just cobbled together after stealing text and images from others?
Is it relevant? Does it provide contact info, examples of their work, references? etc.
Checking out websites for credibility is a separate essay in itself, but if you know what you are doing, check them out on nominet or do a WHOIS search, to see how long the site has been up and who owns it.
If the ownership details of the website are hidden, like with "Domains by proxy" or hidden behind a PO box number, be VERY wary. If they won't reveal who they are, don't trust them.
(Please bear in mind that this website that you are now reading has been illegally ripped off many times by cowboys, and in most cases our legal team have had their site removed and banned).
A website is not necessarily a mark of standards or quality, but a well thought out and well put together website that answers all your questions is usually a good start!
Choosing a reputable exterior wall company.
In this article, we shall now look at how to choose a reputable exterior wall coatings or house painting company as that is the trade we work in.
Textured coating companies, as they are sometimes called, often carry out a variety of work, but almost always the work is exterior.
Unlike builders, who will usually only do exterior work during the better weather, many exterior wall coating companies work all year round, even during cold or damp weather, as many of the exterior coatings that they apply are resin based and therefore suitable to be applied in almost all weather apart from when its actually raining.
(The editor of this site has in the past shovelled snow away from a house and successfully applied an exterior coating!)
The resin based exterior coatings have a very low freezing point and a high melting point so are often used in countries with extreme temperatures.
A selected few exterior wall coating companies also offer other associated home improvement services such as injected damp proof courses, UPVC windows, doors, concrete or tarmac driveways, roofing and so on.
Exterior wall coating companies are a small niche section of the construction industry; The wall coatings industry comprises of several thousand people in the UK alone and include paint factories (usually small and independently owned)
Installation contractors who sometimes have their own employed people and sometimes have self employed wall coatings installation crews (usually freelance), sales focused wall coating companies, and the various service industries and providers that service them.
Similar high performance exterior coatings are used by many different contractors all across the world in various situations, from ordinary homes, to bridges and hotels.
Their First contact with you, and your first opinion of them?
How did you hear about them? A search engine online? A newspaper advert? A flyer through the door? A door canvasser? A trade show? A recommendation? Pot luck?
Lets look at each one individually shall we?
1) A search engine online. Although we are slightly biased being internet based and very high in the search engines, there are others there too, some good, some bad, but as a rule Google will select the best, most relevant site to your needs, and its best to only bother with the ones in the top 10 listings.
Also a point to remember is SPONSORED LISTINGS.
These often appear at the top or the side of your screen, but they do not mean that a particular company is reputable or that Google thinks its a great website, far from it; it just means that they have paid Google, to have ads displayed at the top of the screen.
It's best to go for the natural organic results displayed below that.
2) A newspaper advert Anyone can place a newspaper advert!
Exterior wall coatings are not usually suited to adverts in the yellow pages or in newspapers, and reports over the years collated from various colleagues in the industry would suggest that they typically have a poor response rate, are expensive to place, and usually you don't see the advert run in another issue!
3) A flyer through the door. Year after year our letterboxes are bombarded with leaflets trying to sell us this, that and 6 others.
Even if you receive a nice well designed leaflet, remember the company is not doing you a favour, they want you to respond with your details as they want to sell you something.
Often these companies allegedly sell your details to other people trying to sell to you more stuff you don't need or want! (NPA DOES NOT DO THIS, AND NEVER HAS) We are the ONLY gdpr compliant wall coating company in the UK at the time of writing
A good way to stop these eventually filling up landfill and also the waste of paper, is to contact the mailing preference service at Mailing Preference Service (MPS) DMA House 70 Margaret Street, London. W1W 8SS or call them on 0845 703 4599.
They will at your request, stop junk mail from coming through your door, although it doesn't stop all of it, including leaflets unaddressed or hand delivered.
4) A door canvasser. Pushy, nasty in your face people at the best of times causing untold grief and worry to the elderly.
They pester you for appointment times. Much deception is involved with doorstep selling. They are not doing surveys, nor are they friends of your neighbours. ! They are also NOT the marketing manager.
They are NOT your friends, they are NOT doing you any favours and from the moment you open your door, the pressure is on.
5) A trade show. We have heard many horror stories where people have been seduced by a sharp salesman in shopping malls or trade shows in order to sell them an exterior wall coating, and whose promises rarely live up to expectations (which is an understatement).
While there are some very reputable companies that do this, its still in your face and often pushy but can sometimes (if you find a good company) enable you to get a good look at the product if they have samples. The other good thing is that you can walk away from them.
If they were in your house, it may not be so easy.
6) A recommendation. A good way of sourcing any tradesman would be a recommendation from someone who has already had the work done, although no-one is perfect and you should still check then out to satisfy yourselves they will do a good job.
7) Pot luck. Best of luck with that one.
Behaviour and attitude of a sales person or surveyor.
So, with that finally out the way, the next thing is to get the person around to quote you:
They will either be:
A genuine surveyor like myself, with years of experience who can advise of the best course of action, combined with specialist technical expertise and who will not pressure you to make decisions, often following up their visit with a neatly written quotation in the post a few days later
Or…
A sharp salesman who is after one thing and one thing only, A SALE! In most cases, they will stay until they have sold, or until you boot them out the door.
This high pressure selling method is called "getting the camping gear out." i.e. not leaving until the victim, sorry, the client, signs on the dotted line.

This typically involves a great deal of pressure on you to sign a contract, and sometimes also to take out an expensive credit agreement.
If they are a small business, the person who does the work, may also be the boss and may turn up in a van, or sometimes their car, to quote you and there is nothing wrong with that, in most cases anyway.
This is a minefield as there are some excellent independent wall coatings sprayers and also some highly dodgy ones that you wouldn't feel safe letting into a police station, let alone your home!
Saying that, the good ones can provide you with a very good service and often as they don't have the large overheads or staff to pay, they can sometimes be cheaper than the larger companies if you are on a budget and often the personal service from these people is very good indeed.
Again, caution is the word.
These (the bad ones) are the people who are most likely to want a cash deal. This usually means that you wont get a receipt or contract, and it is a highly dodgy and unethical area to go into.
Always get a full name, address and a landline number. If they are working for a Ltd company, check them out at companies house online.
Remember if they are subsequently caught dealing in cash by the tax and customs, the full force of the law can also be applied to you as you would be party to tax evasion.
Don't do it! Always pay for it using a method that is traceable, eg credit card, cheque or finance.
Anyway, now they are around to do the quote, how do you feel with them?
Do you trust them?
Do they listen to you, or do they just talk to you?
Do they sound like they have memorised a sales script?
Don't be fooled. Who do you want to deal with? An expert or a parrot?
Choosing a reputable tradesmen is your decision not theirs so don't be pressured into anything.
The first sign of pressure, back out! Show them the door.
Doing the paperwork.
Now you've found someone who seems reputable, you have had the quote, you are happy, and have called them back to do the paperwork, then what now?
Well, the paperwork is usually a variation of a standard building works contract and don't worry, the contract is there for a very good reason.
Not only does it protect the genuine builder or exterior wall coating company from needless cancellations or, speaking frankly, to stop them being mucked about by customers, (which does happen, some consumers can be nightmares too) it also protects you by law as that once the contract is signed, the company are legally bound to do the work, so you wont be let down, but check the small print before you sign.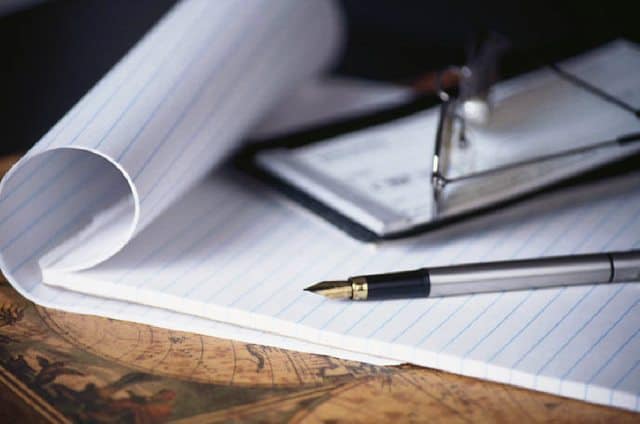 It is also common to give a deposit cheque to the company doing the work.
This is a form of commitment and is common place within many areas of home improvement.
If you have been served by a salesman, they are probably on commission (and if they are professional and courteous, there is nothing wrong with that, they have to eat too). It also covers the company's initial costs in arranging the work.
Please note that there are many highly professional direct sales people out there, working in a variety of industries, they are certainly not all bad.

The professional sales person will help you choose what you need to buy rather than sell you something, with added pressure.
Its best to pay by cheque, or credit cards if they are accepted.
A typical deposit for a wall coating job is about 30%, a lot more than that and be wary. Yes, this also pays the salesman's commission, after all what do you think he got out of bed for this morning? They have mortgages, kids and bills to pay too.
Behaviour and attitude of the contractor.
So if you have seen a salesman you were happy with, from a company you like, and you have agreed to go ahead, the next experience you will have is dealing with the men who actually do the work.
When the team turn up to do the work, it is good professional practice for them to have called you before hand to introduce themselves and to ask what time is convenient for them to start work, usually the day before. It is good practice at that stage to get the persons name and mobile phone number.
When they arrive, did they arrive on time or at least reasonably near to the agreed time?
What does their van look like? Is it clean or dirty? New or battered?
Is it sign written with the company that you took the contract out with?
Not that there is anything wrong with that, but I have to say that many exterior wall coatings companies use self employed subcontractors, as do many other trades. There is nothing wrong with this, but I mention it so that you are aware
Are they wearing overalls or scruffy jeans that make them look like they have just returned from a week at that Glastonbury festival?
While no-one expects workmen to arrive in a black dinner suit, they should at least be fairly presentable. They should walk around the job with you discussing the work that you have agreed to do before they start.
Set the ground rules with your tradesman out now.
If its summer time and you dont want them working until 9pm, tell them that, but be reasonable, especially if next week is forecast heavy rain!
Also make sure you let them use your toilet where needed or you could find that the rear of your shed may smell badly after a few weeks!!!!!
Above all, accommodate them and enjoy having a building team around; be fair but firm, and don't agree to extra work unless its in writing and agreed beforehand.
Make sure they do the work as agreed.
Many cowboys will bullshit you that they have done "this, that and the other"; watch them and get proof that they have done what you asked for.
A professional builder will take a lot of time showing you the repairs he has carried out before they move into the next stage.
Don't deviate from any payments agreed.
If you are paying the company cheque, don't suddenly pay them cash if asked to do so. If you have any doubts, call the head office of the company and ask them.
As you can see, choosing the wrong home improvement company can be a big mistake.
Summary and recommendations.
With the above information considered, it may seem to some to be a nightmare choosing a reputable exterior wall coatings company to carry out work on your home, but don't despair!
Never Paint Again has lots and lots of information to help you choose the right company for you, and NO, we are not just simply saying everyone else is rubbish, choose us instead!, that couldn't be further from the truth.
Any company or tradesperson worth anything will be professional and will recognise the importance of good customer relations and transparency with their customers.
In addition, all professional builders, painters and exterior wall coating companies will never undertake work without first getting it all in writing and agreed by both parties.
This can also help keep unwanted costs down if they have agreed a fixed price beforehand which is usually a good move.
On large jobs, or exterior painting or coating jobs for industry or commerce, many of these issues will be considered by the architect, chartered surveyor or engineer, so the above is mainly in the interests of consumer protection.
We are not the only company out there, and while the above paints a negative picture, this is by no means common place and there are some very good and very professional exterior textured coatings companies that provide a good service, at a reasonable price with good workmen too!

Although it is not in our interest to recommend any particular company as of course, that would be somewhat biased (!), but make sure you get as much information as possible about the company and don't be pressured to sign on the line there and then if you have doubts, always think about it at least overnight, so that you make the decision that is right for YOU, not the company trying to get the job!
Having the outside of your house repaired and painted is often a major job, and of course, a job on probably your most valuable asset, so its worth doing the groundwork to find out whether a company is right for you.
Its best to get 3 quotes, but don't end up getting 10 or 20 estimates as you are wasting everyone's time….
Only employ a builder or an exterior wall specialist if you're totally happy with dealing with them.
I would also thoroughly encourage anyone who is reading this who has had ANY experience, good or bad, with this sort of work, then email us using the contact form below, we would love to hear from more of you.
Don't be fooled, its YOUR money and its YOUR choice.
If you have been the victim of a fraudulent or rogue trader in the UK, you can report it here.