If you shudder with fear at having to get someone in to paint the exterior of your house this year then don't worry help is at hand, so read on!
Many people wrongly believe that to keep their home looking good year on, year out, it has to be painted every year, Wrong. Not any more anyway.
There's a system called "Wall Coatings" which look like paint, but they do a whole lot more, are not a rip off price, and are installed by expert painting teams who take great care with your property.
Don't have nightmares this year, it is so easy to arrange a quote to have your home decorated or rendered, no matter what is on the external walls at present, even if you think its unpaintable, it's not, we can do it!
If you have pebbledash, we can sort it out, including cleaning and repair of the building, plus damp proofing if that has caused issues to you in the past, plus major repairs such as rendering a wall can easily be done by our well trained teams.
If your home is brick, block or render, we also have a variety of wall coatings that will sort out all wall issues in a jiffy, and a price you will enjoy!
How to get your home exterior painted with zero hassle.
If the very thought of arranging this puts you off, relax, don't be scared!
If you follow a few easy steps then getting your house painted correctly, and by the company you prefer, is not such a hard task as you think.
This applies to wherever you are in the world reading this, the main points are the same.
What steps to take, to get a quote for house painting
1. Ok, firstly, write down on an A4 sheet of paper, exactly what you want done to the house.
2. Make sure you know what colours are most suitable for your house.
3. Although OK you are not a surveyor, take a walk around the house and see if you can spot anything that doesn't look right and may need repairing, which will add to the cost but is essential.
This could include cracks, damp patches or bald areas of pebbledash.
4. Look also for associated problems such as cracked gutters, broken slates on the roof, mould on the walls. Basically anything that doesn't look right.
You may as well get it all done at once as this will save you money.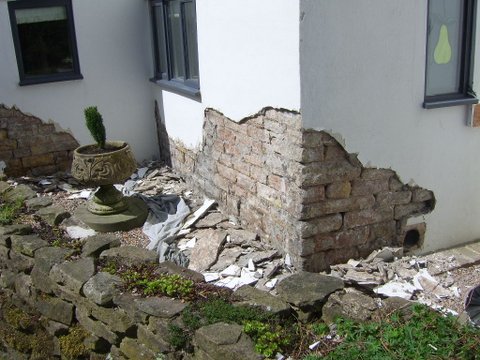 5. Select at least 5 people to call or email.
The internet is often the best for this, but do a WHOIS search on the domain and make sure the site is at least 5 years old so you know the images of painted houses are real jobs done by them.
You can also ask friends, family or work mates if they could recommend someone they may have used in the past.
 6. Arrange a time to see the people who will quote you and if you have a partner, wife or husband it is best they are there too.
Many clients who say the decision is up to them, then get an ear bashing from their other half afterwards, often for agreeing to something the other half would not have done.
7. Tell the surveyor or the painter exactly what you want, although listen to their suggestions too. If they don't mention any repairs that you know are needed, don't choose them.
8. Collate the quotes together and ask yourself if you trusted the person, were they honest and sincere, and did they give you enough info?
Did they respond quickly to your email or phone call?
It's your choice, so choose wisely and get it in writing too.
NOTE: Get fixed price quotes, not estimates, which can vary wildly between what you were told before, and the bill at the end of the job.
9. Cost. The all important factor.
Do NOT, I repeat, do NOT choose the cheapest quote as from my 29 years experience in pricing work, you WILL regret it.
 10. If you have followed the above steps, your team should have turned up on time, done all repairs and necessary preparation, and then done a thorough, good quality external paint job on your house!
Relax! You can now get your house painted!
You can call us in to quote you too, if you like.
Phone 0800 970 4928 and talk to us about getting a quote for an exterior wall coating