Regular readers of our website will know that we don't hold back when it comes to showing off our handiwork, in fact many of our clients actually encourage us to post photos of their home in the before and after state and this little place is but one of over 100 examples on this website.
Here is yet another example of completed work, and a happy customer after completion of render repairs and application of fine grade textured wall coating.
Applying a fine grade textured wall coating to a house in Staffordshire; here's how we did it
The property in Staffordshire had extensive flaking paint, cracked render and various areas of loose and hollow render, and some damp was also coming into the house and no local painter would touch it, for obvious reasons.
The customer applied to have a weatherproof exterior wall coating, via the NPA wall coating specialist website. (the site you are now on!)

NPA Exterior home improvements have, since 1986, worked on all types, sizes and shape of house and we bring our wealth of experience in working on your home each and every time.
Our range of weatherproof and highly durable wall coverings are suitable for all kinds of house and commercial building and not only do they transform your home, they remain free of repainting or maintenance for up to 20 years!
This is us applying a Fine textured coating to a clients house
They were duly contracted by our authorised agents who visited the house, took measurements and a brief survey was carried out, free of charge, after an initial chat with the client.
It was agreed after looking at various wall coating samples and colour charts, to go with the fine texture of NEVER PAINT AGAIN wall coatings.
When we go and see a potential client, it is a happy and informal visit, NOT a sales pitch and we do not employ salespeople, all people who price up the work know what they are doing and do not simply read a pre worded sales script.
Here is when we applied the primer before getting ready to spray the wall coating
As you can see from the "before" image above, which shows the house after repairs and during the priming process, a tremendous amount of time and effort was put in by the team, to get the house walls "sound" and in good order.
This included covering everything and anything not be painted, such as the windows, floors and so on.
This means when we finish, we remove the masking and do not have much in the way of any mess to clear up.
This is essential to ensure that any exterior wall coating applied by us, will do "What it says on the tin" literally, and wont fade, crack, chip or peel!
So what does it look like WITH a wall coating?

As you can see from the AFTER image, and the happy customer outside, what a transformation an exterior wall coating can make to your home.
What does the fine texture look like close-up?
like this!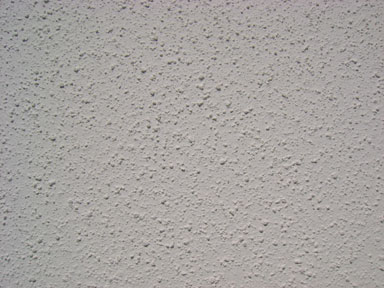 An exterior wall painting system like this will not save you a lot of money on not having to paint again, it will of course make the outside of your house look fabulous, and with a 20 year warranty against fading, cracking, chipping or peeling.
Our wall coating service is available across the whole of mainland UK, and a quotation is free and without obligation.
Our agents have samples of the textured coatings, in many colours, available to view 1st hand if you would like a survey visit and quote from us.
It's completely free and no obligation, so give us a call today on 0800 970 4928 or email us for a house painting quote