Exterior wall paper?
OK, despite the headline and attention grabbing title, you can guess we love decorating, so today we are looking at the concept of exterior wall paper; does it exist?
Are there such coatings that are durable, applied to the outside walls, and can behave like a wallpaper?
We explore the concept of exterior wall paper, and touch upon murals, graphics and various external wall hangings and accoutrements.
You know, when I first sat down and started to write this, I came up with loads of different titles, being very careful to make a natural looking title to appease "the dear leader", i.e., Google.
But after looking through various example titles, I finally thought there would be nothing better to sum up the piece in entirety as just using the 2 words "Exterior wallpaper!", after all, this is what its about!
Does exterior wallpaper exist?
It depends on what you define as wallpaper.
Obviously anything paper-based, well no, it doesn't exist because of course paper absorbs water and that is obviously the LAST thing you need on the exterior of a house.
So if paper is out of the frame, does exterior wallpaper exist and/or what other products have similarities to the kind of wall coverings we would use inside the home?
Well, you can certainly buy internal decorative paper with "exterior" scenes on them such as sunsets, forests and such like and they can really bring the WOW factor into a home.
Although unless the occupants are somewhat crazy, internal wall murals and such like must be used sparingly, in the right context, and something that complements or blends into the room.
This if done correctly, can be very good for feng shui principles in home décor rather than a garish scene of a Paris street, or the grand canyon, that swallows the whole room up and takes away any focal points elsewhere by dominating the space.
This is the same with exterior wall finishes.
You have to LIVE with them for a long time!
We did hear a  while back of a company in American called Adzookie who painted the outside of your house with a massive advert!
The owners must have got paid quite a bit of money but sod that, you wouldn't get me doing that!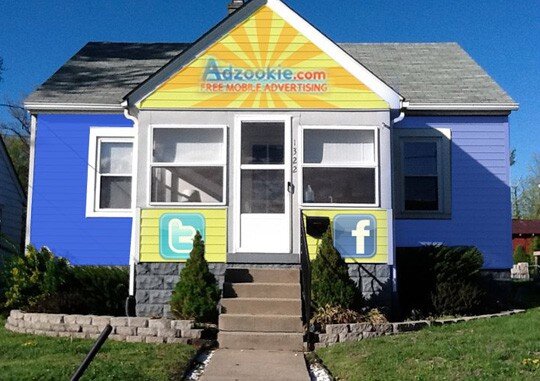 This is a great idea where the home owners get their house painted for free, AND their mortgage paid for year by the advertising agency (!) as long as they keep the outside of their house as an advert!
What a cool house! (But I wouldn't live there!)

However, you can probably tell that after looking at THAT for 12 months when you are in the garden or walking up the path, I would think it would be a welcome relief to see the back of it, and to get back to normality, without the neighbours pointing at you and whispering.
And that's the moral really; anything unusual you do, build, or add to your home, like a mural, or some form of long term external house wall coating, you must be sure that you will be fully able to get used to it, without drugs or alcohol (!), and stay being used to it for a long time!
So the existence of a true, exterior wallpaper, something from a roll that you can just apply yourself to the exterior of the home, just as you would, decorating internally, but this time, ………Uh-oh…
Winds, scaffolding, the risk of falls from heights, not getting the pattern matched up, tearing the paper, cutting it too short, oh wait a minute, I think this is a bad idea…
Does this mythical wall covering actually exist?

I think we can see that there are many definitions of Exterior wallpaper, but in our research, we didn't find anything really that would be anything other than temporary if you tried to apply a wall paper type covering to the home, and the health and safety implications of installing without incident, it would outweigh the cost overall.
After all, most wall paper is patterned, so unless you are somewhat eccentric, or a massive "show off" why would you want a pattern on the outside of the bungalow?

If you live in a terraced house, can you imagine, one side of your neighbours hanging exterior Plymouth Argyle wallpaper (!), and the student house on the other side hanging a photoshopped version of Buddha wearing a lacy bra and suspenders? (!)
So does exterior wallpaper exist?
Well actually, YES it does. Sort of.
In the form of a vinyl wrap, just like many car dealing companies wrap a car, you can wrap a house, although I would question how long it would last under the UK weather.
Here is an example, we can't remember where we saw this, but a wrap was created and applied to an external wall, albeit in an area protected from the weather.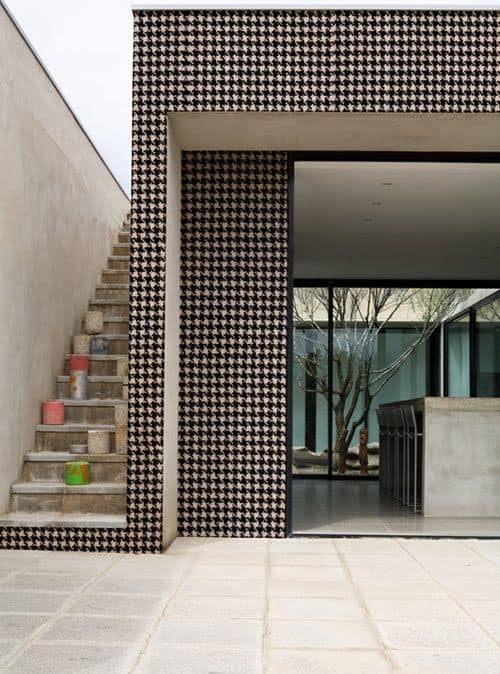 The only thing left to offer you, from our point of view, as we do not sell exterior wallpaper, is our spray applied exterior wall coating system,  and what it can do for your house.
It is applied in one continuous sprayed-on sheet or film (in so far as it is seamless wall coating) , so it is probably the nearest we can think of to what wallpaper would be like on the outside of the house.
Although THIS particular wall covering is by far the most decorative, weatherproof and durable thing that you can have on the exterior of your property today!
It can be applied to any external part of your home, and benefits from a long warranty against all manner of defects, far out performing all other kinds of wall finishes.
When exterior wall paper actually becomes available, we'll let you know, until then, take a look at our spray-on wall coating service from the menu above, or call us free on 0800 970 4928.
NOTE WE ***DO NOT SELL**** EXTERIOR WALL PAPER! Thank you