This smart executive home in the Surrey "commuter belt" was in good condition and required very little repair but the owners wanted a maintenance free exterior wall finish….
Our teams got to work on the property without delay and took a considerable amount of time covering all the areas of the property that were not to be coated, including the bottom half of bricks which again, were all in good condition and did not require any repointing.
This style of mock tudor home is becoming very popular and you can see this architectural style on houses up and down the country, from 1920's built homes right up to the present day.
The owners were very busy people to say the least (We hardly saw them whilst working on the house!) and of course they were people that appreciated the BEST of everything which is why they wanted the BEST exterior wall coating on their house.
It's nice when we get to paint a house in good condition
It also meant that with the no more painting concept, they did not have to worry, nor take time out from their busy schedule, to find a decorator each year to paint the house and keep it looking nice.
Once we got to work, as there was not really much in the way of wall repairs to be done, we started doing the masking up, like this.
Once the area was protected, our teams hand applied a waterproof primer wall coating to the white wall panelled sections, and then spray applied a top coat of fine textured masonry coating, which is available in a range of colours and textures, including SMOOTH.
Here is some more masking that we did, this time, underneath a covered terrace area.

We offer this house painting system across the UK
The fantastic NPA masonry coating system has been in constant use on houses across the world since the early 1970's, and all wall coating and paint products the contract teams would use on your home are fully covered by a "belt and braces" 20 year insurance backed warranty!
It is important that our teams take time in doing the masking, and covering up bushes and plants as there would be nothing worse than finishing the job and then spending another week cleaning paint off the windows!

Surrey house gets the NPA wall coating system!
Once the whole exterior house painting job was done, the masking was removed, the dustsheets taken away, the site cleaned (cleaner than when we arrived which was spotless even then!) and the mock Tudor beams were repainted by our painters in a long life matte black paint

The property will look this good for the next 20 years!
When you commission us to repair, render and/or re-paint your home exterior with one of our long life paint systems, we take care of the lot, you just sit back and RELAX and we will be out of your way again in no time at all, and YOU will be the proud owner of a totally transformed house!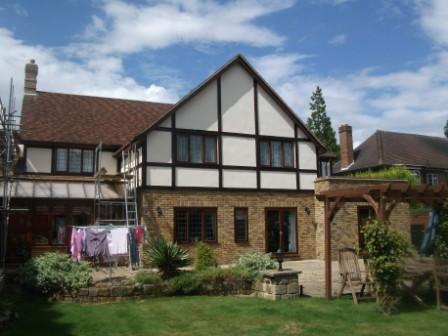 ……and with our Best Wall Coating Price Promise, you can be sure that you will never be overcharged by a commission hungry salesman!  We make sure you pay the best price.
Call us NOW for prices on 0800 970 4928.
this is an archived article