Does your house need painting but you don't know where to begin? That should be the FIRST alarm bell ringing just there. Fair's fair, I wouldn't know how to carry out your job, but why are you considering carrying out the job of a professional decorator?
Is it as easy as that?
People in certain fields of employment are professionals for a good reason so NOT painting your house would be advice well taken.
They are individuals who have had the right training, education and experience for their line of work, and they also have the correct tools and equipment, to carry out a professional job and in a timely manner.
Why it's best to stick to a professional decorating contractor to get your house painted
I would never ask a dentist to fix my car, nor would I would propose that my elderly neighbour get up on my roof to adjust the satellite dish, so why do people still attempt to decorate their home exterior, presumably to save money, and think that they will do a professional job?
They probably won't!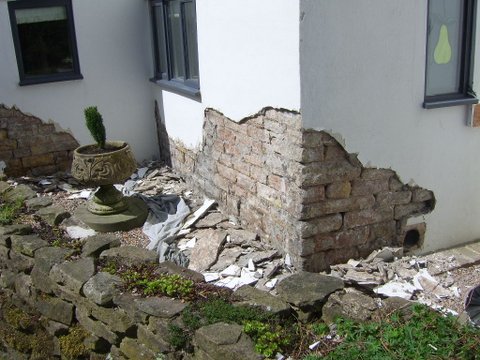 Most people do like to take care of their house, after all, it is, in most cases their largest monetary asset.
I would certainly advise some caution if you are considering painting the exterior of the building yourself. If you have never painted a house before, be warned it is NOT easy and can also end up with you taking a trip to casualty.
If you HAVE painted your own house before, be honest, it was very hard work wasn't it? I bet the results weren't as good as you thought it would be?
Here are just SIX reasons why you should always choose a pro to paint the outside of your house.
Painting and decorating is a skilled trade profession.
Why do you think people train for years as an apprentice?
It most certainly is not as easy as it looks, and with ignorance, not only could you be wasting your own time and money, you could injure yourself, plus you could end up with a house that looks worse than when you started painting.
In this light hearted blog post, we are going to suggest six reasons why you should NOT paint your home and you should hire someone instead.
Reason one: The quality of the finished article.
Painting any sort of building requires training in all sorts of disciplines, one's you may not have even thought of.
Not only are you probably not trained in house painting itself, you may also not have experience of chemical handling and storage, safety issues, ladder skills, what to do if you encounter a problem, and of course, how to achieve a professional paint finish.
When you hire a pro painting contractor, you should, if you have vetted and checked them out previously, end up with a great looking home.
However, if you try and paint it yourself, you could end up with a terrible looking home.

Reason two: The biggest part of painting is the preparation. Admit it, you haven't a clue.
A major part, in fact probably THE major part, of painting a house is the amount of prep work needed beforehand. Sorry to break it to you, but NO, it is not a case of going to your local paint store, buying some cheap paint and a brush and slapping it on and that's it.
It's also no good rushing out and buying the most expensive paint and the finest quality brushes because if you don't really know what you are doing, you are throwing even more money away and you still will not get a good finish.
A pro painter knows not only how to correctly prepare a wall for painting, they will also be able to quickly solve any problems that may occur, and also get the job done in a timely manner, with a great finish once they are done.
Many of the houses we work on also require repairs to rendering and that is certainly not a job that most people can do.

Reason three: Attempting to paint your home may actually COST more, instead of SAVING money.
In short, a professional decorator will do a job that would give you value for money because you won't have to have done again for a while, plus, of course, your house will look really nice.
Having a good quality paint job on your home gives it the kerb appeal that estate agents (Realtors) always talk tirelessly about, however, if you try and paint your residence yourself, and you make a right cock-up of the job, your home could be less sale-able and may even lose value as a result.
Pay cheap, pay twice.
Reason four: Be honest, do you really have the spare time to paint your own home?
As you can imagine, painting a house, especially a large one, takes time.
A pro decorator will be experienced enough to run the job effectively, knowing what time of day to paint a certain wall, for example, the correct paint to purchase and what to do if bad weather or rain is expected. Do you?
If, like most people, you are busy with "stuff" that people like us have to do, such as taking kids to school, shopping, caring for elderly relatives, oh and "working" in your main employment too (!) so have a think: Have you really got the TIME to do this?
An inexperienced DIY painter would probably take at least a couple of weeks to paint a house, and that is being optimistic, whereas your decorator can do it in 3 days.

Reason five: Are you trained in health and safety?
Professional house painters are in most cases, well-trained and they know what safety measures to take whilst they work on your home.
Remember these guys are often self-employed, and for them, if they did not work safely and ended up in hospital, that means for that guy, no work and no pay.
Could YOU afford to take time off your job, with no pay?
Getting a professional decorator in to paint your walls, would spare you from the risk of getting injured from ladder accidents, back and spine injuries if you fell from a ladder, or indeed any other injuries that may result from painting, especially at height.
They also know how to use paint and tools to protect themselves and your home.
ROSPA, the UK safety people, recently stated that, "………….Ladder and stepladder accidents send 41,000 people to hospital…. [in the UK] …annually – often resulting in some of the most serious injuries and even death when people fall from high up……"
Sobering words.
Reason Six: Knowing what to do after the house has been painted.
OK, so the paint is on the wall, what next?
If the house has been covered with scaffold, you would need to arrange to have it taken down. Did you lay dust sheets (drop cloths) around to avoid spills on the yard and the floor?
What about the paint on your hands and clothes?
Do you know what to do with it? What about the bits on the wall you missed and can only see them now the paint is drying?
Painting your own house is harder than it looks so let us do it instead
To speak to someone about having your house painted this year, call NEVER PAINT AGAIN, on (0800) 970 4928
Since 1986 they have been repairing and painting houses across the whole country, and their work comes with a 20 YEAR WALL COATING WARRANTY